Music 101 for Saturday 17 January 2015
5:00 PM.APRA Maioha Award winner Ria Hall reminisces over the songs that sound tracked her youth in this 2015 RNZ Music Mixtape. Ria speaks with Melody Thomas. Read more Audio
12-1pm
12:10 Chronophonium
Last weekend festival goers converged on a small valley in Tapu, Coromandel to attend the fourth annual Chronophonium. Boasting an eclectic line up of alternative art and music brought together by a "do it together" ethos, the festival hit a bump in the road, clashing heads with the Thames Coromandel District Council. Zac Arnold traversed to Tapu to meet with musicians, punters and the organisers with the hopes of experiencing everything Chony had to offer.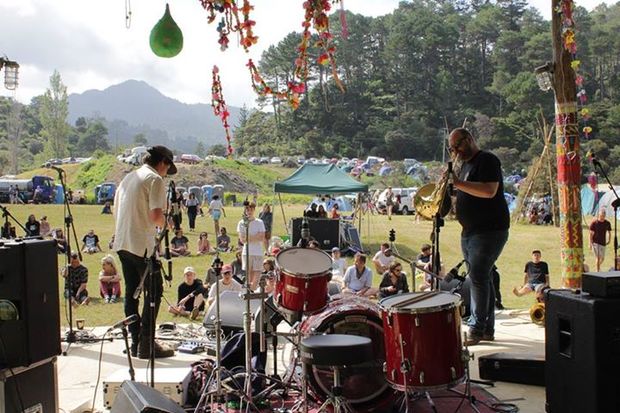 Huf and Brown perform on the 'this stage' at Chronophonium / Photo by Joon Yang.
12:30 Rewind the Jewels
While Run the Jewels, the critically lauded rap duo of Atlanta, Georgia native Killer Mike and Brooklyn born and bred MC/producer El-P, is a project only two years deep, their respective back stories cover 20 years of East Coast and Southern hip hop history. For Music 101, Killer Mike and El-P rewind the jewels, trawling through their solo back catalogues and offering up commentary on the selections.
Run the Jewels' Killer Mike and El-P.
12:45 Far-fetch with Sam Scott – CDM
A game of fetch where Sam Scott (The Phoenix Foundation, Bunnies on Ponies) is given an obscure genre and a week to return with relevant musical examples and stirring stories. This week, he delves into America's new rave heartland with Country Dance Music.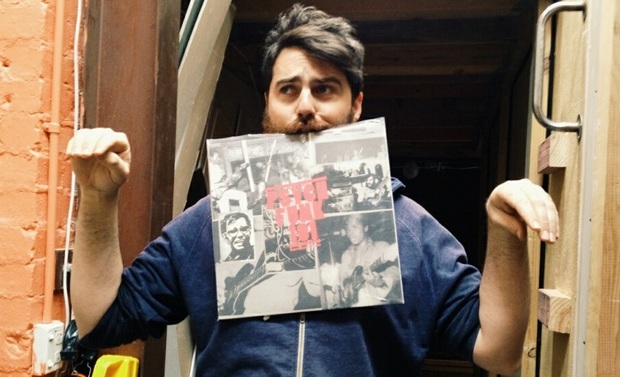 Sam Scott plays fetch / Photo by Will Ricketts.
1-2 pm
1.10 Little Dragon
Swedish synthpop band Little Dragon have toured with the Red Hot Chilli Peppers, collaborating with the likes of Gorillaz, Outkast's Big Boi, SBTRKT and Dave from De La Soul, and this year Little Dragon received a Grammy nomination for Best Dance/Electronic album for their fourth studio release Nabuma Rubberband. We meet effervescent lead singer Yukimi Nagano.
Californian songwriter Jessica Pratt has been touted by The New York Times culture magazine T as "The Folk Artist To Watch In 2015". With a timeless voice and finger picking acoustic guitar, she's had comparisons to Karen Dalton, Nick Drake, and contemporary artists like Joanna Newsom.
Pratt's second album On Your Own Love Again comes out at the end of the month – she joins Kirsten Johnstone in the studio during a brief visit to Auckland to play some of the new songs.
1:40 Anatomy of a Song: Ladi6 - Ready to Fly
RDU's Spanky Moore gets inside contemporary New Zealand hit tunes – this week 'Ready to Fly' with Ladi6.
2-3 pm
A History of Student Radio Part Four
A four-part journey through 45 years of student radio in New Zealand – the stars and bands who got their breaks, the politics, the music, the piracy and the 'No. 8 wire', sink or swim mentality.
For part four: We pull focus to the years following 2000 and zoom in on those to come, considering the place of alternative independent radio in the ever-changing modern media landscape.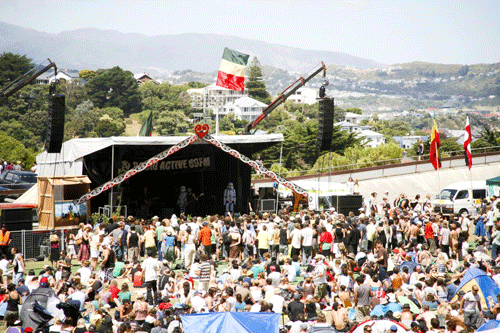 Radio Active's One Love Waitangi Day celebrations / Photo courtesy of Radio Active.
3-4pm
3:10 Live: French for Rabbits at The Wine Cellar
Music 101 last heard from dream-pop outfit French for Rabbits, Brooke Singer and John Fitzgerald, with a tour diary documenting their European tour.  All in all, the duo clocked up 108 shows in 2014 both here and overseas. One of those performances was staged in the intimate surrounds of Auckland venue, The Wine Cellar. Radio New Zealand engineer Andre Upston was there to capture their endearingly awkward banter and their songs.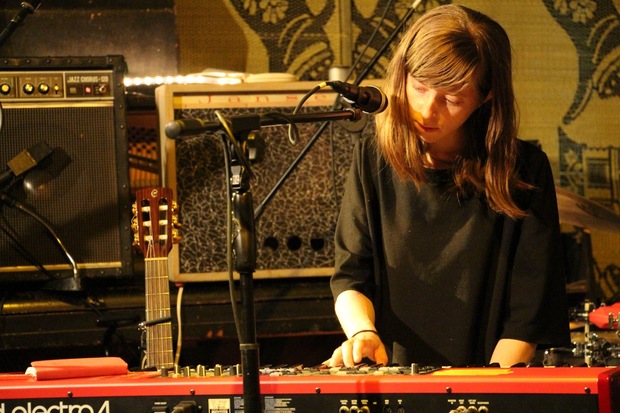 French for Rabbits' Brooke Singer live at The Wine Cellar / Photo by Andre Upston.
3:30 Stages: The Cabana
Anthonie Tonnon visits New Zealand's most talked about places to see music, from big city institutions to port town oddities and near-mythical stages in the bush. While on a long summer tour this year, Tonnon met the organisers and audience members that keep our stages running, and collected stories from the bands who travel to play them.
This week he visits The Cabana, a music venue in Napier once known as a "den of iniquity", and hears tales from the golden days of rock 'n' roll touring in New Zealand.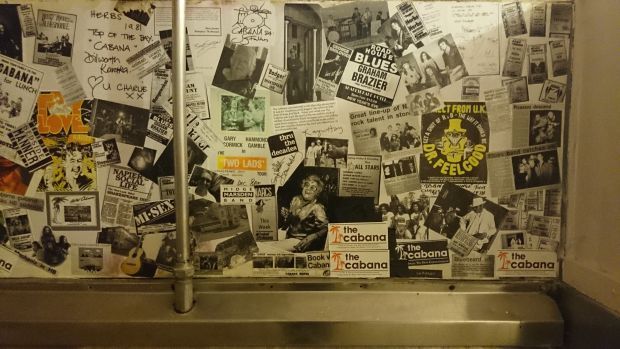 Ephemera in the men's toilet at The Cabana / Photo by Anthonie Tonnon.
3:45 C O S M I C || C O M P O S I T I O N S
Since 2012, Auckland's Addison Chase has been releasing free-jazz informed beat music through his C O S M I C || C O M P O S I T I O N S Soundcloud and Bandcamp pages. Mid-2014, his music caught the attention of German record distributors HHV.DE. Since then, they've been helping him release music internationally in deluxe vinyl editions. Martyn Pepperell talks to Chase about the story behind C O S M I C || C O M P O S I T I O N S and where he intends to take things next.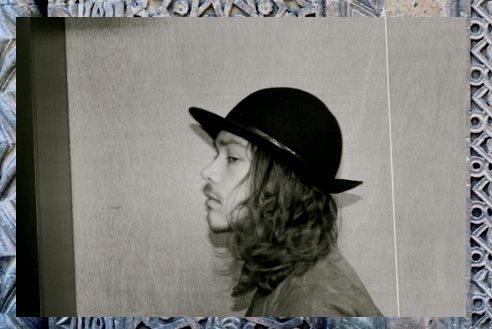 Cosmic Compositions' Addison Chase.
4-5 pm
4: 05 The Mixtape: Ria Hall
Since first appearing on the musical horizon as front person for reggae band Hope Road and backing vocalist for Hollie Smith, Ria Hall went on to release a solo EP in 2011 and, a few years later, to feature on Stan Walker's Te Reo hit 'Aotearoa'. Hall has been focussing on non-musical projects this past year, such as hosting AIA Marae DIY on Maori Television (to be broadcast on TV3 in 2015).
For The Mixtape, Ria Hall joins Melody Thomas to reminisce over the songs that soundtracked her youth.
Ria Hall.
Music played in this show
12-1pm
Artist: Career Girls
Song: Dance Away
Composer: Career Girls
Album: Going Deep
Label: Sel released
Chronophonium Festival report

Artist: Open
Song: Spill Kit
Composer: Open
Album: RNZ RecordingLabel: RNZ Recording

Artist: Dad Jokes
Song: Bad Friend
Composer: Dad Jokes
Album: RNZ Recording
Label: RNZ Recording

Artist: Couchmaster
Song: Re Dux
Composer: Couchmaster
Album: RNZ Recording
Label: RNZ Recording

Artist: Vowel Movement
Song: To Get This Right
Composer: Vowel Movement
Album: RNZ Recording
Label: RNZ Recording

Artist: Shitripper
Song: Steppin' Up
Composer: Shitripper
Album: RNZ Recording
Label: RNZ Recording

Artist: Dad Jokes
Song: JCVD
Composer: Dad Jokes
Album: RNZ Recording
Label: RNZ Recording

Artist: Run the Jewels feat. Zack De La Rocha
Song: Close Your Eyes (And Count to F***)
Composer: Meline, Render
Album: Run the Jewels 2
Label: Mass Appeal
Rewind the Jewels

Artist: Outkast feat. Killer Mike and J-Sweet
Songs: Snappin' & Trappin'
Composer: Andrews, Benjamin, Patton, Render
Album: Stankonia
Label: LaFace, Arista

Artist: Company Flow
Songs: Legend
Composer: J.Meline
Album: Funcrusher Plus
Label: Rawkus Records

Artist: Jay-Z feat. Big Boi, Killer Mike and Twista
Songs: Poppin' Tags
Composer: Carter, Patton, Render, Mitchell
Album: The Blueprint 2: The Gift & The Curse
Label: Roc-A-Fella, Def Jam

Artist: Cannibal Ox
Songs: Rasberry Fields
Composer: Arrington, Gardener, Meline
Album: The Cold Vein
Label: Definitive Jux

Artist: Killer Mike feat. T.I., Bone Crusher and Bun B
Songs: Re-Akshon
Composer: Render, Benjamin, Harris, Freeman, Hardnett
Album: Monster
Label: Columbia

Artist: El-P
Songs: Deep Space 9mm
Composer: Meline
Album: Fantastic
Far Fetch with Sam Scott: Country EDM

Artist: Avicii
Songs: Hey Brother
Composer: Bergling, Pournouri, Fakir, Pontare, Tyminski, Maggio
Album: True
Label: PRMD, Universal

Artist: Keith Urban
Songs: Somewhere In My Car
Composer: Urban, Harding
Album: Fuse
Label: Hit Red, Capitol Nashville

Artist: Florida Georgia Line feat. Nelly
Songs: Cruise (Remix)
Composer: Kelley, Hubbard, Moi, C.Rice, J.Rice, Haynes
Album: About Face
Label: Big Loud Mountain, Republic Nashville
1-2pm
Artist: Unknown Mortal Orchestra
Song: SB-02
Composer: Ruban Nielson
Album: Soundcloud download
Label: Self-released
Little Dragon interview

Artist: Little Dragon
Songs: Klapp Klapp, Pretty Girls, Paris, Nabuma Rubberband
Composer: Little Dragon
Album: Nabuma Rubberband
Label: Because

Artist: Little Dragon
Songs: Mirror
Composer: Little Dragon and D. Jolicouer
Album: Nabuma Rubberband
Label: Because
Artist: Prince
Songs: I Would Die 4 U
Composer: P.Nelson
Album: Purple Rain
Label: Warner Bros.
Jessica Pratt in session

Artist: Jessica Pratt
Song: Game That I Play, Grace 80s
Composer: Pratt
Album: RNZ Recording
Label: RNZ Recording
Anatomy of a Song: Ladi 6 "Ready to Fly"

Artist: Ladi6 feat. Parks, Scribe and Tyra Hammond
Song: Ready To Fly
Composer: Tamati, Luafutu, Park, Haru
Album: Automatic
Label: LADI6
Artist: K+Lab ft. Estere - Sola Rosa remix
Song: Adivino
Composer: K+Lab, Estere Dalton
Album: Digital release
Label: Self-released
2-3pm
A History of Student Radio pt 4

Artist: King Kapisi
Song: Sub-Cranium Feeling
Composer: B. Urale, A. Morton, M. Matisi
Album: Single
Label: Festival

Artist: Outkast
Song: Spottieottiedopaliscious
Composer: Patton/Benjamin/Brown
Album: Aquemeni
Label: Laface

Artist: HLAH
Song: Beatnik
Composer: Kilgour
Album: God Save The Clean
Label: Flying Nun 

Artist: Epsilon Blue
Song: Peaks and Valleys V.2.1 (Trees Are Wicked! Mix)
Composer: Epsilon Blue
Album: The Gathering 2000: New Electronica for Aotearoa
Label: Universal

Artist: Winston Francis
Song: Let's go to Zion
Composer: Francis
Album: 7"
Label: Studio One

Artist: The Black Seeds
Song: Little Atoms
Composer: B. Weir
Album: Keep On Pushing
Label:Loop

Artist: Dimmer
Song: Evolution
Composer: Carter
Album: I Believe You Are A Star
Label: Sony

Artist: Phelps and Munro
Song: Ex Sports Star Turned Commentator
Composer: G Phillips
Album: Sideways Too
Label: Round Trip Mars

Artist: House of Downtown
Song: Feel It
Composer: Todd/Ercolano
Album: Welcome to… a New Zealand House Compilation
Label: Huh!

Artist: The Datsuns
Song: What Would I Know
Composer: The Datsuns
Album: The Datsuns
Label: Infidelity

Artist: Concord Dawn
Song: Morning Light
Composer: Short/Harvey
Album: Uprising
Label: Uprising

Artist: The Mint Chicks
Song: Licking Letters
Composer: R. and K. Neilson
Album: Octagon, Octagon, Octagon
Label: Flying Nun

Artist: LCD Soundsystem
Song: Losing My Edge
Composer: Murphy
Album: LCD Soundsystem
Label: DFA

Artist: So So Modern
Song: Racer X
Composer: So So Modern
Album: EP
Label: Private

Artist: Whipping Cats
Song: Fighting cats can't be bargained with
Composer: No details given
Album: The Gruesome Numbers: A musical from beyond the grave
Label: Private

Artist: An Emerald City
Song: Mull Pasha
Composer: An Emerald City
Album: Circa Scaria (2009)
Label: Emerald

Artist: Tono and The Finance Company
Song: Fragile Thing
Composer: Tonnon
Album: Fragile Thing EP
Label: Private

Artist: Harbour Union
Song: How Lucky You Are
Composer: Davidson
Album: The Harbour Union: Established 2011 Lyttelton
Label: Social End Product

Artist: Future Islands
Song: Seasons (Waiting for you)
Composer: Future Islands
Album: Singles
Label: 4AD

Artist: Street Chant
Song: There is No Depression in New Zealand
Composer: Von Sturmer, McGlashan
Album: Isthmus of a Thousand Lovers
Label: Private

Artist: Lord Echo
Song: Bohemian Idol
Composer: S. M August
Album: Curiosities
Label: Economy Records

Artist: Lontalius
Song: Light Shines Through Dust
Composer: E. Johnston
Album: Single

Artist: Electric Wire Hustle
Song: If These Are The Last Days
Composer: EWH
Album: Love Can Prevail
Label: Promo Love

Artist: The Phoenix Foundation
Song: Bob Lennon John Dylan
Composer: Buda, Callwood, O'Connor, Ricketts, Scott and Wedde
Album: Tom's Lunch EP
Label: Universal
3-4pm
French for Rabbits Live at the Wine Cellar

Artist: French for Rabbits
Song: Time Is Like, Hard Luck Stories, Nursery Rhymes, Spirits
Composer: Singer, Fitzgerald
Album: RNZ Recording
Label: RNZ Recording

Artist: The Swan Sisters
Song: Cups of Tea
Composer: Amiria Grennell, Amy Grace
Album: RNZ Recording
Label: RNZ Recording
Stages: The Cabana

Artist: The Church
Songs: The Unguarded Moment, Under The Milky Way
Composer: S.Kilbey
Album: Under The Milky Way, The Best Of
Label: Buddha

Artist: Mi-Sex
Songs: Computer Games, Blue Day
Composer: Stanton, Burns
Album: Mi-Sex: 1979-1985
Label: CBS

Artist: Th' Dudes
Songs: Walking in Light, Right First Time
Composer: Dobbyn, Morris
Album: Where Are The Girls, The Definitive
Label: Festival Mushroom

Artist: Hello Sailor
Songs: Gutter Black
Composer: Brazier, McCartney
Album: The Sailor Story
Label: Festival Mushroom

Artist: A Twin Moon
Songs: Oh! The Places You Will Go
Composer: B.Gamble
Album: Welcome To Hellfire Beach EP
Label: Self-released

Artist: Grand Prix
Songs: Rookie
Composer: Andrew McKenzie
Album: The Way of the Racer
Label: Arch Hill
Artist: Sun Ra
Song: Sun Song
Composer: Sun Ra, Lanz
Album: Sun Song
Label: Delmark Records
Cosmic Compositions/Addison Chase interview

Artist: Whoarei
Song: Mind, Body & Jazz
Composer: Whoarei
Album: Cosmic Compositions Avant-Garde Series Vol. 3 [Sun-Ra]
Label: Cosmic Compositions, HHV.DE

Artist: K*Saba & Hone Be Good
Song: Nubian Riot
Composer: K*Saba, Hone Be Good
Album: Cosmic Compositions Avant-Garde Series Vol.1 [Pharaoh Saunders]
Label: Cosmic Compositions,, HHV.DE

Artist: ShunGu
Song: My Life
Composer: ShunGu
Album: All I Do
Label: Cosmic Compositions, HHV.DE

Artist: JayLotus
Song: Turiya & Ramakrishna [JayLotus Remix]
Composer: JayLotus
Album: Cosmic Compositions Avant-Garde Series Vol.2 [Alice Coltrane]
Label: Cosmic Compositions, HHV.DE

Artist: Danny Watts
Song: Poetic Effusions
Composer: Watts, KVZE
Album: Messenger Series Vol.1
Label: Cosmic Compositions, HHV.DE

Artist: SNKA
Song: Keep It Away feat Adjaman
Composer: SNKA, Adjaman
Album: Carnaval
Label: Cosmic Compositions
Artist: Anushka feat.Trim
Song: Kisses
Composer: Anushka
Album: Broken Circuit
Label: Brownswood Recording
The Gig Guide
Artist: Nas
Song: It Ain't Hard to Tell
Composer: N.Jones, W.P. Mitchell
Album: Illmatic
Label: Columbia
4-5pm
The Mixtape: Ria Hall

Artist: Warren G feat. Nate Dogg
Song: Regulate
Composer: Griffin, Hale
Album: Regulate...G Funk Era
Label: Def Jam, Violator

Artist: Talking Heads
Song: Psycho Killer
Composer: Byrne, Frantz, Weymouth
Album: Stop Making Sense
Label: Sire, Warner Bros.

Artist: Renée Geyer Band
Song: Sweet Love
Composer: Geyer, Logan, Sullivan, Punch, Tell
Album: Ready to Deal
Label: RCA, Mushroom

Artist: Prince
Song: Sign o' the Times
Composer: P.Nelson
Album: Sign o' the Times
Label: Paisley Park

Artist: Bill Withers
Song: Just As I Am
Composer: B.Withers
Album: Grandma's Hands
Label: Sussex

Artist: Emma Paki
Song: Greenstone
Composer: Paki
Album: Greenstone EP
Label: Virgin

Artist: Electric Wire Hustle
Song: Waters
Composer: Mara TK,Taay Ninh
Album: Every Waking Hour
Label: Every Waking Hou

Artist: Bob Marley & The Wailers
Song: Coming In From The Cold
Composer: B.Marley
Album: Uprising
Label: Tuff Gong, Island