Music 101 for Saturday 24 January 2015
5:00 PM.Dudley Benson reviews Björk's surprise-release Vulnicura, Mark Rye shares stories from a life spent working in the British music industry and Sam Wicks speaks with Tom Krell, aka How To Dress Well. Read more Audio
2-3 pm
Just one week after announcing her first new album in four years in a handwritten note, Björk has surprised released Vulnicura, a set she describes as a "complete heartbreak album". Vulnicura unpacks the breakup of Björk's long-time relationship with American multimedia artist Matthew Barney, and sees her link with producers Arca and the Haxan Cloak.
With just a handful of days to take in its nine tracks, long-time Björk aficionado Dudley Benson joins Melody Thomas to offer his first thoughts on the release.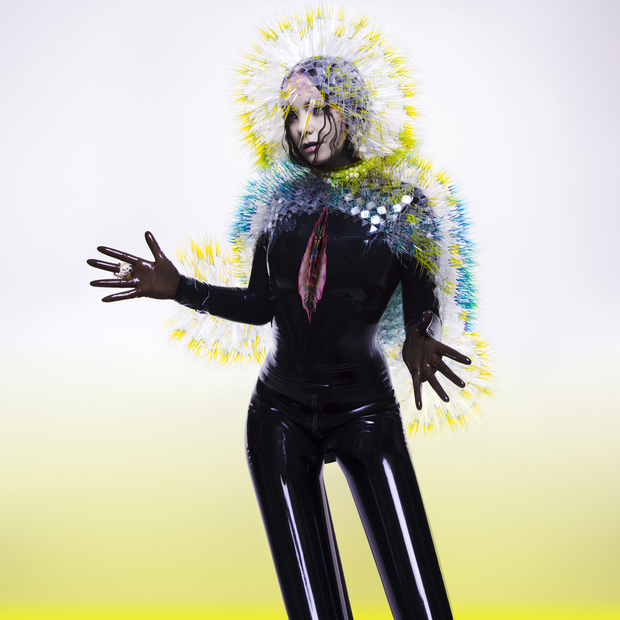 Björk.
How To Dress Well is Tom Krell, the Chicago, Illinois singer-producer and philosophy PhD candidate who has taken an R&B deconstructionist approach to song writing across his three-album catalogue. In the country this week to play Auckland's Kings Arms, he talks to Sam Wicks about the heady issues which lace his latest release What Is This Heart?
3-4 pm
Stages: Mussel Inn, Golden Bay
Anthonie Tonnon visits New Zealand's most talked about places to see music, from big city institutions to port town oddities and near-mythical stages in the bush.
The waiting list is almost a year long, and musicians return with legends of blissful crowds, a brewery on site and log cabin accommodation. For the first episode of a new series of Stages, Anthonie Tonnon visits one of the most desirable stages to play in the country: The Mussel Inn in Golden Bay.
The Little Stevies performing at The Mussel Inn, Golden Bay / Photo courtesy of The Mussel Inn.
Mark Rye, Founder of RockHistory
Mark Rye has a background that has seen him work for pioneering prog-rock label Harvest record in the early 70s and in artist management. Most recently, Rye has called upon his contacts to provide anecdotes for a website he has curated called RockHistory.co.uk, as well as a recently published book, Over Under Sideways Down. Rye talks to Trevor Reekie his memories of many of the people he has worked with in the UK music scene.
Over the course of just two years, bass-and-drums British rock duo Royal Blood have gone from performing their very first gig in a small local pub to being hailed as rock's new saviours. Their debut album Royal Blood entered the UK charts at number one, was named the fastest-selling rock debut in the UK in three years, and went on to be nominated for the Mercury Prize. Melody Thomas speaks with bassist and singer Mike Kerr ahead of the duo's performance at St Jerome's Laneway Festival in Auckland on Monday.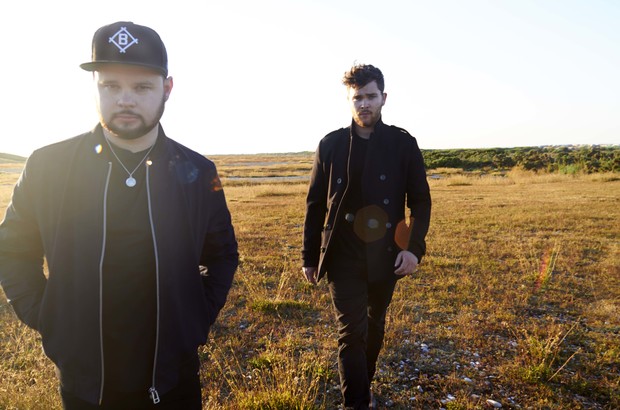 Royal Blood's Ben Thatcher and Mike Kerr.
Gig Guide
4-5 pm
A Centenary of Sun Ra
A look at the career of one the 20th century's great composers, band leaders and eccentrics, Sun Ra. A mysterious and elusive figure, for most of his life Sun Ra constructed a web of myths and legends that stretch from ancient Egypt to outer space.
An early pioneer of electronic keyboards and a musician driven by the search for new sounds and ways of constructing music, Sun Ra formed a big band, the Arkestra in the 50s. The band has survived for over six decades, even outliving its founding father, and has been responsible for some of the most out-there music ever heard on planet earth.
Orchestra of Sphere's Daniel Beban takes us for a ride through the music of Sun Ra.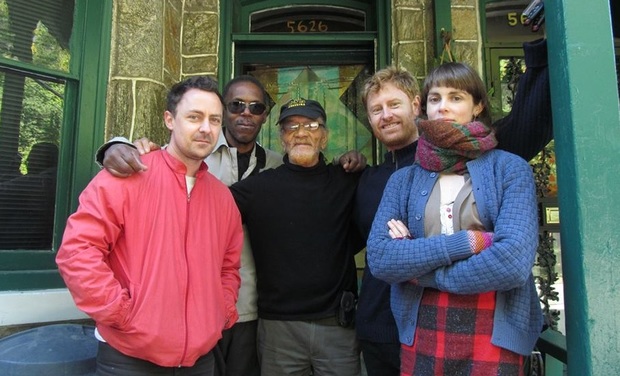 Orchestra of Spheres in front of Sun Ra's house in Philadelphia with Arkestra's Marshall Allen and Fred Allen (L-to-R: Andy Wright, Fred Allen, Marshall Allen, Daniel Beban and Nell Thomas) / Photo courtesy of Orchestra of Spheres.
The Birth of Mirth
Under the nom de plume 'Mirth', songwriter Katherine McDermid-Smith has embarked on the gruelling task of writing, recording and publishing 100 songs in 100 days. Over half way now, Mirth's slate of more than 50 tunes stray back and forth from tinkering acoustic folk to engineered electronic beats. Melody Thomas catches up with Mirth to discuss the joys and struggles of the project. 
Katherine McDermid-Smith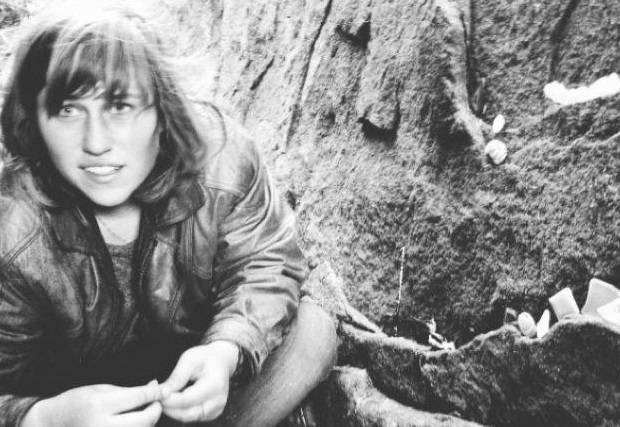 Mimi Gilbert.
Music played in this show
2-3pm
Artist: Arca
Song: Thievery
Composer: Alejandro Ghersi
Album: Xen
Label: Mute
Dudley Benson reviews Björk's Vulnicura

Artist: Björk
Song: Stonemilker
Composer: Björk
Album: Vulnicura
Label: Polydor

Artist:Björk
Song: Lionsong, History of Touches, Black Lake
Composer: Björk, Alejandro Ghersi
Album:Vulnicura
Label: Polydor
Artist: Matmos
Song: Pipi Manu E
Composer:Dudley Benson
Album:Deforestation
Label:Golden Retreiver
Artist: Lapsley
Song: Brownlow
Composer: Lapsley
Album: Understudy EP
Label: XL
How to Dress Well interview

Artist: How to Dress Well
Song: Repeat Pleasure, Pour Cyril, Very Best Friend, Words I Don't Remember
Composer: T.Krell
Album: "What Is This Heart?"
Label: Weird World
Artist: Sylas
Song: Hollow
Composer: Sylas
Album: Shore EP
Label: Aesop
3-4pm
Stages: The Mussel Inn

Artist: The Phoenix Foundation
Song: John Dylan Bob Lennon / Dalston Junction
Composer: The Phoenix Foundation
Album: Tom's Lunch EP
Label: Self released

Artist: The Nudge
Song: Come Home
Composer: The Nudge
Album: Big Nudge Pie
Label: Self released

Artist: Delaney Davidson
Song: Ophelia
Composer: Delaney Davidson
Album: Ghost Songs
Label: Self released

Artist: Flip Grater
Song: Hide And Seek
Composer: Flip Grater
Album: Pigalle
Label: Maiden Records

Artist: Anna Coddington
Song: Bird in Hand/ The Runner
Composer: Anna Coddington
Album:(Single)
Label: Self-released
Artist: The Yardbirds
Song: Over Under Sideways Down
Composer: Dreja, McCarty, Beck, Relf, Samwell-Smith
Album: Yardbirds
Label: Columbia
Mark Rye interview

Artist: Deep Purple
Song: Pictures of Home
Comp:Blackmore, Gillan, Glover, Paice, Lord
Album: Machine Head [Roger Glover 1997 Remixes]
Label: EMI

Artist: Pink Floyd
Song: Time
Comp: Mason, Waters, Wright, Gilmour
Album: Dark Side of the Moon
Label: Harvest, EMI

Artist: Kevin Ayers
Song: Shooting at the Moon
Comp: K.Ayers
Album: Songs For Insane Times: Anthology 1969-1980
Label: Harvest, EMI

Artist: Pink Floyd
Song: Have A Cigar
Comp: Mason, Waters, Wright, Gilmour
Album: Wish You Were Here
Label: Harvest, EMI

Artist: Davy Graham
Song: Fakir
Comp: D. Graham
Album: Midnight Man
Label:Les Cousins

Artist: Tyrannosaurus Rex
Song: Elemental Child
Comp: Bolan
Album: Beard of Stars
Label: Universal Music

Artist: Syd Barrett
Song: Here I Go
Comp: Syd Barrett
Album: The Best Of Syd Barrett: Wouldn't You Miss Me?
Label: Harvest, EMI

Artist: Family
Song: Hung Up Down
Comp: Whitney, Chapman
Album: Family Entertainment
Label: Puka

Artist: Sex Pistols
Song: Anarchy in the UK (Remastered Version)
Comp: Lydon, Jones, Cook, Matlock
Album: Never Mind the Bollocks, Here's the Sex Pistols
Label: EMI

Artist: Pink Floyd
Song: Pigs on the Wing
Comp: Mason, Waters, Wright, Gilmour
Album: Animals
Label: EMI

Artist: Morrissey
Song: Oboe Concerto
Comp: Morrissey
Album: World Peace is None of Your Business
Label: Harvest, Capitol
Royal Blood interview

Artist: Royal Blood
Song: Figure it Out, Out of The Black, Little Monster, Loose Change
Composer: Mike Kerr/Ben Thatcher
Album: Royal Blood
Label: Warner
Artist: Aphex Twin
Song: hat5c 0001 rec-4
Composer: Aphex Twin
Album: Computer Controlled Acoustic Instruments pt2
Label: Warp
Gig Guide

Artist: Bonobo
Song: Cirrus
Composer: Simon Green
Album: The North Borders
Label: Ninjatune
4-5pm
A Centenary of Sun Ra

Artist: Sun Ra
Songs: Space Probe
Composer: Sun Ra
Album: Space Probe
Label: Saturn Research

Artist: Sun Ra
Songs: Tiny Pyramids
Composer: Sun Ra
Album: Angels and Demons at Play
Label: Saturn Research

Artist: Sun Ra
Songs: Dreaming
Composer: Sun Ra
Album: The Singles
Label: Saturn Research

Artist: Fletcher Henderson and his Orchestra
Songs: Alabamy Bound
Composer: F.Henderson
Album: The Fletcher Henderson Story
Label: Legacy

Artist: Sun Ra
Songs: House of Beautry
Composer: Sun Ra
Album: The Heliocentric Worlds of Sun Ra Vol 2
Label: Saturn Research

Artist: Sun Ra
Songs: Angels and Demons at Play
Composer: Sun Ra
Album: Angels and Demons at Play
Label: Saturn Research

Artist: Sun Ra
Songs: Saturn
Composer: Sun Ra
Album: Sound of Joy
Label: Saturn Research

Artist: Sun Ra
Songs: New Day
Composer: Sun Ra
Album: The Futuristic Sounds of Sun Ra
Label: Saturn Research

Artist: Sun Ra
Songs: Interplanetary Music
Composer: Sun Ra
Album: We Travel the Spaceways
Label: Saturn Research

Artist: Sun Ra
Songs: India
Composer: Sun Ra
Album: Supersonic Jazz
Label: Saturn Research

Artist: Sun Ra
Songs: Celestial Fantasy
Composer: Sun Ra
Album: When Angels Speak of Love
Label: Saturn Research

Artist: Sun Ra
Songs: Shadow World
Composer: Sun Ra
Album: The Magic City
Label: Saturn Research

Artist: Sun Ra
Songs: Strange Strings
Composer: Sun Ra
Album: Strange Strings
Label: Saturn Research

Artist: Sun Ra
Songs: Blackman
Composer: Sun Ra
Album: Space is the Place
Label: Saturn Research

Artist: Sun Ra
Songs: Strange Celestial Road
Composer: Sun Ra
Album: Strange Celestial Road
Label: Saturn Research
Artist: Tiken Jah Fakoly
Song: Dernier Appel
Composer: Tiken Jah Fakoly
Album: Dernier Appel
Label: Universal
Interview: The Birth of Mirth

Artist: Mirth
Songs: Bit of Sweet, Eclectric, Excess Kisses, Granada, Outer View, Vodka Tycoon
Composer: Katherine McDermot-Smith
Album: The Birth of Mirth
Label: Self-released on thebirthofmirth,com
Artist: The Unthanks
Song: Died for Love
Composer: The Unthanks
Album: Mount the Air
Label: Southbound
Introducing: Mimi Gilbert

Song details to come
Artist: FKA Twigs
Song: Two Weeks
Composer: Emile Haynie / FKA Twigs
Album: LP 1
Label: Young Turks