Music 101 for Saturday 31 January 2015
7:30 PM.It's the 2015 Laneway Special: Control and confidence with FKA twigs, Belle and Sebastian on writing songs about young people, and Connan Mockasin heads home. Read more Audio
FKA twigs
Taking her alias from the way her joints crack, experimental electronic artist Tahliah Barnett got her start as a loose limbed dancer in music videos from the likes of Kylie, Jessie J and Ed Sheeran. Now, as FKA twigs, she's in total control of the presentation of her own music, self-directing her videos and choreography. In the country earlier this week to play St Jerome's Laneway festival, FKA twigs talked to Sam Wicks about maintaining total control of her music.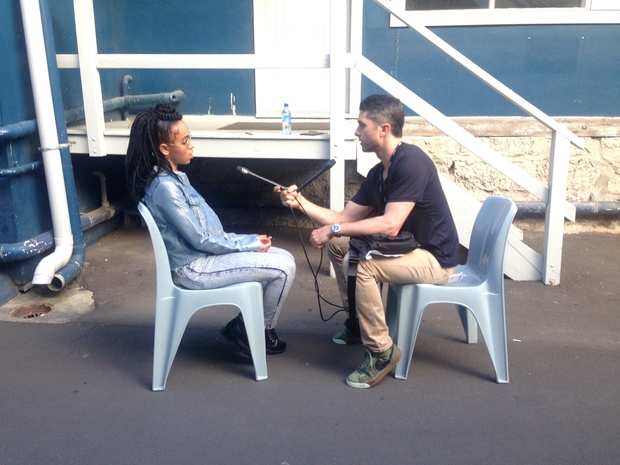 FKA twigs in conversation with Sam Wicks / Photo by Olivia Young.
Shonen Knife
Over the past 30 years, Osaka's Shonen Knife have penned a mountain of cute songs centered on food, domestic animals and the cosmos. Harnessing the spirit of early New York punk and new wave, their sound captured the imaginations of K Record's Calvin Johnson, Sonic Youth's Thurston Moore, and saw them tour with Nirvana.  Playing shows in New Zealand for the first time in nearly two decades, original member Naoko Yamano talks with Emma Smith about the journey so far and the power of happy songs. Kawaii!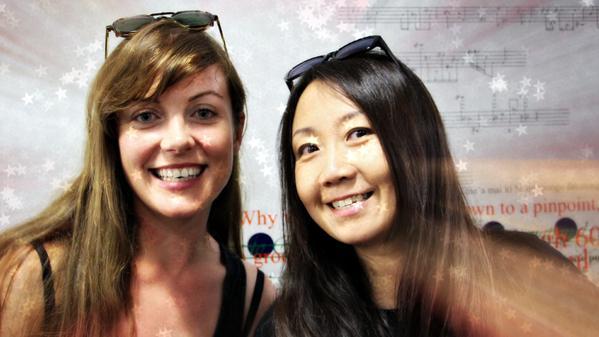 Emma Smith and Naoko Yamano/ Photo by Dru Faulkner, embellishments by Emma
Connan Mockasin in Te Awanga
The adage "there's no place like home" certainly rings true in the case of Connan Mockasin. Having toured the furthermost reaches of the globe showcasing his sophomore album Caramel, Mockasin took to his family home in the small coastal village of Te Awanga for some much needed R'n'R. On hearing that there was a chance of a shindig, Zac Arnold travelled to see Mockasin on home turf and hear stories from friends and family.

Connan Mockasin plays the Te Awanga Community Hall / Photo by Hayley Osterfield.
Sharon Van Etten
The Brooklyn based songsmith joins Emma to introduce a song.
Martyn Bennett
The late Scottish musician Martyn Bennett was a formidable piper, DJ, producer and live performer who passed away (aged 33) in 2005. In January, the Celtic Connections Festival in Glasgow marked the 10th anniversary of his untimely passing with an orchestral recreation of his last album, Grit, arranged by Greg Lawson - a long-time friend of Bennett and a notable musician in his own right. Trevor Reekie talks to Lawson about the musical legacy of his late, great collaborator.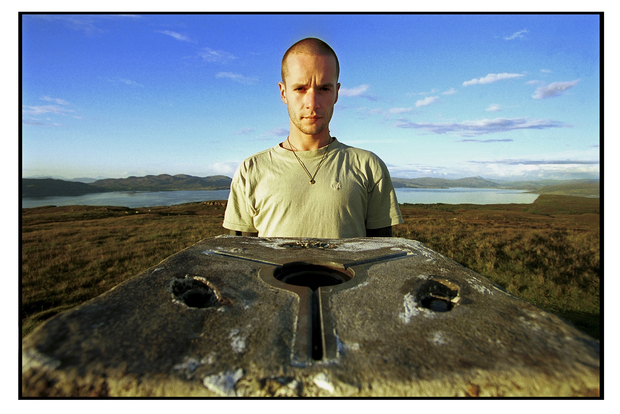 Martyn Bennett / Photo by BJ Stewart.
Stages: Leigh Sawmill Cafe, Leigh
This week in Stages, we visit an industrious venue that grew from the remains of industry. The Leigh Sawmill Cafe has benefited from the growing summer traffic north of Auckland, and has seen the likes of Fat Freddy's Drop and Justin Townes Earle perform there. Anthonie Tonnon takes us to see the Hipstamatics and Sal Valentine and the Babyshakes for a show titled 'Lawless in Leigh - II.'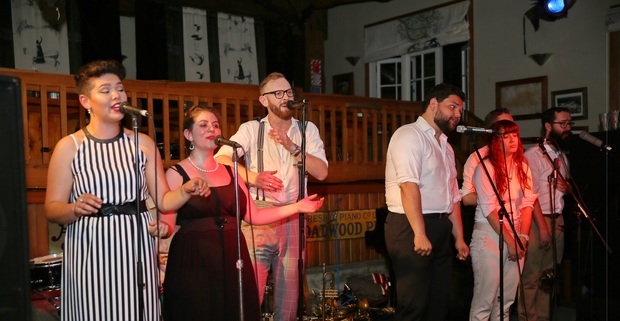 Sal Valentine and the Babyshakes play the Leigh Sawmill Cafe / Photo by Steve Bone.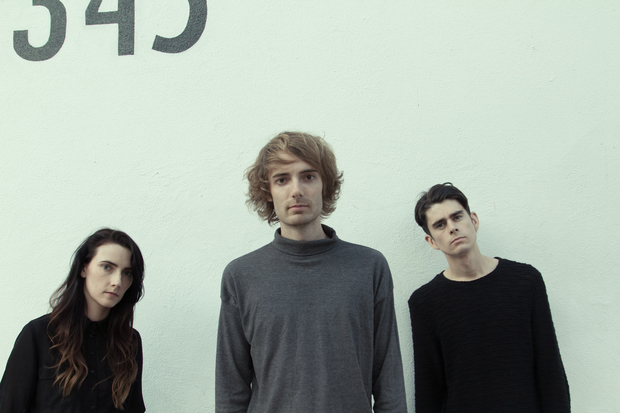 Strange Babes' Maddie North, Sam McCarthy and Leroy Clampitt.
Laneway 2015
The Auckland edition of St Jerome's Laneway Festival sold out for the fourth year, with 12,000 punters descending on Auckland's Silo Park to see performances from the 30-odd acts, including St Vincent, Future Islands, Jungle, Belle and Sebastian and FKA twigs. Music 101's Emma Smith, Zac Arnold and Sam Wicks cherry pick interviews with the headliners.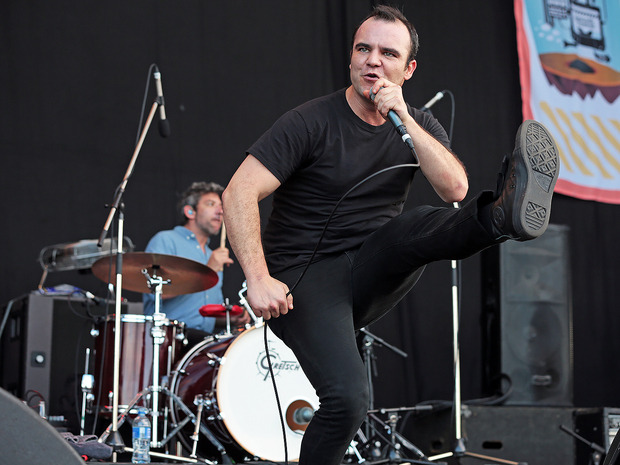 Future Islands' Samuel T. Herring on Laneway's Hey Seuss stage / Photo by Diego Opatowski
Music played in this show
2-3pm
Artist: Jon Hopkins
Song: We Disappear
Composer: Hopkins
Album: Immunity
Label: Domino
FKA Twigs Interview
Artist: FKA twigs
Song: Numbers
Composer: T.Barnett, S.Sisay
Album: LP 1
Label: Young Turks

Artist: FKA twigs
Song: Numbers
Composer: T.Barnett, Haynie
Album: LP 1
Label: Young Turks

Artist: FKA twigs
Song: Numbers
Composer: T.Barnett
Album: LP 1
Label: Young Turks

Artist: FKA twigs
Song: Lights On
Composer: T.Barnett, A.Ghersi, T.Zogson
Album: LP 1
Label: Young Turks

Artist: FKA twigs
Song: Pendulum
Composer: T.Barnett, P.Epworth
Album: LP 1
Label: Young Turks

Artist: FKA twigs
Song: Two Weeks
Composer: T.Barnett, E.Haynie
Album: LP 1
Label: Young Turks
Artist: Siouxsie and the Banshees
Song: Christine
Composer: Sioux/ Severin
Album: Kaleidoscope
Label: Polydor
Shonen Knife Interview
Artist: Shonen Knife
Song:Tortoise Brand Pot Scrubbing Cleaner
Composer: Shonen Knife
Album: Burning Farm
Label: K Records
Artist: Shonen Knife
Song: I Wanna Eat Choco Bars
Composer: Shonen Knife
Album:Pretty Little Baka Guy
Label: Subversive Records
Artist: Shonen Knife
Song: I Am A Cat
Composer: Shonen Knife
Album: Let's Knife
Label: Virgin
Artist: Shonen Knife
Song: Riding On The Rocket
Composer: Shonen Knife
Album:Pretty Little Baka Guy
Label: Subversive Records
Artist: Shonen Knife
Song: Twist Barbie
Composer: Shonen Knife
Album: Burning Farm
Label:K Records
Artist: Shonen Knife
Song: Beat On The Brat
Composer: Shonen Knife
Album: Osaka Ramones
Label: P Vine
Artist: Shonen Knife
Song: Tortoise Brand Pot Scrubbing Cleaner
Composer: Shonen Knife
Album: Burning Farm
Label: K Records
Connan Mockasin Interview
Artist: Connan Mockasin
Song: Caramel
Composer: Connan Mockasin
Album: Caramel - Live At Handelsbeurs, Ghent, Belgium 02.10.2013
Label: Phantasy Sound
Artist: Connan Mockasin
Song: Faking Jazz Together
Composer: Connan Mockasin
Album: Caramel - Live At Handelsbeurs, Ghent, Belgium 02.10.2013
Label: Phantasy Sound
Artist: Connan Mockasin
Song: Forever Dolphin Love Part 1
Composer: Connan Mockasin
Album: Caramel - Live At Handelsbeurs, Ghent, Belgium 02.10.2013
Label: Phantasy Sound
Artist: Connan Mockasin
Song: Megumi The Milkyway Above
Composer: Connan Mockasin
Album: Forever Dolphin Love (Live Bonus CD)
Label: Phantasy Sound
Artist: Connan Mockasin
Song: I'm The Man That Will Find You
Composer: Connan Mockasin
Album: Caramel - Live At Handelsbeurs, Ghent, Belgium 02.10.2013
Label: Phantasy Sound
Artist: Connan Mockasin
Song: It's Your Body 2
Composer: Connan Mockasin
Album: Caramel
Label: Phantasy Sound
Artist: Connan Mockasin
Song: Forever Dolphin Love Part 2
Composer: Connan Mockasin
Album: Caramel - Live At Handelsbeurs, Ghent, Belgium 02.10.2013
Label: Phantasy Sound
Artist: Strange Babes
Song: Holiday
Comp: Strange Babes
Album: Strange Babes
Label:
Artist: Naram
Song: Long Way Version
Composer: Naram
Album: Long Way 7"
Label: Jahtari
3-4pm
Artist: Don McGlashan
Song: The Waves Would Roll On
Composer: McGlashan
Album: Lucky Stars
Label:
Martyn Bennett Interview with Greg Lawson
Artist: Martyn Bennett
Song: Chanter, Move, Liberation, Nae Regrets, Blackbird
Comp: M.Bennett
Album: Grit
Label: Real World
Artist: Martyn Bennett and Margret Bennett
Song: Cumha Iain Gairbh
Comp: Traditional – arranged by M.Bennett
Album: Glen Lyon (A Song Cycle)
Label: Foot Stomping Records
Artist: Martyn Bennett and Martin Low
Song: Spree
Comp: M.Bennett, Low
Album: Hardland
Label: Martyn Bennett.com
Artist: Martyn Bennett
Song: Waltz for Hector
Comp: M.Bennett, S.Maclean
Album: Bothy Culture
Label: Rykodisc
Artist: Great North
Song: Omaha
Composer: Donnell
Album: Up In Smoke
Label: Great North
Stages: Leigh Sawmill
Artist: Justin Townes Earle
Song: Harlem River Blues
Composer: J.Earle
Album: Harlem River Blues
Label: Bloodshot records
Artist: Kitty, Daisy and Lewis
Song: Smoking In Heaven, What Quid?
Composer: K.Durham, D.Durham, L.Durham
Album:Smoking in Heaven
Label: Sunday Best
Artist: Lawrence Arabia
Song: Fine Old Friends
Composer: J.Milne
Album: Chant Darling
Label: Honorary Bedouin
Artist: Sal Valentine and The Babyshakes
Song: Cass Monae
Composer: I.Luketina-Johnston, B.Sinclair
Album: Sal Valentine and The Babyshakes
Label: Private
Artist: The Hipstamatics
Song: Tightrope
Composer: N. Irvin III, C.Joseph II, A.Patton, J.Monáe Robinson
Label: Private
Artist: Opensouls
Song: Dollars
Composer: Opensouls
Album: Standing In The Rain
Label: FTC
Gig Guide
Artist: Suren Unka
Song:Uvula
Composer: Suren Unka
Album: El Chupacabra
Label:
4-5pm
Belle and Sebastian Interview
Artist: Belle and Sebastian
Song: Dress Up In You
Composer: Belle and Sebastian
Album: The Life Pursuit
Label: Matador
Artist: Belle and Sebastian
Song:Like Dylan in the Movies
Composer: Belle and Sebastian
Album: If You're Feeling Sinister
Label: Jeepster
Artist: Belle and Sebastian
Song: Enter Sylvia Plath, Nobody's Empire
Composer: Belle and Sebastian
Album: Girls In Peacetime Want To Dance
Label: Matador

Artist: God Help The Girl
Song: God Help The Girl
Composer: Murdoch
Album: God Help The Girl
Label: Matador
Artist: Belle and Sebastian
Song: The Everlasting Muse
Composer: Belle and Sebastian
Album: Girls In Peacetime Want To Dance
Label: Matador

Artist: Belle and Sebastian
Song: White Collar Boy
Composer: Belle and Sebastian
Album: The Life Pursuit
Label:Matador
Little Dragon Interview
Artist: Little Dragon
Song: Klapp Klapp
Comp: Little Dragon
Album: Nabuma Rubberband
Label: Because Music
Artist: Little Dragon
Song: Nabuma Rubberband
Comp: Little Dragon
Album: Nabuma Rubberband
Label: Because Music
Artist: Little Dragon
Song: Let Go
Comp: Little Dragon
Album: Nabuma Rubberband
Label: Because Music
St Vincent Interview
Artist: St Vincent
Song: Bring Me Your Loves, Rattlesnake
Composer: Clark
Album: St Vincent
Label: Loma Vista
Artist: Swans
Song: Screen Shot
Composer: Clark
Album: To Be Kind
Label: Young Gods
Courtney Barnett Interview
Artist: Courtney Barnett
Song: History Eraser
Comp: Courtney Barnett
Album: The Double EP: A Sea Of Split Peas
Label: Milk! Records
Artist: Paul Kelly
Song: The Foggy Fields Of France
Comp: Paul Kelly
Album: Stolen Apples
Label: Capitol Records
Artist: Courtney Barnett
Song: Out Of The Woodwork
Comp: Courtney Barnett
Album: The Double EP: A Sea Of Split Peas
Label: Milk! Records
Artist: Courtney Barnett
Song: Avant Gardener
Comp: Courtney Barnett
Album: The Double EP: A Sea Of Split Peas
Label: Milk! Records
Jungle Interview
Artist: Jungle
Song: The Heat, Time, Busy Earnin'
Comp: T.McFarland, J. Lloyd-Watson
Album: Jungle
Label: XL Recordings
Iceage Interview
Artist: Iceage
Song: Plowing Into The Field Of Love
Comp: Iceage
Album: Plowing Into The Field Of Live
Label: Matador
Artist: Iceage
Song: Forever
Comp: Iceage
Album: Plowing Into The Field Of Live
Label: Matador
Artist: Iceage
Song: How Many
Comp: Iceage
Album: Plowing Into The Field Of Live
Label: Matador
Artist: Quarks
Song: V8
Composer: Quarks
Album:
Label: