Music 101 for Saturday 7 February 2015
7:30 PM.Nightmares on Wax at the ultimate chill out zone, Proton Beast get industrious and Spook The Horses embrace their quieter side. Read more Audio
2-3pm
Stages: The Wine Cellar, Auckland
This week in Stages, Anthonie Tonnon enters the Auckland underground – visiting the Wine Cellar in St Kevin's Arcade – a subterranean venue that has served as the site of many first gigs for alternative Auckland musicians. It's both a pillar of a scene and an ever-evolving venue that has held its high regard among musicians and its staff for over a decade.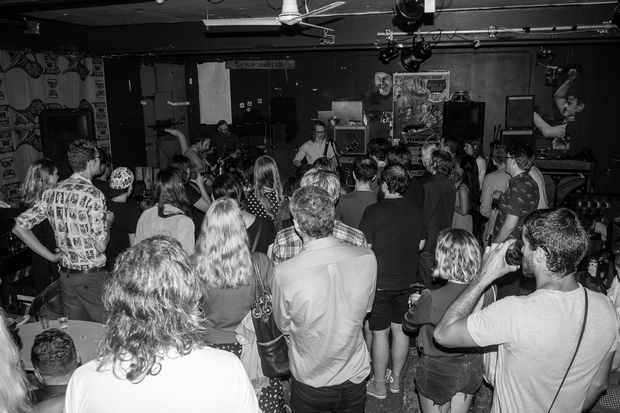 Ed Cake and band play the Wine Cellar / Photo by Joon Yang.
Proton Beast
Heavy and futuristic, with guitars crunchier than a fresh bowl of cornflakes, Auckland's Proton Beast release their anticipated debut album Digitizer on Muzai this week. Emma Smith talks with guitarist Westley Holdsworth and drummer Stu Harwood about geeking out on tone, 7/8 time signatures and how they pulled ex D4 bassist Vaughn Williams into the fold.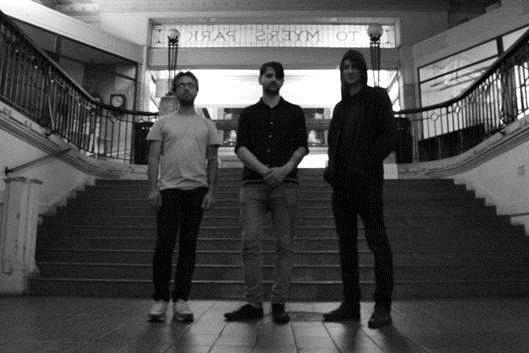 Proton Beast (From L-to-R: Westley Holdsworth, Stu Harwood and Vaughn Williams / Photo by Jenna Todd.
Spook the Horses
Wellington post-hardcore band Spook the Horses released their new album, Rainmaker, this week. The band's last release, Brighter, was a dense album filled with wall of guitars, but Rainmaker sees a distinct change in sound and aesthetic for the band. Craig Hayes catches up with Spook the Horses' guitarist Donnie Cuzens and band frontman Callum Gay to discuss the evolution in the band's sound.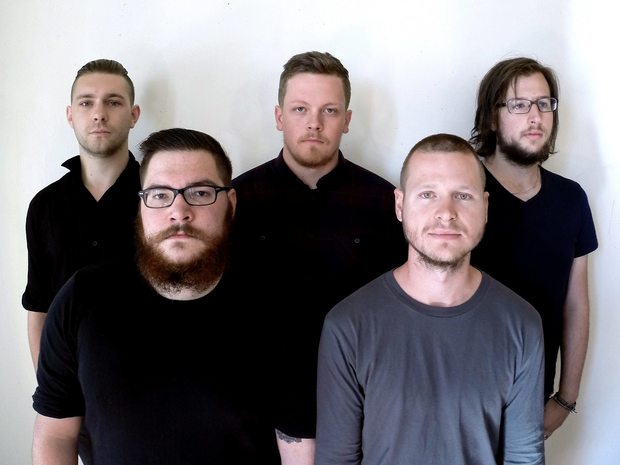 Spook the Horses (from L-to-R: Donnie Cuzens, Callum Gay, Alex Ross, Ben Dentice and Zach Meech) / Photo by Max Telfer.
3-4pm
Bespin
Cut Off Your Hands guitarist Jonathan Lee introduces his new band Bespin, and plays us their debut song.
P.H.F.
Described as the "complete soundtrack to your infinitely-recurring post-teen nostalgia", P.H.F.'s (formerly Perfect Hair Forever) Grind State is an album full of lush synth soundscapes, guitar solos and his signature disguised vocals. P.H.F. walks Zac Arnold through the makings and meanings of his latest effort.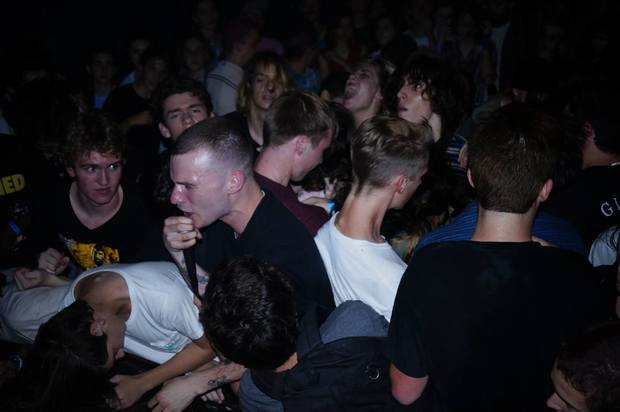 P.H.F.'s Joe Locke performs at The Smell in Los Angeles / Photo courtesy of Danger Collective Records.

Muirs / Photo by Fraser Chatham.
4-5pm
Wanderlust
Pitched as a "transformational festival", Wanderlust brings together yoga and music, to open hearts, minds and hip flexors. Started in the United States in 2009, the Wanderlust experience has been brought to New Zealand, with the first four-day event being held in Taupo last weekend. With a music line-up that included Nightmares on Wax, Xavier Rudd, Nahko and The Medicine For The People, and a mix of traditional chant and dance DJs during the yoga classes, keen Yogini Kirsten Johnstone went to check out the vibe.

Arli Liebermann accompanying a yoga class at Wanderlust photo by Ali Kaukas.
Nightmares On Wax
One of the DJs brought over especially for Wanderlust was Nightmares On Wax - a.k.a. DJ Ease, a.k.a. George Evelyn. He talks about 'Feelin' Good' and life on Ibiza.
Music played in this show
2-3pm
Artist: Power Nap
Song: Eat Or Be Eaten
Composer: Cudby
Album: The Other's Way
Label: Flying Out
Artist: Princess Chelsea
Song: No Church on Sunday
Composer: Chelsea Nikkel
Album: No Church on Sunday (single)
Label: Lil' Chief
Artist: Perfect Hair Forever
Song: Gimme That Poison
Composer: Joe Locke
Album: Zero EP
Label: Crystal Magic
Artist: Emily Edrosa
Song: The Corner Of The Party
Composer: Emily Littler
Album: Emily Edrosa EP
Label: self released
Artist: Steve Abel
Song: Best Thing
Composer: Steve Abel
Album: Single
Label: Self Released
Artist: Dad Jokes
Song:Bad Friend
Composer: Dad Jokes
Album: Bad Friends
Label: Slef -released
Artist: The Crabbs
Song: Night Time
Composer: The Crabbs
Album: unreleased
Label: unreleasd
Artist: Edmund Cake
Song: Beautiful Sleep
Composer: Edmund Cake
Album: Downtown Puff
Label: Lil Chief
Artist: Liars
Song: Scissor
Composer: Liars
Album: Sisterworld
Label: Mute
Proton Beast Interview
Artist: Proton Beast
Song: Data
Composer: Proton Beast
Album: Digitizer
Label: Muzai
Artist: Proton Beast
Song: The Verse
Composer: Proton Beast
Album: 2000 and Blood
Label: Muzai
Artist: Proton Beast
Song: Tetris, Unexpected Error, Digitizer
Composer: Proton Beast
Album: Digitizer
Label: Muzai
Artist: A Place To Bury Strangers
Song: We've Come So Far
Composer: Ackermann/ Lunadon/ Gonzalez
Album: Transfixation
Label: Dead Oceans
Spook The Horses Interview
Artist: Spook the Horses
Song: Below Our Time, Drought. Footfall, Overburden, The Flood
Composer: Spook the Horses
Album: Rainmaker
Label: Self-released
3-4pm
Artist: Unknown Mortal Orchestra
Song: Multi Love
Composer: R Neilson
Album: Multi Love
Label: jagjaguwar
Bespin Introduces 'Osiris'
Artist: Bespin
Song: Osiris
Composer: Lee
Album: Osiris EP
Label: TBC
Artist: Pond
Song: Elvis' Flaming Star
Composer: Allbrook
Album: Man It Feels Like Space Again
Label: EMI
Artist: Anika Moa
Song: Running
Composer: Moa/Mulholland
Album: Queen At The Table
Label: EMI
PHF Interview 
Artist: P.H.F.
Song: U R ENTERING THE GRIND ST8
Composer: P.H.F.
Album: Grind State
Label: Crystal Magic Records
Artist: P.H.F.
Song: PROBLEM ft. ROY IRWIN
Composer: P.H.F.
Album: Grind State
Label: Crystal Magic Records
Artist: P.H.F.
Song: STRAIGHT 2.6
Composer: P.H.F.
Album: Grind State
Label: Crystal Magic Records
Artist: P.H.F.
Song: DOG EAT GRASS
Composer: P.H.F.
Album: Grind State
Label: Crystal Magic Records
Artist: P.H.F.
Song: CRUISER
Composer: P.H.F.
Album: Grind State
Label: Crystal Magic Records
Artist: P.H.F.
Song: I WAS A KID FT. EMILY EDROSA
Composer: P.H.F.
Album: Grind State
Label: Crystal Magic Records
Artist: P.H.F.
Song: CRY ON
Composer: P.H.F.
Album: Grind State
Label: Crystal Magic Records      
Artist: Anthonie Tonnon
Song: Water Underground
Composer: Tonnon
Album: Successor
Label: Self-Released
Introducing: Muirs
Artist: Muirs
Song: Life Love Octopus
Composer: Muirs
Album: Single
Label: Kerosene Comic Book
Artist: Spaces
Song: Stable
Composer: Flynn
Album: Potential
Label: Bleep
Gig Guide
4-5pm
Artist: Sola Rosa
Song: Humanised Feat. Bajka
Composer: Spraggon/Bajka
Album: Get Is Together
Label: Way Up
Wanderlust Festival Feature
Artist: Nightmares On Wax
Song: Om Sweet H(Om)e
Composer: Evelyn
Album: Feelin' Good
Label: Warp
Artist: Tibetan Singing Bowls
Song: Root Chakra
Composer:
Album: Tibetan Singing Bowls for Relaxation, Meditation and Chakra Balancing
Label: Nature's Cure Records
Artist: Arli Liebermann
Song: Yin Yoga Improvisation
Composer: Liebermann
Album: RNZ Recording
Label: RNZ Recording
Artist: Four Tet
Song: Ba Teaches Yoga
Composer: Hebden
Album: Beautiful Rewind
Label: Text
Artist: Hermitude
Song: Hyperparadise (Flume Remix)
Composer: Stuart/Dubber/Streten
Album: Parallel Paradise EP
Label: Elefant Tracks
Artist: Suzanne Sterling
Song: Ome Mane Padme Hum, Sivasana
Composer: Sterling
Album: Blue Fire Soul
Label: White Swan Records
Artist: Medicine Drum
Song: Funk Chakra
Composer: Medicine Drum
Album: Original Face
Label: Higher Octave Music
Artist: Matmos
Song: Very Large Green Triangles
Composer: Matmos
Album: The Marriage of True Minds
Label: Thrill Jockey
Artist: Nightmares On Wax
Songs: Tapestry
Composer: Evelyn
Album: Feelin' Good
Label: Warp
Artist: Nightmares On Wax
Songs: Night's Introlude,
Composer: Boone, Evelyn, Sebastian
Album: Smokers Delight
Label: Warp
Artist: Nightmares On Wax
Songs: Mission Venice
Composer: Dennison, Evelyn, Halliday
Album: Smokers Delight
Label: Warp
Artist: Nightmares On Wax
Songs: Time (To Listen)
Composer: Evelyn,
Album: Smokers Delight
Label: Warp
Artist: Nightmares On Wax
Songs: Gambia Via Vagator Beach
Composer: Evelyn, Firth, Lovell
Album: Smokers Delight
Label: Warp
Artist: Nightmares On Wax
Songs: Now Is The Time
Composer: Evelyn
Album: Feelin' Good
Label: Warp
Artist: Groeni
Song: The Fray
Composer: Isaacs
Album: Hewn EP
Label: Mooncircle/Finest Ego
Artist: Mogwai
Song; History Day
Composer: Mogwai
Album: Music Industry 3, Fitness Industry 1
Label: Rock Action