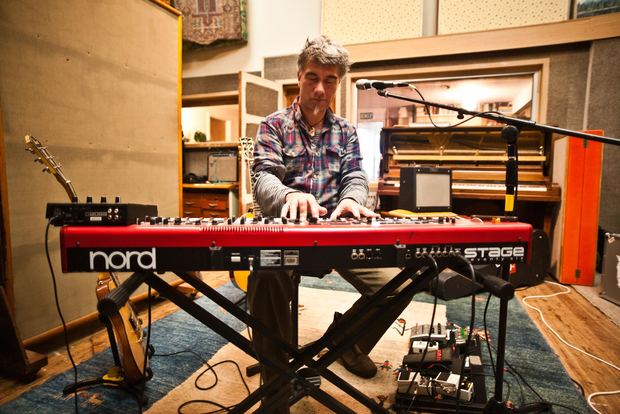 Warren Maxwell at Blue Barn Studios, Wellington / Photo by Pat Shepherd
The driving force behind much-loved bands TrinityRoots and Little Bushman and member of eclectic Featherston-based trio Vinyl Bison offers up a wonderfully diverse, chronologically-themed mixtape. From his childhood in rural Whangarei to bogan days roaming the streets of Wellington and recent pinings for all things 80s, this is Warren Maxwell's life, as told in song.
Music Details
Artist: The Shadows
Song: Apache
Composer: Jerry Lordan
Album: Single
Label: Columbia
Artist: Quincy Jones
Song: Ai No Corrida
Composer: Chas Jankel, Kenny Young
Album: The Dude
Label: A & M
Artist: ACDC
Song: Back in Black
Composer: ACDC
Album: Back in Black
Label: Atlantic
Artist: John Coltrane
Song: Lonnie's Lament
Composer: John Coltrane, Jimmy Garrison, Elvin Jones, McCoy Tyner
Album: John Coltrane Quartet
Label: Impulse!
Artist: Outkast
Song: Liberation
Composer: Outkast
Album: Aquemini
Label: LaFace Records
Artist: The Cure
Song: A Forest
Composer: Tolhurst, Hartley, Smith, Gallup
Album: Seventeen Seconds
Label: Fiction Records
Artist: Jeff Buckley
Song: Lilac Wine
Composer: James Shelton
Album: Grace
Label: Columbia