Music 101 for Saturday 12 April 2014
2-3pm
Grayson Gilmour In Session
Wellington songwriter and multi-instrumentalist Grayson Gilmour performs a set of songs from his new album Infinite Life live in the Music 101 studio.
Suren Unka
Auckland electronic producer Suren Unka makes party beats with melodic, twinkly synth lines reminiscent of Four Tet and Gold Panda. Ahead of the release of his debut album El Chupacabra, we find out what makes his knobs spin.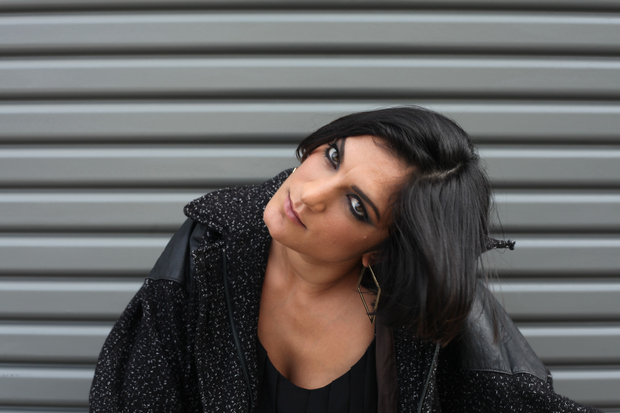 3-4pm
Ian Anderson of Jethro Tull
Jethro Tull's Ian Anderson talks to Trevor Reekie about his new solo studio album Homo Erraticus as well as the creative and commercial challenges legendary bands face in the new musical landscape.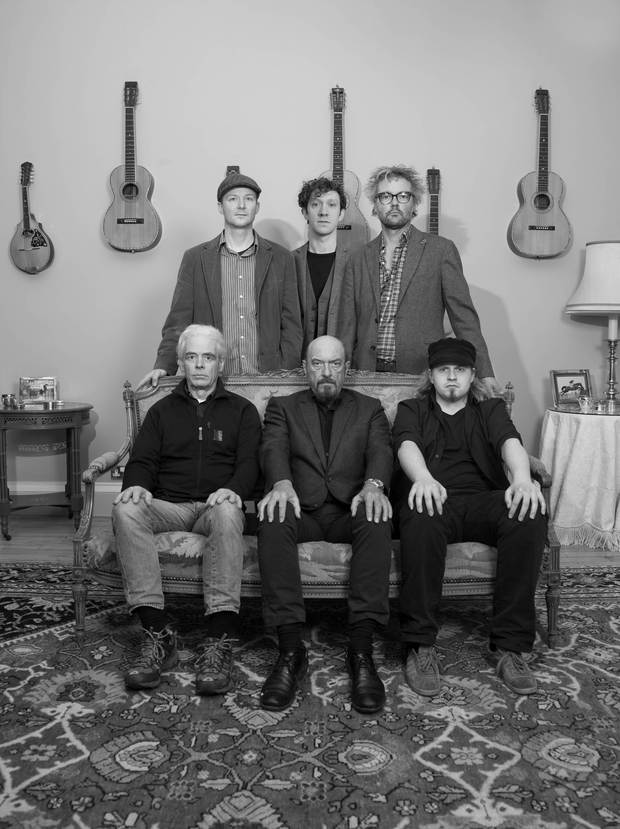 Ian Anderson (front, centre) and band, photo by Carl Glover
George Henderson's The Spies
One of Flying Nun's lesser sung heroes, George Henderson, is best known for his work with The Puddle. However, before The Puddle there were The Spies. Matthew Crawley talks to George about the release of The Spies album that almost never was – 35 years after it was recorded.
Aldous Harding
Credit Anika Moa with discovering this unusual artist busking on the streets of Geraldine a few years back. Now Hanna 'Claynails' Harding's released her debut album under the moniker Aldous Harding with Ben Edwards of Lyttelton Records and Marlon Williams at the helm.
4-5pm
The Exponents live at The Powerstation
With a string of hits through the '80s and early '90s, The Exponents' songs are etched into our collective national psyche. Jordan Luck and the original line-up of the Exponents played 'The Gluepot Reunion' late last year alongside Hello Sailor and more, bringing together alumni of this legendary Auckland venue. Equal parts concert and audience sing-along, this live performance at The Powerstation was recorded for posterity by Radio New Zealand.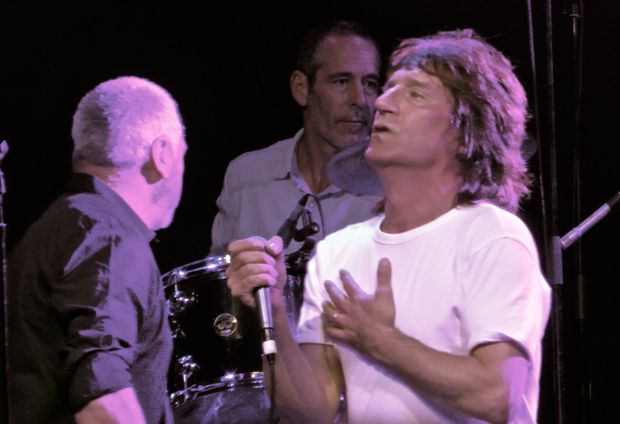 The Exponents, photo by Andre Upston
Stages: Kings Arms
In Stages, Anthonie Tonnon finds out what makes The Kings Arms a rite of passage for bands around the country and the best place to catch an international band on their way up.



Kurt Vile at The Kings Arms, photo by Jenna Todd
Music played in this show
2-3pm
Artist: So So Modern
Song: Berlin
Composer: So So Modern
Album: Crude Futures
Label: Private
Grayson Gilmour in Session
Artist: Grayson Gilmour
Song: Humble Punk Rock/Minus Times Infinity/Blood & Bone
Composer: G.Gilmour
Album: Unreleased Live Recording
Label: Radio NZ Recording
Artist: Nirvana
Song: All Aplogies
Composer: K.Cobain
Album: MTV Unplugged in New York: Nirvana
Label: DCG
Suren Unka
Artist: Suren Unka
Song: Lyuba, Early, Uvula, Alice, 130, Nanobots
Composer: S Unka
Album: El Chupacabra
Label: Self-released
Introducing: Trip Pony
Artist: Trip Pony
Song: Daze
Composer: P.Sami/J.Toy
Album: Daze
Label: Self-released
Artist: Cibo Matto
Song: Deja Vu
Composer: Y.Honda/M.Hatori
Album: Hotel Valentine
Label: Chimera Music
Artist: Erykah Badu
Song: 20 Feet Tall
Composer:Badu, Douthit, Wimbish
Album: New Amerykah Part Two (Return of the Ankh)
Label: Universal Motown
3-4pm
Artist: Jethro Tull
Song: Song For Jeffrey
Composer: Ian Anderson
Album: The Rolling Stones Rock and Roll Circus
Label: abkco
Ian Anderson
Artist: Jethro Tull
Song: Beggars Farm
Composer: Ian Anderson
Album: This Was
Label: Chrysalis/EMI
Artist: Jethro Tull
Song: Thick As A Brick
Composer: Ian Anderson
Album: Thick As A brick
Label: Chrysalis - EMI

Artist: Ian Anderson
Song: Tripudium Ad Bellum
Composer: Ian Anderson
Album: Homo Erraticus
Label; Calliandra Records label.
Artist: Jethro Tull
Song: Living In The Past
Composer: Ian Anderson
Album: The Very Best Of Jethro Tull
Label: Chrysalis - EMI
Artist: Jethro Tull
Song: Hymn 43
Composer: Ian Anderson
Album: Aqualung
Label: Chrysalis - EMI
Artist: Jethro Tull
Song: We Used To Know
Composer: Ian Anderson
Album: Stand Up
Label: Chrysalis Records - EMI
Artist: Ian Anderson
Song: Puer Ferox Adventus
Composer: Ian Anderson
Album: Homo Erraticus
Label: Calliandra Records
Artist: The Puddle
Song: Southern Man
Composer: The Puddle
Album: Songs For Emily Valentine
Label: Powertool Records
The Spies
Artist: The Spies
Song: Collided & Collected
Composer: George Henderson
Album: The Battle of Bosworth Terrace
Label: Silt Breeze
Artist: The Spies
Song: Egyptian Bird Song
Composer: Susan Ellis
Album: The Battle of Bosworth Terrace
Label: Silt Breeze
Artist: The Spies
Song: All Full Of Crap
Composer: Mark Thomas
Album: The Battle of Bosworth Terrace
Label: Silt Breeze
Artist: The Spies
Song: The King Of China's Daughter
Composer: Edith Sitwell & George Henderson
Album: The Battle of Bosworth Terrace
Label: Silt Breeze
Artist: The Spies
Song: Vintage Moth
Composer: George Henderson & Susan Ellis
Album: The Battle of Bosworth Terrace
Label: Silt Breeze
Artist: The Spies
Song: Keeper of the Flame
Composer: George Henderson
Album: The Battle of Bosworth Terrace
Label: Silt Breeze
Artist: The Spies
Song: Skating
Composer: Susan Ellis
Album: The Battle of Bosworth Terrace
Label: Silt Breeze
Artist: Young Marble Giants
Song: Ode to Booker T
Composer: Moxham
Album: Colossal Youth
Label: Domino
Aldous Harding
Artist: Aldous Harding
Song: Beast
Composer: Aldous Harding
Album: Aldous Harding
Label: Lyttelton Records
Artist: The Eatern
Song: State Houses By The River
Composer: Adam McGrath
Album: Hope And Wire
Label: Rough Peel Records
Artist: Aldous Harding
Song:Merriweather
Composer: Aldous Harding
Album: Aldous Harding
Label: Lyttelton Records
Gig Guide
Artist: Nine Inch Nails
Song: Everything
Composer: T.Reznor
Album: Hesitation Marks
Label: Columbia
4-5pm
Artist: Toy Love
Song: Squeeze
Composer: Bathgate/Dooley/Kean/Knox/Walker
Album: Cuts
Label: Flying Nun
The Exponents
Artist: The Exponents
Song: Sex & Agriculture/If Only I Could Die (And Love You Still)/I'll Say Goodbye (Even Though I'm Blue)/Who Loves Who The Most/Why Does Love Do This To Me
Composer: The Exponents
Album: Unreleased Live Recording
Artist: Death And The Maiden
Song: Flowers For The Blind
Composer: Death And The Maiden
Album: TBA
Label: Self Release
Label: Radio NZ Recording
Stages: The Kings Arms
Artist: The Datsuns
Songs: Harmonic Generator
Composer: Datsuns
Album: The Datsuns
Label: Infidelity
Artist: The National
Songs: Guest Room
Composer: The National
Album: Boxer
Label: WEA
Artist: Beirut
Songs: Elephant Gun
Composer: Zach Condon/ Ryan Condon
Album: Feel
Label: 4AD
Artist: The Muttonbirds
Songs: In My Room
Composer: Don Maglashan
Album: Free Range
Label: Flying Nun
Artist: SJD
Songs: Make Love Not War
Composer: Sean Donnelly
Album: Elastic Wasteland
Label: Round Trip Mars
Artist: Kitsch
Songs: Eleven/Eleven
Composer: Sam Icke
Album: Love Songs For Romantic Punks
Label: Shock
Artist: Mulholland
Songs: Let's Go Fishing
Composer: Jol Mulholland
Album: Unreleased
Label:
Artist: 5.6.7.8's
Songs: I'm a Wild One
Composer: Umekawa
Album: Teenage Mojo Workout
Label: Timebomb
Artist: The White Stripes
Songs: The Hardest Button To Button
Composer: Jack White
Album: Elephant
Label: V2
Artist: Nightchoir
Songs: Caveman
Composer: Mike Hall
Album: See The First Star
Label: Elevenfiftyseven Records
Artist: Seeds of Orbit
Songs: Makeup of Moments
Composer: Mark Peterson
Album: Seeds Of Orbit
Label: Powertool Records
Artist: Giacomo Puccini
Songs: Un bel di vedremo
Composer: Giacomo Puccini
Album: 40 most Beautiful Arias
Label: Warner
Artist: The Eversons
Songs: Marriage
Composer: Mark Turner
Album: Summer Feeling
Label: Lil' Chief Records
Artist: The Spelling Mistakes
Song: Feels So Good
Composer: N.Hanson/J.Hanson/W.Fowler
Album: Unreleased Live Recording
Label: Radio NZ Recording
Artist: Liars
Song: Vox Tuned DED
Composer: Liars
Album: Mess
Label: Mute