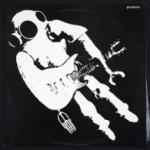 Remembered now as volume dealers of the loudest order and as the progenitors of Bailter Space, Christchurch trio the Gordons were a case of accelerated progress. Playing their first show to a full house mere days after forming, the group created their own sound, visual presence, and branding; and self-releasing and distributing the now-classic Future Shock EP before they had been playing for a year.
Not initially a Flying Nun release or even issued on the classic FN 12" format, Future Shock is a key record in Flying Nun history, indicating to label founder Roger Shepherd that not only was there a new exciting sound happening in the South Island, but there was a way of documenting it independently.
Relating the history behind Future Shock are Gordons Alistair Parker and John Halvorsen, and impartial observer Simon Grigg.
Interviewer: Jennifer Broadbent, Engineer: Hayden Booth, Producer: Troy Ferguson for 95bFM.