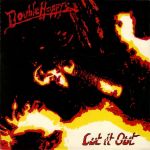 Following the dissolution of their respective groups The Stones and Bored Games, Wayne Elsey & Shayne Carter re-joined forces to create a two guitar/one drum machine "trio". Adding John Collie on drums, the Double Happys were a brash, tuneful racket that may have gone far had tragedy not struck. Shayne Carter and John Collie tell the story.
Produced by Troy Ferguson for 95bFM.
Video
The Doublehappys performing an old Bored Games song with guest appearance on drums from Jeff Harford. Recorded at The Oriental Tavern, Dunedin, NZ in 1984. Warning: contains coarse language.