Arts on Sunday for Sunday 19 May 2013
12:43 Revolting! The sound of protest in Aotearoa
A new exhibition at National Library is looking at New Zealand protest music, posters and album covers over the years. Punk aficionado Kerry Ann Lee and singer/songwriter and unionist Don Franks talk about the exhibition opening at National Library. There will also be a series of talks over the next few months.
1:10 At The Movies
The much anticipated new Star Trek movie – Into Darkness.
1:31 Actor and playwright Kirk Torrance
Kirk Torrance of Outrageous Fortune and Sione's 2 fame talks about his other career as a playwright, working on his new play GrandFatherSon and about the parallels between sport and art.
1:45 Auckland Festival of Photography
Justin Gregory wonders if photography is currently the most important art form of them all, as he looks ahead to the Auckland Festival of Photography.
Gallery: Images from the Auckland Festival of Photography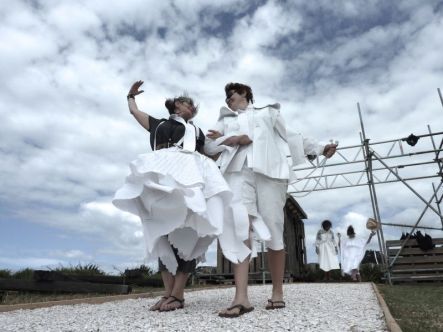 Kazu Nakagawa – 'A Play CATWALK'.
2:05 The Laugh Track
Christchurch singer and actress Ali Harper (right) who is taking her new show Naughty and Nice to New York.
2:26 Some Time
If you've always dreamed of travelling to Antarctica but think it's a bit far to go, then take a journey out to West Auckland instead. The Corban Estate Arts Centre in Henderson is home to a new work by artist Gabby O'Connor that re-creates the Ross Ice Shelf. Called Some Time, this large-scale sculpture depicts the ice shelf at the point of collapse and is made from tissue paper and staples. Quite a lot of them, as Justin Gregory discovered when he interviewed the artist as she puts it all together.
Hanging the work in the gallery - Time Lapse
2:38 Poet Kate Camp
Kate Camp discusses her collection Snow White's Coffin written during a year long CNZ residency in Berlin.
2:53 The Parkin Drawing Prize
Time is running out to enter a new national drawing competition encompassing drawing in its many forms. Dr Warren Feeney from the Academy of Fine Arts and artist Kristen Hollis discuss the significance of The Parkin Drawing Prize.
3:05 The Drama Hour
Dean Parker's Richard Interred, inspired by the unearthing of the bones of King Richard under a Leicester car park.