Arts on Sunday for Sunday 6 November 2011
12:50 Actors and Branding
Why is it that some actors appear on our TV screens over and over again? Perhaps it's because those actors are more aware of their 'brand'.  Peter Feeney and Miranda Harcourt share their experience in the industry and provide a few tips along the way. 
Miranda Harcourt on NZ On Screen.
12:50 Karl Fritsch
Based in a studio in Island Bay Wellington, this German-born jeweller works at great pace to create his unmistakeable designs. His work is held in private and public collections in national galleries and museums throughout the world; including MOMA in New York.  But for Karl Fritsch the circle is complete when his art comes to life on your fingers. He showcases a selection of works in Rings Without End at Object Space in Auckland.
Karl Fritsch, Rings 2011.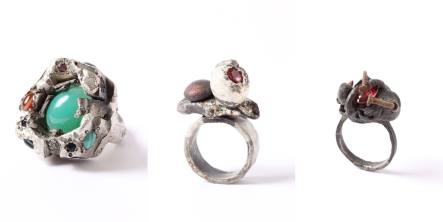 Left: Silver, chrysoprase, agate, rubies, sapphires, dimensions variable.
Centre:  Silver, gold, ruby, peridot, dimensions variable.
Right: Silver, steel, garnet, dimensions variable.
Images courtesy of the Artist and Hamish McKay Gallery, Wellington.
1:10 At the Movies with Simon Morris
1:30 Panel discussion - Asian Arts
The Chinese have been an established community in New Zealand for more than a century, but it's only now that we're beginning to see more Asian faces within mainstream media and within the arts. Sisters in the film and theatre industries, Roseanne and Renee Liang, share their perspectives on change, moving beyond sterotypes and the challenges for Asian arts practitioners, along with Malayasian-born visual artist Liyen Chong, whose work with embroidered hair helped to put her on the map.


From left: Roseanne Liang, Renee Liang and Liyen Chong.
2:05 The Laugh Track - Eddie Izzard
Sean McKenna talks comedy with the UK superstar Eddie Izzard (right), whose show Stripped is visiting our shores this month.  
2:20 Masi
Getting ready to debut her new work at the New Zealand International Arts Festival 2012, director/actor Nina Nawalowalo talks about getting back on stage, magic, and the secret to taking the world by storm with her unique brand of visual theatre. Her new show Masi is an evocative story of love, loss and memory, which sees a collaboration between The Conch and master illusionist Paul Kieve.

Image from Masi. Photograph by Philip Merry.
2: 35 Chapter and Verse
Grahame Sydney's Central Otago: Moving beyond clichés, this publication is a document of Grahame's love of Central Otago which is beautifully illustrated in this pictorial masterpiece. And a bad girl returns to her small home town of Pisa in Michelle Holman's new book Hand Me Down.

Photograph of Michelle Holman by Paul Abbitt.
2:50 Rising Voices Poetry Slam
Poetry and performance combine in a competition for young people.