Arts on Sunday for Sunday 13 November 2011
12:40 Self-Publishing
More and more people are doing it, and there are a number of avenues available for those with a book in mind whether publishing in hard-copy or going digital. Maggie Tarver from The New Zealand Society of Authors and Nicola Legat, publishing director at Random House,  share insights; and photographer Gareth Watkins and Lucy Orbell chat about why they wanted to get creative.
Gallery: photographs by Gareth Watkins

2 Sailors by Gareth Watkins.
1:10 At the Movies with Simon Morris
1:30 The New Zealand School of Dance Graduation Season
The school launches the careers of New Zealand's best dancers preparing them also for the internationall stage. And this year some of the students in their final year have the opportunity to perform the work 'Company B' by acclaimed US choreographer Paul Taylor. Richard Chen See one of the New York Company alumni is in New Zealand to teach the work, and we chat to two of the school's rising stars - Dane Holland and Daniel McCarroll.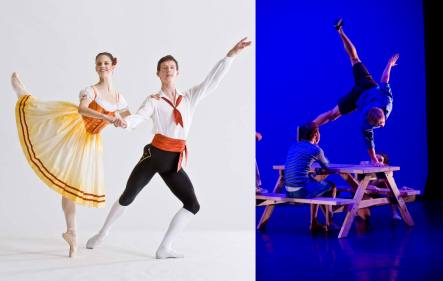 Left: Tarrah Burns and Dane Holland in Napoli for New Zealand School of Dance Graduation Season 2011.
Right: Daniel McCarroll in Go Home Stay Home by Craig Bary, New Zealand School of Dance Graduation Season 2010. Photographs by Stephen A'Court.
1:45 Neil Peplow
The SPADA conference is a highly anticipated event for those involved in the film industry, and this year producer English filmmaker Neil Peplow (Shooting Fish, Waking Ned and Bright Young Things) is in New Zealand to discuss the ins and outs of future proofing the film industry.
2:05 The Laugh Track
Peta Mathias on aging, the colour red and, well, life as she knows it.

Photograph of Peta Mathias by Emma Bass.
2:20 AFTA Film & Television Awards
2:30 Chapter and Verse
Tim Jones: Living it up with the ladies on the dance floor and conversing with the men in the corner - for a man it's about having the best of both worlds. This poet reveals how women may learn a thing or two in his book of poetry Men Briefly Explained; Mark Sweet draws on his experience of travelling through China for his sensual debut novel Zhu Mao.

2:45 Brown Ink
Polynesian playwrights.