Afternoons with Jesse Mulligan for Friday 5 June 2015
1:10 Your Song
To Build a Home by the Cinematic Orchestra.  Requested by Reuben Harcourt. 
1:20 NZ Live - Jody Direen
Rising country star Jody Direen plays songs from her new album 'Jody Direen Breaks Out" live in our Auckland studio on Hobson St.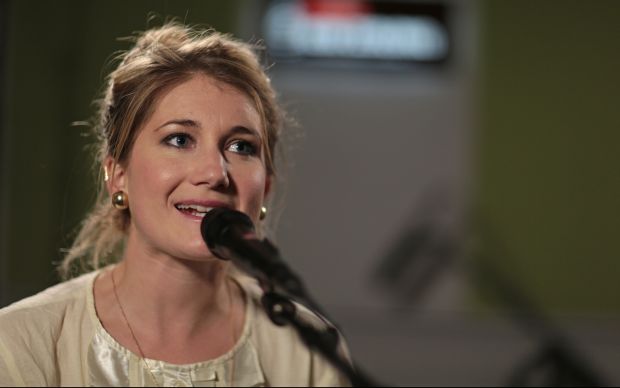 2:10 Wellington Zoo vet nurse - Sarah van Herpt
Sarah talks about rehabilitating native birds and zoo animals.  The zoo has just had its busiest summer, with 50-60 sick and traumatised native birds admitted to the hospital each month.  Ex zoo-keeper, now vet nurse, Sarah van Herpt, talks about her enrichment programme, and her recent trip to China where she presented her work to international experts.
2:20 Our First Female Mayor - Justin Gregory
In 1893 the people of Onehunga did an extraordinary thing. This small borough elected the British Empire's first female mayor.
2:30 NZ Reading - Shark's Tooth Rock
Ross and Greg go on a doomed diving trip off Wellington's south coast.
2:45 Feature album
Big Love-Simply Red (2015).
3:10 Food, Wine and Movies
Jacob Brown's recipe for Beef Empanadas with Chimichurri
Weekend Wine - Yvonne Lorkin
Mid Price Magic
Villa Maria Cellar Selection Marlborough Dry Riesling $17.99
Clean, crisp, crunchy lime and riverstone minerality coming through.  Zippy, cleansing and loaded with lemon.  Often discounted and definitely a great start to a journey into dry riesling - brilliant stuff.
Summerhouse Marlborough Pinot Gris 2014 $18
Punchy pear and juicy peach flavours are smashed together with crunchy apple and spicy quince characters to create a lush, slightly sweet, fruit-packed taste sensation.  It's a white wine that'll really please the crowds and appeal to those who like a splash of sweetness.  It's got real personality and smile-factor.
Treat Yourself
Moana Park Gimblett Road Chardonnay 2013 $45
I love this style of chardonnay so much!  Inside the bottle is a bunch of sexy butterscotch, mango and grapefruity goodness all dusted with cinnamon toast notes.  It's silky and succulent to sip, beautifully balanced and boasting almond meal and cashew characters.  Full, rich and generously proportioned, it's a complex, charming chardonnay.  Great stuff.
Movie Review - Sarah McMullan. 
This week: Aloha / Entourage / Tangerines 
3:45 The Panel Pre-Show
What the world is talking about.  With Jim Mora, Julie Moffett, Andrew Clay and Amanda Millar. 
MUSIC DETAILS:
Friday 5 June 2015  
YOUR SONG:  
ARTIST:      The Cinematic Orchestra
TITLE:        To Build A Home
COMP:     Swinscoe / Watson
ALBUM:      Ma Fleur
LABEL:      NINJA TUNE    921200
FEATURE ALBUM:
ARTIST:     Simply Red
TITLE:        Shine On
COMP:     Mick Hucknall
ALBUM:        Big Love
LABEL:      WARNER
ARTIST:     Simply Red
TITLE:        Dad
COMP:     Mick Hucknall
ALBUM:        Big Love
LABEL:      WARNER
ARTIST:     Simply Red
TITLE:        Big Love
COMP:     Mick Hucknall
ALBUM:        Big Love
LABEL:      WARNER