Afternoons with Jesse Mulligan for Tuesday 24 February 2015
1:10 Your Song
Billets Deux - Django Reinhardt/Stephane Grapelli.  Chosen by David Ingram of Snell's Beach 
1:20 The Critics
1. TV review - Irene Gardiner looks at some new shows on terrestrial television
2. Books - Wendyl Nissen reads "The Monogram Murders" and "We are All Completely Beside Ourselves"
3. Music - Zac Arnold with music from Nigeria and North America
4. Web - Steve McCabe checks out List25 and Seat Guru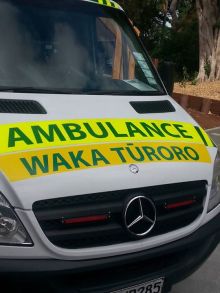 2:10 Te Taura Whiri i te Reo Maori - Dr Wayne Ngata
A trial has been initiated in Gisborne to introduce the first bilingual, Māori-English, signage on emergency service vehicles. The make over of ambulances and fire engines was introduced by the Maori Language Commission, Te Taura Whiri i te Reo Maori. Dr Wayne Ngata is from the commission.
Image of waka türoro courtesy of Te Taura Whiri i te Reo Māori
2:20 Literacy app - Yolanda Soryl
A Christchurch-based literacy expert has developed what could be the first New Zealand-accented phonics app. The app is a resource for teachers to help New Zealand children learn to read and write. Yolanda Soryl has spent two years developing the app for tablets and smartphones, after teachers became frustrated with foreign accents on their teaching resources. And found the accent issue could be one reason children are having problems, particularly with spelling with literacy
2:30 NZ Reading - The Crime of Huey Dunstan
Ches puts his defence case to the appeal judges and nine weeks later get the verdict. A new trial is ordered 
2:45 Feature album
Blur - "Parklife" (1994)
3:10 Feature interview - Dr Frances Jensen
They can be moody, messy and irresponsible, to the point where at times you may wonder what happened to those loving little children you once knew. Anyone who's had a grumpy teenager in the house knows this can be perhaps the toughest time to be a parent.  Dr Frances Jensen is a neurologist and professor at the University of Pennsylvania Perelman School of Medicine.  At times she struggled with two teenage sons, and she turned to science for some answers.  And she shares those answers in a book called The Teenage Brain: A Neuroscientist's Survival Guide to Raising Adolescents and Young Adults.
3:35 Our Changing World
Great Barrier Island - or just The Barrier, as it's often known - is a large rugged island guarding the eastern flank of the Hauraki Gulf. It's home to nearly a thousand people - and some rare bird species, including the New Zealand dotterel. This jaunty shorebird nests just above the high tide mark, and when Alison Ballance joins John Ogden for a walk at Awana Bay she discovers they lead quite eventful lives
Stories from Our Changing World.
3:45 The Panel Pre-Show
With Jim Mora, Noelle McCarthy, Jeremy Elwood and Ali Jones
MUSIC DETAILS:
AFTERNOONS/PANEL WITH SIMON MERCEP AND JIM MORA
Tuesday 24 Feb
YOUR SONG:
ARTIST: The Quartet of the Hot Club of France
TITLE:  Billets Deux
COMP:  Django Reinhart/Stephane Grapelli
ALBUM: Classic Recordings by the Quintette Du Hot Club De France
LABEL:   GEMA 8.120575
THE CRITICS
ARTIST: William Onyeabor
TITLE: Good Name  
COMP:  William onyeabor
ALBUM: Who Is William Onyeabor?
LABEL: LuakaBop 990079    
ARTIST: The Courtneys   
TITLE: 90210
COMP:   The Courtneys
ALBUM: Waterslide Promo   
LABEL: Waterslide Promo Courtneys      
FEATURE ALBUM:
ARTIST: Blur
TITLE: Parklife
COMP: Blur (Lyrics by Damon Albarn)
ALBUM: Parklife
LABEL:  FOOD 829194   
ARTIST: Blur
TITLE:  Boys and Girls
COMP:  Blur (Lyrics by Damon Albarn)
ALBUM: Parklife
LABEL:  FOOD 829194    
ARTIST: Blur
TITLE:  End of a Century
COMP:  Blur (Lyrics by Damon Albarn)
ALBUM:  Parklife
LABEL: FOOD 829194   
3:40 Song
ARTIST: Paul McCartney
TITLE:  New
COMP:  McCartney
ALBUM: New
LABEL:  Universal 1165243
PANEL HALF TIME:
ARTIST: John Denver
TITLE:  Rocky Mountain High
COMP:  John Denver  
ALBUM: The John Denver Collection
LABEL:  RCA 167993