Afternoons with Jesse Mulligan for Monday 23 February 2015
1:10 Your Song
Barbra Streisand "On My Way to You"  chosen by Jane Keller in Wellington

1:20 New Zealand Retro: The Advent of Colour Television in New Zealand
Dr Geoff Lealand from Waikato University
Bill McCarthy, who hosted the TV coverage of the Christchurch Commonwealth Games
Hokitika retailer Tony Graham
Archival audio supplied by Ngā Taonga Sound & Vision.
2:10 The Oscars - Graeme Tuckett
The excitement is building in Hollywood ahead of the 87th Academy Awards. New Zealander Anthony McCarten is nominated for best picture and adapted screenplay of the Stephen Hawking biopic, The Theory of Everything.  And Weta Digital is up for visual effects in Dawn of the Planet of the Apes. Sir Peter Jackson's final Hobbit movie, The Battle of the Five Armies, has been shut out of the best picture category but is nominated for Best Sound Editing. Wellington-based film reviewer Graeme Tuckett joins us to talk through the nominations
2:20  The Oscars - William Kircher
The Hobbit actor, William Kircher, is living it up in Los Angeles. His Wellington-based covers band, California Dreamers, headlined a pre-Oscar party last night. He joins us to tell us what's been happening in the build-up to the 87th Academy Awards.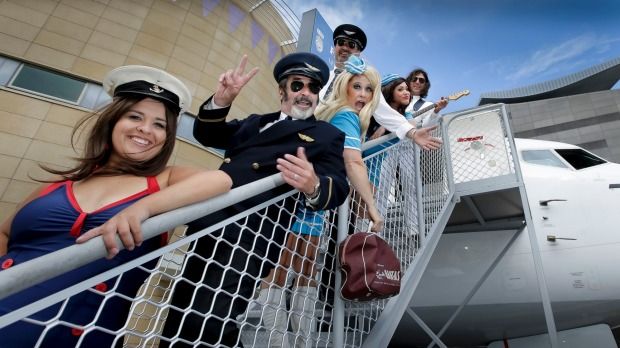 California Dreamers – from Facebook
2:30 NZ Reading - The Crime of Huey Dustan
Ches talks with Huey who is in hospital and learns what happened to him as a child. Lawrence decides to appeal
2:45 Feature album
Dusty in Memphis - Dusty Springfield (1969) 
3:10 Feature interview - Andie Mitchell
The story of people struggling to lose weight and then achieving that goal, is a well told tale: in books,  on television, online. But it's the next chapter of that story that Andie Mitchell wants to tell you about.  At age 20, Andie weighed 122 kilos, and she knew she had to do something.  She did. She dieted, she lost half her body weight.  But Andie says the part no one ever tells you about - is what happens after you shed the kilos.
3:30 Voices
A renowned visiting Chinese dancer from Wellington's sister city Xiamen is collaborating with renowned New Zealand choreographer Deidre Tarrant (Footnote Dance) to open Chinese New Year in style at the massively popular festival on Wellingtons waterfront.  Lynda Chanwai-Earle reports
3:45 The Panel Pre-Show
With Jim Mora, Noelle McCarthy, Stephen Franks and Ella Henry