Afternoons with Jesse Mulligan for Tuesday 25 November 2014
1:10 Best song ever written: Bring it on Home - Led Zeppelin
Chosen by David Ray of Hamilton
1:20 The Critics
TV review: Phil Wallington
Books: Vanda Symon
Music: Colin Morris
Web: Steve McCabe
2:10  New Zealand in the 1940's - Rick Helin
Historical footage showing New Zealand in the 1940's has turned up in California, and the search is on to find out who filmed the images. The silent footage was apparently taken by an American couple on holiday and it covers their journey from Auckland to Rotorua, Napier, Wellington, and then Christchurch and the South Island. The films were discovered by a group called the California Pioneers of Santa Clara County. Historian Rick Helin works with the group.
2:20 World's largest atlas - Mark Bagnall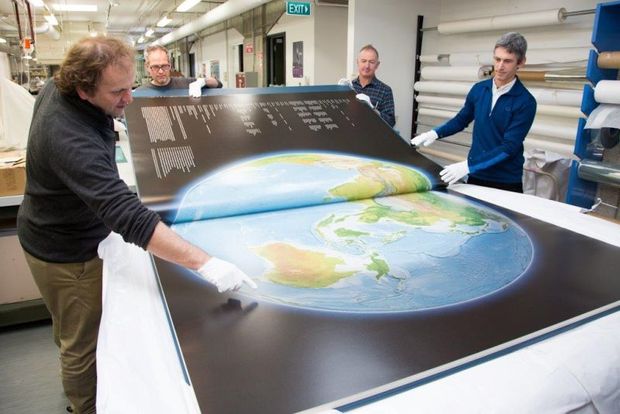 Photo courtesy of Imaging Services, Alexander Turnbull Library.
It's an atlas of epic proportions. In fact, it's one of the largest in the world and Wellington now has its own copy. The Earth Platinum Atlas measures 1.8 metres by 1.4m, weighs 150 kilograms and it will now call the Alexander Turnbull Library home. Not many have been made and the man looking after the book is library cartography curator, Mark Bagnall.
See a photo gallery of the world's largest atlas
2:30 NZ Reading: The Terror at Tinakore Road by Neil Giles.
A simple poisoning murder in a boarding house in Tinakore Road in 1893 is anything but simple. It takes all the skill of local Wellington chemist and super sleuth, Anthony Dunbar, to discover what's really what. Part 3.
2:45 Feature album: Like A Virgin -  Madonna
3:10 Water Treadmills
Water treadmills are used to help horses recover from injury, but sports scientist Paul Macdermid from Massey University has had one custom built, and is studying how people run on it compared with an ordinary treadmill. Ruth Beran goes to his home in Palmerston North to see one of the few water treadmills for humans in New Zealand, and watches as an athlete is tested.
Stories from Our Changing World.
3:45 The Panel Pre-Show - Melanie Phipps