Afternoons with Jesse Mulligan for Monday 24 November 2014
1:10 Best Song Ever Written - Mozart's Clarinet Concerto, the first movement, chosen by Diane Holmes from Pauanui.

1:20 NZ Retro: The Year -
Archival audio supplied by Ngā Taonga Sound & Vision.
2:10 The Rolling Stones - Kate Burness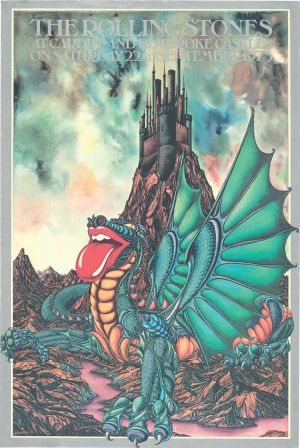 You'd be in plenty of company if you said you were a Rolling Stones fan, after tens of thousands saw the band perform in Auckland on Saturday night. But you'd be in a smaller group if you've been commissioned to produce an official Rolling Stones concert poster. In 1973 freelance artist Kate Burness did just that. Her poster was to promote a Stones concert to be held in a Welsh castle. But the show was cancelled and most of the posters were destroyed. Kate still has an original poster and wants to reproduce it.
2:20 The New Zealand Big Way Record - Sam Clark
The New Zealand Big Way Record might sound like a compilation of the biggest pop hits of our time. But it's actually all about skydiving. And last night, a group of 35 divers set a new record by creating a snowflake formation in the air. In so doing, they broke a record that's stood for 22 years. Sam Clark organised the record-breaking event.
2:30 NZ Reading - We begin a 5-part version of "The Terror at Tinakore Road"  by Neil Giles, a murder mystery set in colonial New Zealand.
MUSIC DETAILS      
Original music composed and performed by Janet Holborow.
2:45 Feature Album - Neil Young's new release, Storytone
3:10 Feature Author - Gerald Russell - a former British and UN diplomat: who spent more than a decade in the Middle East - living among minority religious groups, whose traditions date back to ancient Babylon and Egypt in the time of the Pharaohs - and are still be practiced in secret and in fear.   The book: 'Heirs to Forgotten Kingdoms: Journeys Into the Disappearing Religions of the Middle East.'
3:30 NZ Sikh Womens Association - Lynda Chanwai-Earle: They're staunch, stroppy and standing up for their men too. The New Zealand Sikh Women's Association provides counselling services and a refuge for anyone in the community needing help, including many new migrant men. Lynda Chanwai-Earle is in Auckland meeting this outspoken and big hearted bunch of women.
The link: Voices
3:45 The Panel Pre-Show - Zara Potts: Fat in your diet, and a finding about it that's quite new. The Turing test for artificial intelligence has just got much more complicated. It'll be very hard to tell when the robots become our overlords. The psychic who foretold trouble on a plane and what happened then. Cliff Richard will sue now, you mustn't shout at your spouse in the UK, and the trouble with reindeer as Christmas approaches.