Afternoons with Jesse Mulligan for Thursday 2 October 2014
SHOW NOTES
1:10 Best song ever written - Nicole Chesterman-Kircher nominates 'Everything's Alright' from Jesus Christ Superstar. 
1:20 Simon's A to Z -  Taihape
Taihape is located in the central North Island on State Highway 1.  It's icon is the Gumboot ... humble but hard working, just like its community.  Denis Robertson is the author of "Give Me Taihape On A Saturday Night".  Mary Mead and her husband Garry manage a large station about 40 minutes from town, down the Taihape/Napier Road.  They also offer accommodation and trout fishing.   Nick Hammer is the Site/Operations manager at Gravity Canyon.  
2:10 Ancient waka - Dilys Johns
A 600-year-old ancient waka is shedding new light on the how the Pacific was settled. The canoe was found in Golden Bay back in 2011, but research published this week has potentially unlocked secrets into New Zealand's past. Dilys Johns is a senior research fellow at the University of Auckland and has been studying the waka.
2:20 Syria refugees - Ramia Saidawi
New Zealand will take 100 refugees from the Syrian conflict for the first time, with the first families arriving in Auckland next week. There are more than three million refugees registered with the United Nations Refugee Agency. And UN reports estimate at least 190,000 people have been killed in the crisis. One family was able to move to New Zealand earlier this year. Ramia Saidawi, her husband and two daughters left their home in Damascus and were able to enter New Zealand with skilled migrant visas. Ramia plans to work with the refugees when they arrive to try and help them when they settle.
2:30 NZ Reading - Stuart Devenie and Martyn Sanderson, with Lyndee-Jane Rutherford as Lily Feathers reading episode 4 of '"Landings' by Jenny Pattrick. 
2:45 Feature album - Eye in the Sky' by British rock band The Alan Parsons Project, from 1982.
3:10 Captain Corina Bruce - HMNZS PHILOMEL.  Tomorrow marks the official change of the Commanding Officer for the Royal New Zealand Navy base, HMNZS PHILOMEL. Captain Corina Bruce was appointed as the first female Commanding Officer of the Devonport naval base in 2010. And she will hand over the job to Captain Maxine Laws, who was one of the first women to serve at sea. Captain Corina Bruce speaks with Simon about leaving the navy.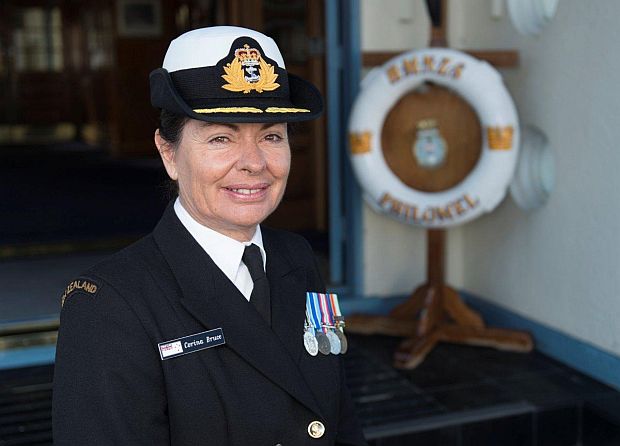 3:20 Celebrating Antarctica - Veronika Meduna.  New Zealand IceFest, a two-week festival to celebrate all things Antarctic, kicked off in Christchurch this week, marking the start of the Antarctic research season.
Stories from Our Changing World.
3:30  James Dean Remembered - BBC Witness.  On September 30th 1955 the Hollywood actor, James Dean, crashed his car and died. In this edition of Witness listen to 3 people who remember his death well: Otie Hunter the policeman who booked him for speeding earlier that day, Carroll Baker who acted alongside him in his final film, and his cousin Marcus Wimslow.

3:45 The Panel Pre-Show with Jim Mora, Zara Potts, Tainui Stephens and Rosemary McLeod.