Afternoons with Jesse Mulligan for Thursday 7 November 2013
1:10 Best Song Ever Written -  Karen Withers of Auckland nominated 'Careless' by Paul Kelly
1:20 Your Place - Tauherenikau (South Wairarapa)
2:10 Degenerate Art and the Nazis - Lucy Burns of BBC Witness
In 1937, Hitler and the Nazi party organised a huge exhibition of modern art in Munich. It was designed to ridicule works of art which they disapproved of - they called it Degenerate Art. It went on to be one of the best attended modern art exhibitions of all time.  
2:20 The West Coast Printer - George McKenzie - 59 years ago, a wide eyed teenager from Runanga on the West Coast walked into the Greymouth Evening Star newspaper looking for a job, and it changed his life.
George McKenzie started as an apprentice lino operator, spending nearly 6 decades working in the newspaper printing industry. 52 of those years were at the Nelson Mail, where he finally retired this week.  He has helped get the newspaper out with historic headlines, including those involving his own family. His brother Dave famously won the Boston Marathon in 1967. Times and technology have changed dramatically since then, and now George Mckenzie has decided it is time to go.
2:30 Reading - Part 4 of  'Heartland'  by Neil Cross.
MUSIC DETAILS      
Oldies But Goldies Membran 223003-321/F © 2005 Membran Music Ltd. Tk 4 Goodnight Irene by Ledbetter, Lomax. It's Madness 7243 8 46834 2 9 CDVIP 228 © Virgin Records Ltd.  Tk 12 Memories by Madness. Three Imaginary Boys - The Cure R2 78895 © 2004 Atlantic Recording Corp. Tk 6 Subway Song bySmith/Tolhurst/Dempsey.  Tk 4 Another Day bySmith/Tolhurst/Dempsey
2:45 Feature album - Court and Spark - Joni Mitchell.  (1974)
3:10  Salt - Justin Gregory - Can social media solve the problems of love? Justin Gregory meets Melissa Fergusson from Charlatan Clinic, a theatre company whose new show wants to find out.
3:20 Rockville Museum Steam Up Day - When Collingwood Museum was bursting it's seams, a few committee members approached the Golden Bay Dairy Company to buy its unused dairy factory at Rockville. Now freehold, the Rockville Machine and Settlers Museum opened in 1980, and three times a year the members host a steam-up. Visitors enjoy cream-laden scones made in the coal range, a demonstration on the history of washing, a visit to the old jail, watching the blacksmith at his forge, riding a horse and cart, and of course the many interesting displays in the museum – much of which comes from local homes where families go back generations.
Sage Forest attended on Labour Day and found more of interest than the contents. She takes a tour with Collingwood Museum president, Ivan Reilly.
Gallery: The Rockville Machine and Settlers Museum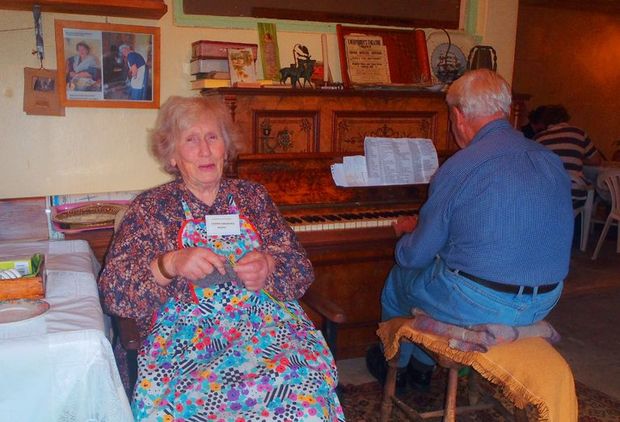 Lorna Langford and Peter Foster the Rockville Museum.
3:30  Rockville Museum - Sage Forest - Many families in the Rockville-Bainham region of Golden Bay go back generations and the local museum holds a lot of their heritage. But Sage Forest discovers on the museum's Steam-up day, there's more of interest there than the artifacts.
4:06 The Panel -  Tim Watkin (Ak)  and Rosemary McLeod (Wn)