Afternoons with Jesse Mulligan for Monday 12 August 2013
1:10 Best Song Ever Written - 'Love Call Me Home' by Peggy Seeger nominated by Sally Elborn of Wellington.
1:20 8 Months To Mars - International renowned opera singer, Anna Leese is our next passenger to Mars.
Anna's music selections:
ARTIST:  Radiohead
TITLE:     No Surprises
COMP:    Radiohead
ALBUM:  The Best of Radiohead  -  Track 5
LABEL:    Parlophone 216305
ARTIST:  Choir of St John's College, Cambridge - William Clements (Bass)
TITLE:     A Spotless Rose
COMP:    Herbert Howells
ALBUM:   Advent Carols From St John  -  Track 12
LABEL:    Nimbus NI 5414
2:10 The Backyard Brewer - Brendan Bransgrove - New Zealand's finest home brewer cemented his status on the weekend. Brendan Bransgrove took his second home brewing title at the Beervana competition in Wellington, after winning the Home Brewing champion award at the Society of Beer Advocates competiton in Hamiliton last November. Not bad for a young artist who only had a go at home-brewing for the first time in the back shed last year.


Art by Brendan Bransgrove.
2:20 The Restored 1958 Messerschmitt - Peter Cash - Nelson Classic Car Museum has a new addition. The Messerschmitt 3 wheeler 'bubble car' (below) is one of the iconic automobiles of the early 60's, but Messerschmitt also made a much rarer roadster model as well. Only 200 ragtops rolled off the production line at Messerschmitt between 1955 and 1964, and one of these has found her way to Nelson. She's been returned to her former glory by local restorer Peter Cash.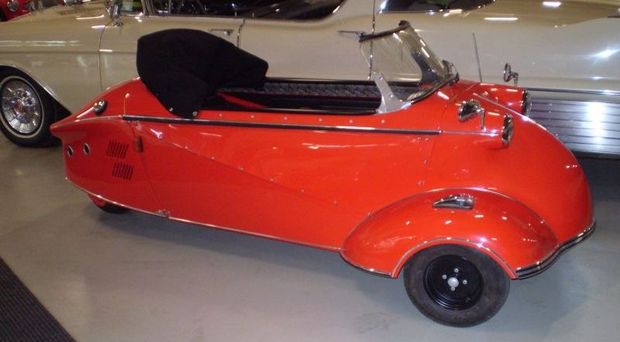 2:30 Reading - Owen Scott finds himself forced to look into his childhood and his father's fragile personality as he struggles to come to terms with the death of his brother in Fiji.  That's in Episode 6 of his book, 'Deep Beyond The Reef'.
- - - - - - - - - - - - - - - - - - -
MUSIC DETAILS      
Tk 8. 'Excerpt From Alexandra' played by Regina Carter.  CD Verve 065 554 - Paganini: After the Dream.
©  The Verve Music Group, UMG Recordings Inc 2003
ALSO:  Tk 6 "Terrorgosa"  by Sola Rosa.  CD: FMR  336612 "Haunted Out-Takes", Festival/Mushroom
Records (NZ) 2003  Dur:  00' 25"
2:45 Feature Album -  Stardust - Willie Nelson (1978)
3:10 Feature Interview - Writer, Linda Rodriguez McRobbie with her theories expounded in this month's Smithsonian Magazine, 'The History and Psychology of Clowns Being Scary.' The painted white faces, the red lips and the red foamy noses. Clowns are fun for most, but some find them unnerving.
3:30 Otago Peninsula Possum Eradication - Alison Ballance
Otago Peninsula, near Dunedin, is 9500 hectares of farmland, lifestyle blocks and a few scattered settlements. And three years after an ambitious project to eradicate possums from the peninsula began it is now home to 6000 fewer possums than it used to have. Alison Ballance heads out with local farmer Brendon Cross and project manager Rik Wilson to find out what it's taking to create a pest-free peninsula.
BACKGROUND
http://www.pestfreepeninsula.org.nz/>
4:06 Neil Miller and Catherine Robertson are on The Panel. The killer on the loose and the question again of ease of parole.  Boys in education, again, and why they're not doing as well as girls. The government initiative to get young people into housing, will that work? Your Facebook details summonsed by the Employment Relations Authority, and if you could choose to maximise one capacity in life what would it be? It probably wouldn't be the one we'll talk about, but the one we'll talk about may be the most important one.