Afternoons with Jesse Mulligan for Thursday 23 May 2013
1:10 Best Song Ever Written - Elizabeth Shearer from Palmerston North nominated 'Your Wildest Dreams' by the Moody Blues.
1:20 Your Place - our tour guides show us around Te Karaka - the small settlement about 32 kilometres inland from Gisborne.
Karyn Gray - Principal, Te Karaka Area School
Anahera Mita - Practice Administrator, Waikohu Health Centre
Sue Clayton, Rangatira Motors
2:10 The Icon Dairy - Emma Bishop
Karaoke, life advice and the local corner dairy don't often go together, however it's these elements that make up the basis of a new documentary by a group of Victoria University students.
Shalimar Mini Market in Wellington's Aro Valley, caught the attention of third year film student Emma Bishop, who says Shalimar owners Nalini and Neil Patel have a wonderful story to tell.
The Patels have had the store for 35 years and because of their generosity and creativity, it has made their store an icon in the area.
2:20 Watergate - Louise Hidalgo of BBC Witness - 40 years ago a U.S. Senate Committee began hearing evidence about a break-in at the Democratic Party headquarters at the Watergate Building in Washington. Ultimately the investigation would lead to the resignation of President Richard Nixon. Louise Hidalgo talks with Howard Baker, a Republican supporter of Nixon, and one of the senators that took part.
2:30 Reading - Glenn Colquhoun reads the final part of his essay "Jumping Ship". It's one of the Montana Estates Essay series,  published by Four Winds Press.
2:45 Feature Album - HIStory: Past, Present and Future, Book One by Michael Jackson  (1995)
3:10  Marlene Dietrich - It's 21 years since German-American acress/singer, Marlene Dietrich was buried in Berlin, having spent the last years of her life bedridden in her Paris apartment. A the peak of her career in the 1930s, Marlene Dietrich was the screen's highest-paid actress.   The BBC's Lucy Burns has been speaking to her grandson.
3:20 Southern story - In 1866 John Curtis Mitchell and James William Mitchell started mining at Charleston, on the West Coast. Four million ounces were taken in 34 years from the Charleston field. Gold is formed in the earth, lifted or spewed out, crushed by glaciers becoming alluvial gold in rivers, and then is washed out to sea. West Coast gold is like powder, and the gold from Mitchell's Gully was extracted from ancient sea-bed. Huge crushers were needed to do this, driven by waterwheels, but first they had to dig. Val Currie is fourth generation on ancestral land, he himself a goldmine of knowledge. Now his son Dean and Dean's daughter are living there and wouldn't be anywhere else.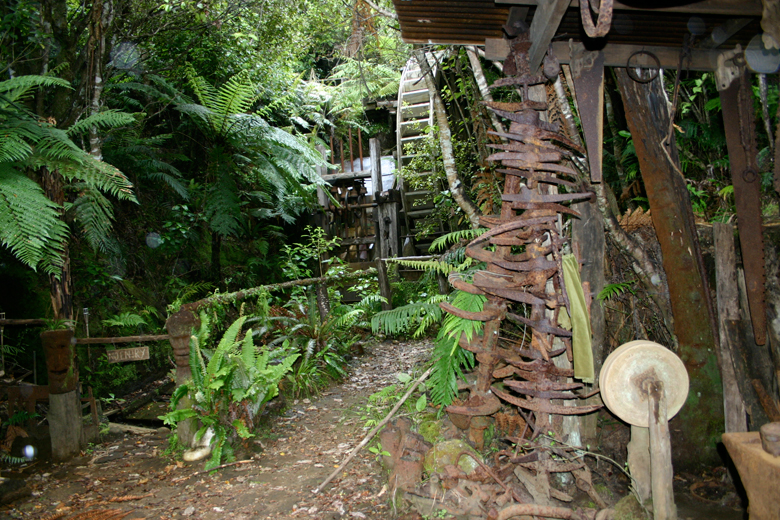 Looking from the blacksmith's forge to a waterwheel – half the size of the original 30 foot wheel.
3:30 Our Changing World - E-Crime Lab - Ruth Beran
These days pretty much everyone uses electronic devices -- mobile phones, computers, digital cameras, iPods, sat navs…the list goes on. Not surprisingly then, almost every major criminal investigation by the New Zealand Police has an electronic component.
Electronic evidence is processed by the Electronic Crime Laboratory, which is in a secret location in Wellington.
To find out exactly what goes on there, Ruth Beran meets the Manager of the National e-Crime Group, Maarten Kleintjes
4:06 The Panel -  Chris Trotter and Sally Wenley.