Afternoons with Jesse Mulligan for Wednesday 22 May 2013
1:10 Best Song Ever Written - Dennis Reeve from Auckland nominated Joy by Lucinda Williams
1:20 Link 3 - music game
SUPERSTITION - STEVIE WONDER
IT'S THE END OF THE WORLD AS WE KNOW IT - REM
HAWAII FIVE-O - THE VENTURES
WE WILL ROCK YOU - QUEEN
SMELLS LIKE TEEN SPIRIT - NIRVANA
SURRENDER - CHEAP TRICK
WIPEOUT - SAFARIS
PAINT IT BLACK - ROLLING STONES
MESSAGE IN A BOTTLE - POLICE
The Answer: They all start with just a snare drum. Surprisingly few songs do.
2:10  Soap Box Derby - Dylan Smith
This week one of New Zealand's National speed champions said goodbye to his winning wheels and shipped it off to Akron Ohio. 13 year old Dylan Smith, a student at Orewa College, is the National Soap Box Trolley Champion and he is going to Ohio in July to take part in the World Championships.
2:20 The Hillary Diaries - The remarkable diary entries as written by Edmund Hillary on Mount Everest in May 1953.
2:30 Reading - "Jumping Ship" is an essay based on Glenn Colquhoun's  time living in a small community in the Bay of Islands. 
- - - - - - - - - - - - - - - - - - -
MUSIC DETAILS      
Hannah & Dave Tatana: 'RIMU RIMU' Traditional Music Of The Maori: A Historical Collection [Viking VPS 489]
Dennis Marsh: 'E I PO' (Ngoi Pewhai (Rangi/Missy & Prince ui Teka) tk 5 on the CD Out of New Zealand [RJCD]
2:45 Feature Album - Rattus Norvegicus - The Stranglers  (1977)
3:10 Virtual World - Dr Jules Older
Another Digital Age Consequence: How do you make a Z?
Cloud Backlash
3:30  Dominion Road - David Steemson
First it was just a road, then a song, now its art. Composer Don McGlashan's song "Dominion Road has become a piece of 'guerrilla art", halfway down Dominion Road.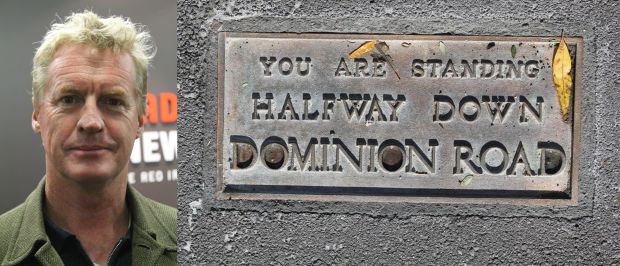 Left: Don McGlashan. Right: a brass plaque has been secretly installed in the pavement outside 788 Dominion Road.
4:06 David Farrar and Richard Langston are on The Panel today -  We'll discuss the findings of The Independent Police Conduct Authority's report into the Urewera raids, the grand plans of Solid Energy for rescuing the NZ economy, and kids who leave school early because it's just not for them, and while many of them are of course disadvantaged not all of them are. For some it's the complete opposite as we've found with the guy who started up Tumblr. But you have to have a plan, and determination. And a discussion on the cost of everything now.