Afternoons with Jesse Mulligan for Friday 2 November 2012
1:10 Best Song Ever Written - Michelle MacNeil nominated 'Sensitive To A Smile' by Hollie Smith
1:15 NZ Live - Beyondsemble
It's been a very busy twelve months for Auckland band, Beyondsemble - a change in personnel has brought about a change in direction and a lot of overseas travel. The debut album, released just prior to their last visit with us, saw the band play an assortment of instruments that gave their music textures of Celtic, Bluegrass, South American and Gypsy.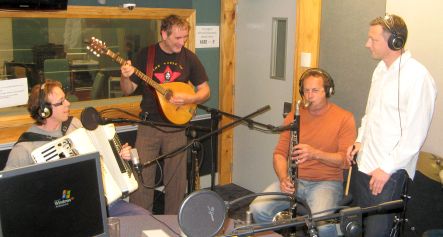 Beyondsemble in the studio.
2:10 The MacGyver Teacher -  Gareth Bell
Remember the TV series MacGyver?   He's the secret agent with a bad 1980's haircut who always found non violent ways to succeed on his missions.  He was a hero. And to many of his students,  Gareth Bell at Freyberg High School is a hero too.. he has found a way to connect with students and make science and computers interesting and engaging for them.  He's just won a national education award for his creative teaching methods.
2:20 Missing Something series - Amelia Nurse
Today, Amelia finds out about colour blindness.
2:30 Reading - Lisa French Blaker with part nine of her book Heart of Darfur.
2:45 Feature album - The Rising - Bruce Springsteen (2002)
3:10 One Stop Shop
Fresh Fast Food - Jonny Schwass
White Asparagus with Sauce Gribiche
Weekend Wine -  Yvonne Lorkin
Thornbury Waipara Pinot Gris 2011 $15
Terrace Heights Estate Marlborough Viognier 2011 $21
Palliser Estate Martinborough Methode Traditionnelle 2007 $48.50

Movie Review - Sarah McMullan
How To Meet Girls From A Distance, Bait 3D, Alex Cross
3:40  The Christchurch Volunteer Concert - Jason Pemberton
You can't buy a ticket for the huge concert in Christchurch tomorrow...  8 hours of music... 25 bands will be performing at AMI Stadium starting at 2pm. Instead you need to commit to 4 hours of volunteer work to get in. The Concert: A Concerted effort is aiming to set a new world record for the largest exclusive volunteer concert. Thousands of people have already volunteered to get a ticket.. but it's not to late to take part.
4:06 The Panel - Mike Williams and Sally Wenley.
They knew about the privacy risk from Work and Income kiosks but they didn't do anything about. If our education system isn't as excellent as we were told it was, is there any way of making it more excellent? The power of bread in your life.  The idea of a ferry between Wellington and Christchurch.  The revival of Megaupload, with a dot inserted in the name, and how to build houses more cheaply in NZ.