Afternoons with Jesse Mulligan for Thursday 18 August 2011
1:15 Your Place
2:10 Feature stories
2:30 Reading
2:45 Feature Album
3:12 Arts Report
3:33 Southern story
Some hobbies can become obsessions, and that's what country music is to Barry Skinner. He opened the Hector Country Music Museum in Buller in 2002. It's chocka-block full of memorabillia and music, fortunately turns a dollar or two AND his lovely wife Judith is a part of its success.
Barry and Judy have been collecting music and memorabilia since the 1960s. They lived in Southland for 30ish years before moving to Hector. Barry's country show on Foveaux Radio won a national award in 1989/90. He's recently been elected to the Hands of Fame in Gore and has judged at many Gold Guitars. The couple are both in the American Olde Time Hall of Fame, played in a band together - Country Style - for 12 years, are still playing and recording, and Jude has a secret - she beat John Rowles in a talent quest.
Sage Forest stops in at the museum for a tour, and is treated to some scones and live music, by Barry and Judy Skinner.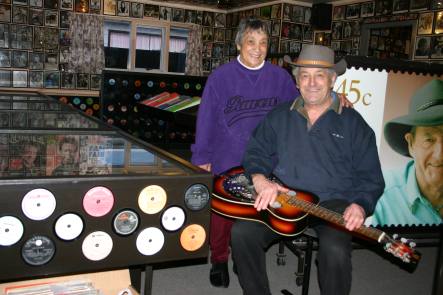 3:40 Our Changing World
4:06 The Panel