Afternoons with Jesse Mulligan for Thursday 7 October 2010
1:10 New Zealand Music Awards
Nick Atkinson, best known for his work in Supergroove, talks about the nominees for the New Zealand Music Awards tonight.
1:15 Your Place
Cheltenham, located about 15km North of Feilding.
2:10 Feature Stories
They've survived tonnes of rock collapsing around them, two months of isolation thousands of feet below the surface in the heat of the San Jose mine in Chile. They have been trapped underground longer than any previous group of miners. But now as their rescue comes closer, the 33 miners face perhaps their biggest challenge: the paparazzi. Psychologists are already talking to the miners about how to handle the throngs of media waiting outside the mine. Tabloids are offering their families thousands of dollars for the first interview.
A house once owned by Janet Frame is up for sale for the first time in 10 years. Frame wrote poetry and part of her novel The Carpathians while she lived in the house at 53 Dahlia St house during the 1990s. One of New Zealand's greatest authors, Frame changed her last name to Clutha to maintain her privacy, and was rarely seen around town. But she did make time for an 8-year-old aspiring author who lived down the street.
2:30 You Me ... Now!
Following the trials and tribulations of a group of friends as they find love in the city.
Johno's been caught with another woman and things are anything but smooth going. Find out if he can explain himself to Alice.
2:45 He Rourou
Today we hear the impromptu speech by the Bay of Plenty regional representative in the senior Maori language section of the national secondary school Maori speech competitions. Herea Winitana talks about the things we can learn from the native birds of NZ.
2:50 Feature Album
The Experiment - first solo album from Dane Rumble - finalist for Best Album at tonight's New Zealand Music Awards in Auckland.
3:12 Arts Report
Lynn Freeman gets an insight into what it takes to create aliens, their spacecraft and their futuristic weaponry for District 9 - one of last year's most successful movies.
3:20 Southern story
Yumpi the two-legged goat is a big attraction at the Gaalburn Cheese Factory between Greymouth and Hokitika. She's very mobile in her new wheelchair, made by Gaalburn partner Robin Bradey, and has paid back him by eating the plaster off his house and lifting floor-tiles.
Gaalburn milk about 120 goats a day for its specialty cheeses, which are sold at the on-site shop and are now available nationally. Proprietress Nancy Waall says the cheese is very popular with people with a lactose intolerance and European travellers, who tell her it's the only place in NZ where they can taste before they buy.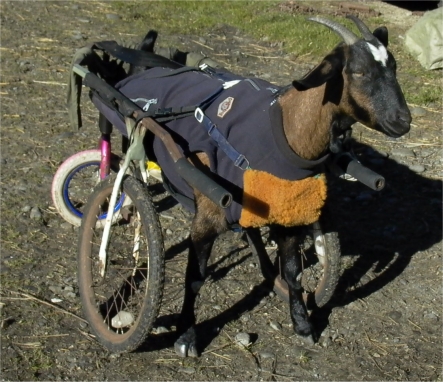 Yumpi the two-legged goat in her wheelchair.Photogragh by Robin Bradey, Gaalburn cheese.
3:35 Our Changing World
After five dogs mysteriously died on Auckland beaches, scientists made the remarkable discovery that grey side-gilled sea slugs contain lethal doses of a poison called tetrodotoxin. And a year after that first public health scare, Aucklanders are once again being warned to watch out for the sea slugs.
Alison Ballance heads to the Cawthron Institute in Nelson, which has carried out much of the work to date, to find out what they've discovered about the deadly sea slugs. She talks with toxin chemist Andy Selwood and toxic algae specialist Susie Wood.
4:06 The Panel
Stephen Franks and Tim Watkin