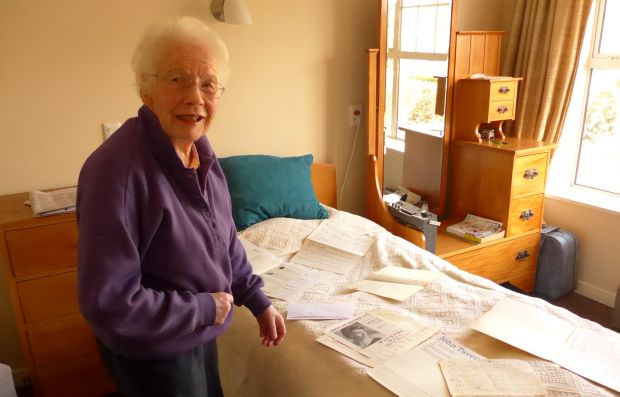 Honor McKellar with a collection of memorabilia from her career - Photo: RNZ/Tim Dodd
Mezzo-soprano Honor McKellar was one of the original singers in the New Zealand Opera Company set up by Donald Munro in the 1950s. This was a touring company that travelled all around the country. One production in 1958 was performed in 47 centres! Prior to this, she had studied at the Royal Academy of Music in London and briefly been a part of Opera For All – a scheme similar to the NZ Opera Company operating in the United Kingdom. In the 60s, she returned to London and had a career as a session musician, she sang in the Glyndebourne Chorus and with the John Alldis Choir. Then in 1971, she was tempted home again by Professor Peter Platt to become the first lecturer in singing at the University of Otago – a post she held until her retirement in 1985.
Now in her 90s, she lives in Dunedin still, the city of her birth. Radio New Zealand Concert producer Tim Dodd visited her at her home and did an interview with her on her career.
The programme includes archival recordings of her singing with the NZ Opera Company and with the Dunedin Civic Orchestra in the 1970s, performing a work by Peter Platt.