The Salon of the Princesse de Polignac
9:00 AM.At the end of a long day visiting the pavilions of Expo Belle Epoque, Charles Aitken takes a break and tells his son Oscar about the night he was a guest in the salon of the Princesse de Polignac. Audio
An evening in the salon of the Princesse de Polignac
At the end of a long day visiting the pavilions of Expo Belle Epoque, Charles Aitken takes a break and tells his son Oscar about the night he was a guest in the salon of the Princesse de Polignac.
La Princesse was born Winnaretta Singer (right). Her father was the American inventor and entrepreneur Isaac Singer who made his fortune developing the sewing machine. Isaac Singer died in 1875 and his wife moved the family from England to Paris.
When Winnaretta came of age she was entitled to her inheritance. Financially independent, she began to collect art and she also brought property in Rue Cortambert.  In 1893 she married the French aristocrat and composer Prince Edmond de Polignac. This was a mariage blanc, an unconsummated marriage, which suited both homosexual parties. It was an unconventional union, but a very happy one because they both shared an extraordinary passion for music.
Winnaretta set about creating an environment where she could present the modern music of the day. She renovated the atelier or her property in Rue Cortambert and installed a magnificent Cavaillé-Coll organ. The room decorated in Louis XVI style also included two grand pianos and could comfortably seat 100 guests, the who's who of the day.
The role of Commandatrice (someone who commissions new works) occupied her for some 50 years. In this role she presented an influential, mysterious and complicated figure: alternatively forward-thinking and autocratic, flexible and uncompromising, open-handed and penny pinching.
Along with Debussy and Chabrier, Gabriel Fauré was one of the first major composers at Winnaretta's salon. Her atelier had a vaulted ceiling which was two stories high. The special acoustic of the room inspired many composers to write chamber music especially for it, including Fauré's Six Songs of Venice.
During this imagined evening in the salon you will hear some of the music that Winnaretta Singer presented there in March 1900, also the year of the Great Paris Exhibition and the summer Olympics.
Promenading Actors
(Character) Charles Aitken: Nick Dunbar
(Character) Oscar Aitken: Gus Langbein
Salon Actors
(Character) Charles Aitken: Nick Dunbar
(Character) Madame Gaston Legrand: Judith Gibson
(Character) Princesse de Polignac: Mary Wilson
(Character) Snoring husband and his wife: Duncan Smith and Sue Barnett
Musical Actors
Appearing as pianist Gabriel Fauré and soprano Jeanne Remacle are Michael Levinas (piano) and Magali Leger (soprano). Fauré is then joined by Frederica von Stade (mezzo-soprano) who plays Anita Kinen.  These are the names of real composers and artists from the period who performed in Winnaretta's salon.
The role of pianist Alfred Cortot is played by Michel D'Alberto who, interestingly, was a student at the Paris Conservatoire of Vlado Perlemuter, a favourite pupil of Alfred Cortot.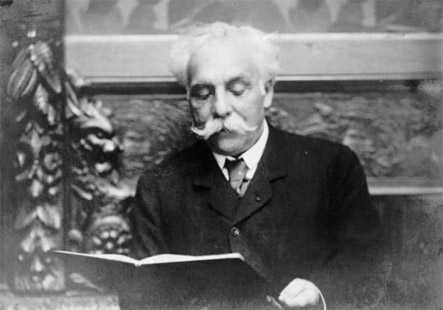 Gabriel Fauré by De Jongh, Lausanne. 1907
Music used in the Salon
DEBUSSY:String Quartet in G minor Op 10
Casals Quartet
Harmonia Mundi HMI 98 7057
FAURE: La Bonne Chanson
Magali Leger (soprano) & Michael Levinas (piano)
Musas
FAURE: En Sourdine
Frederica von Stade (mezzo-soprano) and Jean-Phillippe Collard (piano)
EMI Classics
FAURE: Les Roses d'Ispahan
Frederica von Stade (mezzo-soprano) and Jean-Phillippe Collard (piano)
EMI Classics
FAURE: La Fée
Frederica von Stade (mezzo-soprano) and Jean-Phillippe Collard (piano)
EMI Classics
FAURE: Arpège
Performers: Frederica von Stade (mezzo-soprano) and Jean-Phillippe Collard (piano)
EMI Classics
WAGNER (transcribed by Liszt): Liebestod
Michel D'Alberto
BMG