North American Pavilion
9:00 AM.The era of the Belle Epoque saw powerful entrepreneurial families in North America like the Carnegies, Rockefellers and Vanderbilts use their considerable wealth to purchase the cultural refinements… Read more Audio

9:00 AM.Composed by Ryan Smith, performed by Hannah Darroch (flute), Frances Hopkins (violin), Robyn Jaquiery (piano). Music commissioned by Radio New Zealand Concert. Audio

The era of the Belle Epoque saw a dramatic change in the role of North America on the world stage, with the United States becoming a political, economic, and technological powerhouse.  Yet, with a lack of established cultural institutions and artists, powerful entrepeneurial families, like the Carnegies, Rockefellers and Vanderbilts, used their considerable wealth to purchase the cultural refinements of Europe.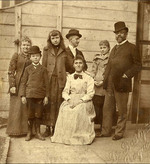 Dvořák in the USA with his family, March 1892.
In the North American Pavilion, veteran broadcaster Robert Harris (right) examines the very beginnings of what would become a true American musical voice, from Antonín Dvořák's famous stay with the National Conservatory of Music in New York, through his collaborations with cellist and composer Victor Herbert, who then transitioned into writing music for the stage that led to the Broadway musical. 
Then, through the cultural lens of the world's most famous ballroom dance couple of the time, Vernon and Irene Castle, and their band leader James Reese Europe, Robert Harris explores the emergence of America's true musical voice, from Ragtime to popular songs through the music of Scott Joplin and Irving Berlin.


Scott Joplin's Weeping Willow Ragtime Two Step; Vernon and Irene Castle.
Music
TCHAIKOVSKY: Suite No 3, Op. 55, Tema con variazioni
Detroit Symphony Orch/Neeme Järvi
(Chandos CHAN 9419)
HERBERT (lyric Rida Johnson Young): Ah, Sweet Mystery of Life
Beverley Sills (soprano), London Symphony/Andre Kostelanetz
(EMI/Angel 47197)
HERBERT: Liebes-Scene
Jerry Grossman (cello), William Hicks (piano)
(New World Records 80721)
HERBERT: Hero and Leander, symphonic poem, Op. 33
Royal Phihlarmonic Orch/Karl Krueger
(Bridge 9124A/C)
DVOŘÁK: Symphony No. 9, From the New World, 2nd movement, Largo
Chicago Symphony Orch/Georg Solti
(London 410 116)
DVOŘÁK: Cello Concerto in B minor, Op. 104, Allegro
Jacqueline du Pré (cello), Chicago Symphony Orch/Daniel Barenboim
(EMI Classics 55527)
HERBERT: Cello Concerto No. 2, Op. 30, 2nd mov't, Lento – Andante tranquillo, 3rd mov't, Allegro
Lynn Harrell (cello), Academy of St. Martin-in-the-Fields/Neville Marriner
(London 417-672)
HERBERT: Indian Summer
William Hicks (solo piano)
(New World Records, 80721)
HERBERT (lyric:Al Dubin): Indian Summer
Tony Bennett (vocal), Ralph Sharon Trio
(Columbia 66214)
HERBERT: Orchestral Medley: Sweethearts Waltz, March of the Toys, Toyland, The Streets of New York, Indian Summer
London Symphony Orch/Andre Kostelanetz
(EMI/Angel CDC- 7 47197)
HERBERT: I Might be Your Once-in-a-While
rec. 1922 Flapper
(PAST CD 9798)
HERBERT (lyric Rida Johnson Young): Ah, Sweet Mystery of life
Nelson Eddy, Jeanette MacDonald (vocals)
(ASV CD AJA 5340)
HERBERT: Gypsy Love Song
Eubie Blake, Marian McPartland, (pianos)
(The Jazz Alliance TJA -12006)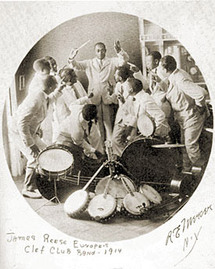 James Reese Europe's Clef Club Band, 1914
TURPIN: Harlem Rag, Two-Step
River Raisin Ragtime Revue
(Greenfields Museum)
JOPLIN: Solace: A Mexican Serenade
Alexander Pesakov (piano)
(NAXOS 8.559114)
DETT: Baptism
The Nathaniel Dett Chorale/Brainerd Blyden-Taylor
(Marquis Classics 7 74718 12932 1)
JOPLIN: Maple Leaf Rag
US Marine Band, recorded 1909
(Renovation Records)
REESE EUROPE: The Castle Perfect Trot
The Paragon Ragtime Orch
(New World Records, 80611-2)
REESE EUROPE: Castle House Rag (original recording 1914)
Europe's Society Orchestra;
(Renovation Records 7003)
REESE EUROPE: Castle House Rag
Paragon Ragtime Orch
(New World Records 80611-2)
REESE EUROPE: Hey There!
Paragon Ragtime Orch
(New World Records 80611-2)
BERLIN:  Alexander's Ragtime Band (original 1911 recording)