Catalan Pavilion
9:00 AM.During the Belle Epoque period which they called Modernista, Catalan intellectuals focused on preserving and celebrating their unique language, musicians revived folk song and communal singing and… Read more Audio

10:00 AM.Composed by Ryan Smith, performed by Hannah Darroch (flute), Frances Hopkins (violin), Robyn Jaquiery (piano). Music commissioned by Radio New Zealand Concert. Audio
Catalonia has never forgotten its great medieval past as a wealthy nation in its own right, a major trading power throughout the Mediterranean and a producer of great philosophers and poets. Although it has never regained its independence, it has jealously guarded its sense of difference from the rest of Spain. In the lead-up to the Belle Epoque period which they called Modernista, Catalan intellectuals focused on preserving and celebrating their unique language. Nineteenth century poets such as Jacint Verdaguer helped the resurgence of Catalan literature, in a movement named La Renaixença.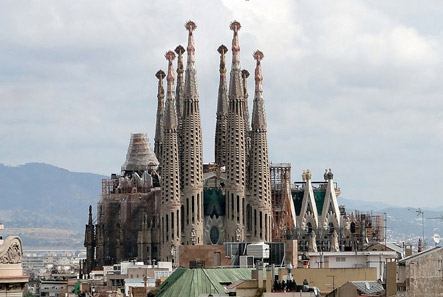 La Sagrada Familia, Barcelona. Photo: Bernard Gagnon on Wikimedia
Amadeu Vives and his friend, Lluís Millet were both Catalan musicians who worked to revive popular Catalan songs through the choral society they set up, the Orfeó Català. "Between 1891 and 1895, the Orfeó Català spawned no fewer than 145 new choral societies throughout Catalunya. Every provincial town and most large villages took part in this spectacular upsurge of organised communal singing. It became more than a musical hobby: it was a social custom deeply linked to Catalans' sense of civic and national identity." (Robert Hughes)
But it's in architecture that the Modernista movement endures best. You see it all over Barcelona, and not just in the rampant organic forms of Barcelona's most famous architect, Gaudí. Everywhere you look, buildings in the Modernista style curve and bulge with playful natural forms. They sprout exaggerated Gothic spires or quote styles from other times and places.
This hour is presented by Erica Challis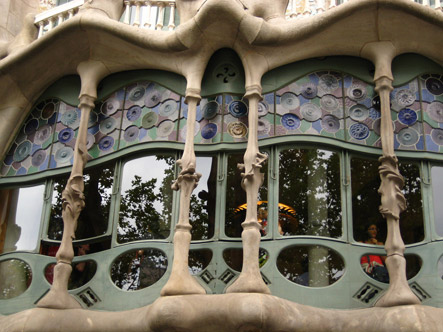 La Casa Batlló, Barcelona. Photo: aikijuanma on Flickr
 
Music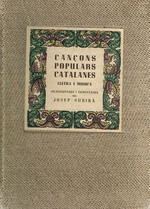 GARRETA: Les Iles Medes
supplied by OBC
PEDRELL: La Celestina (1904), Escena V
supplied by OBC
Popular song: La Xava de Sants
TRAD: Els Segadors
Alia Vox 9881
BIZET: Carmen symphony, Habanera
BIS CD 1305
ALBENIZ: Catalonia
supplied by OBC
VIVES: Por el Humo
Philips 432 825
GARRETA: Les Iles Medes
supplied by OBC
VIVES: La Presumida
BBC Legends BBCL 4101
TRAD: El Cant de la Senye
MORERA: Melangia
Channel Classics CCS 13298
MORERA: Dansa No 1
Naxos 8.570457
ALBENIZ:  Mallorca
Naxos 8.570457
GRANADOS: Mazurka
Naxos 8.570457
TRAD: Virolai
TRAD: Canco de Bressol
Sony 471772
Sincere thanks to the Orquestra Simfònica de Barcelona for supplying several recordings for this programme.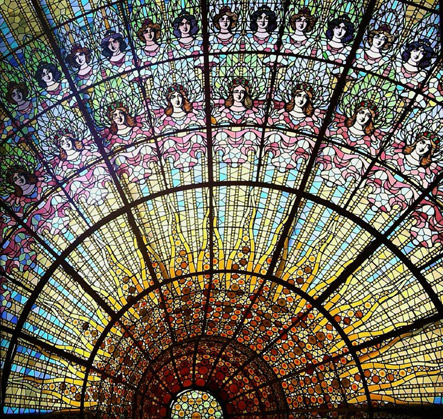 Stained glass at Palau de la musica, Barcelona. Photo: Paul Stevenson on Flickr