Russian Pavilion
9:00 AM.Russia in 1914 was poised on the brink of revolution, the aristocracy obliviously swirling through the narrowing corridors of opulence and excess: Faberge Eggs, all night dinner parties, lovers… Read more Audio

9:00 AM.Composed by Ryan Smith. Performed by Ryan Smith (accordion), Robyn Jaquiery (piano), Frances Hopkins (violin). Audio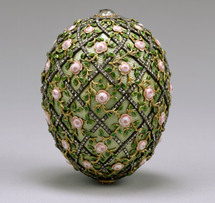 Russia in 1914 was poised on the brink of revolution, the aristocracy obliviously swirling through the narrowing corridors of opulence and excess: Fabergé Eggs, all night dinner parties, lovers, intrigue, grand music and magnificent ballets.
The poster child for the lavishness of Russia was Sergei Diaghilev, who gave Europe a peek of this world that was about to disappear. So who better to act as the host in the Russian Pavilion!
(Right) Rose Trellis Fabergé Egg. Photo: Walters Art Museum on Wikimedia
Music
RIMSKY-KORSAKOV: Dance of the Tumblers, from The Snow Maiden
Neeme Järvi, Scottish National Orchestra
Chandos CHAN 6598
RIMSKY-KORSAKOV: On the hills of Georgia Op 3/4
Vassily Savenko (bass baritone), Michael Dussek (piano)
Meridian CDE 84399
MUSSORGSKY: Promenade and Bydlo from Pictures at an Exhibition
Arranger: Henry Wood
Nicholas Braithwaite, London Philharmonic
Lyrita SRCD 216
SCRIABIN: Sonata No 5 Op 53
Vladimir Horowitz (piano)
RCA 6215 2 RG
RACHMANINOV: Piano Concerto No 2 in C minor Op 18
Leopold Stokowski, Sergei Rachmaninov (piano), Philadelphia Orchestra  (rec 1929)
RCA RD 85997
PROKOFIEV: The Enemy of God and the Dance of the Spirits from Scythian Suite Op 20
Valery Gergiev, Kirov Orchestra
Philips 473 600
STRAVINSKY: Tableaux IV from Petrushka
Igor Stravinsky, Columbia Symphony Orchestra
Original 1911 version (rec 1960)
CBS MK 42433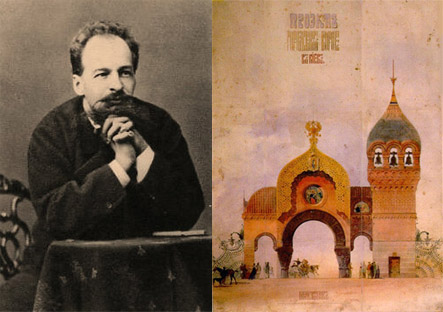 Artist and architect Victor Hartmann and his Plan for a City Gate in Kiev.