Navigation for Station navigation
Clarissa Dunn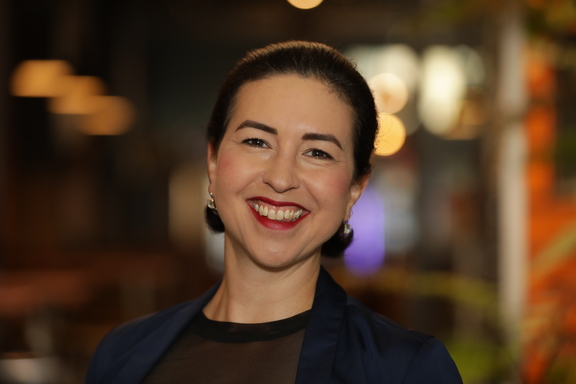 Clarissa Dunn is the presenter of Music Alive bringing you the best live music experiences from across Aotearoa and the world.
She loves the magic of live music-making and enjoys presenting from both the radio booth and the stage – sometimes in the same concert.
Clarissa has hosted some of New Zealand's premier music events including the Lexus Song Quest, Settling the Score LIVE, the NZCT Chamber Music Contest, The Big Sing and Christchurch Symphony Orchestra season galas.
The Music Alive broadcast of Sea to Sky with Christchurch Symphony Orchestra LIVE in an aircraft hangar was named as a finalist in the 'Best Music Special' of the New York Festival Radio Awards.
When Clarissa's not fronting up at venues around the country she enjoys interviewing national and international artists such as Wu Man, Sarah Chang, Vassily Petrenko, Christina and Michelle Naughton, Anne Sofie von Otter, Martin Fröst, Mahan Esfahani and Sir Neville Marriner.
Clarissa started life on a Waikato dairy farm but dreamed of travelling the world. After completing a conjoint Bachelor of Laws and Arts (languages) at Auckland University, Clarissa pursued her passion and studied voice at the Queensland Conservatorium of Music in Australia. This led to an internship at Opera Queensland and then years of singing adventures in Europe and the UK.
Clarissa is based in Wellington, is a soprano with NZ Opera and loves bicycle touring.
LISTEN TO:
The Lexus Song Quest Gala Finale hosted by Clarissa Dunn: Part 1 and Part 2
Clarissa try to figure out listener favourites in "You hum it we'll play it" episode 1 & episode 2.

Her cameo radio narration in Celeste Oram's theatrical 'Young Person's Guide to the Orchestra'.
RNZ Programmes
Clarissa Dunn takes you to the best seat in the house for live concerts featuring local and international artists.

A weekly forum for contemporary music
Search results for Clarissa Dunn