Monday, 17 November 2014

Jimmy Pham with KOTO trainees, youth off the streets of Vietnam - Photo courtesy Jimmy Pham and The Asia New Zealand Foundation
"It's a hand-to-mouth-day-to-day living. They shower next to an open sewer. One thing that strikes me the most is their resilience, their smile. Their circumstances won't be defeated. They just keep soldiering on."
– Jimmy Pham, Vietnamese Australian Social Entrepreneur
3:30 PM.Award-winning social entrepreneur Jimmy Pham is Vietnamese Australian. He is also CEO International and founder of the KOTO Vocation Training Centre. (Know One, Teach One) teaches hospitality, English… Read more Audio
Life's hard lessons were learnt early by Jimmy after fleeing war-torn Vietnam as a child, but borrowing money from his mum to feed 60 desperately poor street kids every day could only last so long. Jimmy Pham realised he needed a better plan.
"Giving someone a fish every day is not the way to go, you need to teach them how to fish."
Born in Saigon in 1972, Jimmy and his family fled the Vietnam war in 1974. His family eventually migrated to Kings Cross, Sydney, Australia in 1980. Jimmy's working life as a youth began in a late-night sandwich shop in Kings Cross. Then Jimmy studied tourism and became a tour guide. It was this job that saw him eventually return to Vietnam in 1996 where Jimmy was shocked by the poverty of the street children.
Jimmy's journey to create KOTO (Know One, Teach One) came out of a walk on the streets one evening in Hanoi. He came across a group of street kids that would change his life forever. After attempting to feed them and then sitting and hearing their stories, Jimmy realised what the youth actually needed was a viable vocation in order to survive.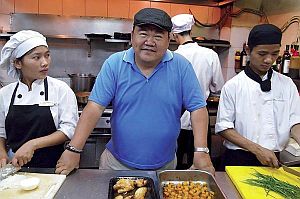 Jimmy was in Hanoi when he opened his first small cafe called KOTO, following his personal belief that is now the organisational motto. With a loan from his ever supportive mum, Jimmy started with humble beginnings. He took 9 street kids off the streets and began to train them in hospitality so that they could work to feed themselves in a sustainable way.
Now Jimmy is CEO International and Founder of the KOTO Vocation Training Centre. KOTO (Know One, Teach One) will teach hospitality, English and life skills, to empower street and disadvantaged youth with skills, dignity and opportunity to live their lives as happy, well‐rounded people.
KOTO has grown from the "hole-in-the-wall" sandwich shop with nine street kids in vocational training to a registered charity; two large 120-seat restaurants, (one in Hanoi the other in Saigon), with accommodation and an internationally recognised hospitality training programme that has provided employment opportunities for hundreds of children to keep them off the streets. Jimmy's restaurants attract clientele like former US President Bill Clinton.
Jimmy's business model is proof that you can combine business principle with philanthropy – in this cast Jimmy's "triple bottom line principle" that is a sustainable combination of business, humanitarian and ecological practice.
KOTO is now recognized as a global leader in the social enterprise sector and Jimmy receives regular acclaim for its establishment and success. Honoured by the World Economic Forum for his accomplishments and commitment to society, Jimmy also became a Member of the Order of Australia in 2013. "When you're trying to do something new, it's important to share resources, to learn from other people.  My dream is to walk into a very crowded room – a fundraising event – and a CEO will get up and say, 'I used to sell post-cards on the streets, I used to be trafficked, I used to be institutionalised and now I run KOTO and I'm keeping that flame alive, and I'll be able to give hope to a lot of people too.'"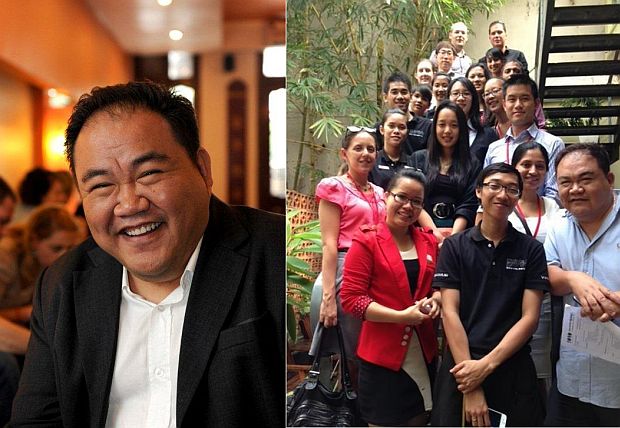 Left: Jimmy Pham, Right: Jimmy Pham (bottom right) with some of his KOTO graduates in Hanoi, Vietnam - Photos courtesy Jimmy Pham and The Asia New Zealand Foundation
Websites:
KOTO: Know one, Teach one
Asia New Zealand Foundation – Jimmy Pham