Monday, 15 September 2014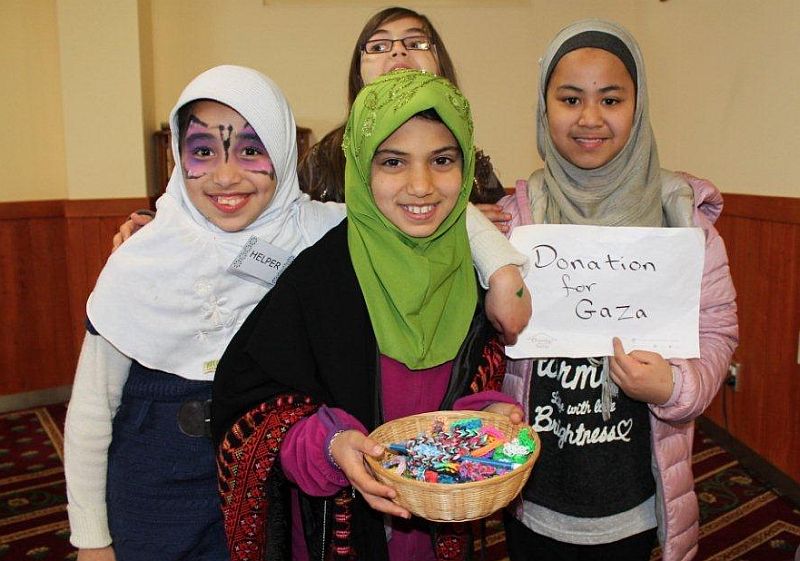 "One man's freedom fighter is another man's terrorist"
– Dr Anwar ul Ghani, President, The Federation of Islamic Associations of New Zealand (FIANZ).
3:30 PM.What do our Muslim communities think about the current crises in the Middle East? Particularly in light of events in Syria and Iraq and the brutalities committed by the Islamic State formerly known as… Read more Audio
Young Sarah's passionate recital is long and flawless, her passage focuses on zakat, or charity; one of the five compulsory Pillars of Islam. She has a reason to be so animated. She is fearful for her family in Gaza, losing sleep over the shelling.
This was during the official launch of Islam Awareness Week at the Kilbirnie Masjid in Wellington, 18 August this year. 11-year-old Sara Alzaanin recited a passage from the Qur'an and the audience, including Human Rights Commissioner Dame Susan Devoy and former Governor General Sir Anand Satyanand, listen avidly to this child from Gaza.
As part of Islam Awareness Week, mosques across the country hold open days. This year the focus was on charity – raising awareness of the lives of people in need across the globe, and particularly mindful of the humanitarian crises afflicting Gaza, Iraq and Syria.
Community leaders told me the Muslims here have felt the weight of the various crises in the Middle East during this year's Ramadan. "People are suffering and not just in Gaza, but Christians in Iraq and refugees in Syria", says one Muslim woman I spoke with. They are empathising with the plight of all refugees, Christian or Muslim.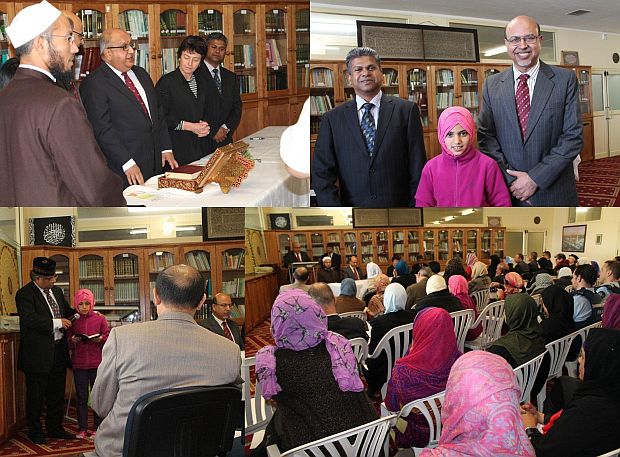 Top left: Sir Anand Satyanand gifts a Qur'an, Dame Susan Devoy at the launch of Islam Awareness Week, Kilbirnie Mosque
Top right: Dr Asif Koya (President IMAN), 11-year-old Sara Alzaanin and Dr Anwar Ul Ghani (President FIANZ)
Bottom left: Sara recites passages about charity from the Qur'an
Bottom right: People at the launch.
One crisis I was particularly keen to get the New Zealand muslim perspective on was the Islamic State (IS or ISIS).
The Islamic State (formerly known as the Islamic State of Iraq and Syria or the Levant ISIS) emerged in April 2013. It is a self-declared caliphate, arisen from the chaos of the combined wars and humanitarian crises in Syria and Iraq.
ISIS originally developed out of al-Qaeda in Iraq (AQI). Since then IS has been disavowed even by al-Qaeda, but has become one of the main jihadist groups fighting government forces in Syria and Iraq. The organisation is led by Abu Bakr al-Baghdadi a former combat zone commander from the days of the 2003 US invasion of Iraq. The Islamic State seems to be fuelled by idealists and international jihadists. Some are said to be highly educated youth armed with money, MBA's and mobile phones. They are quite possibly the most media and technology savvy militant group yet seen.
The IS took over the provincial Syrian city of Raqqa in March 2013. In January 2014, it exploited growing tension between Iraq's Sunni minority and Shia-led government and took control of the predominantly Sunni city of Fallujah, in the western province of Anbar. The IS gained notoriety by massacring hundreds of innocent civilians, particularly with the hunting and slaying of ethnic and religious minority groups; the Yazidis of Iraq and the Orthadox Christians in Syria.
A caliphate is an Islamic theocracy and a caliph, both religious and civil leader appointed by the people. By definition one that assumes to have authority over all Muslim people, so what power does the Islamic State have here? What do Muslim New Zealanders think about the IS and what it stands for?
After the official Islam Awareness Week launch I caught up with spokespeople from our Muslim communities, starting with Dr Asif Koya from IMAN or the International Muslim Association of New Zealand, the host for this year's launch. Dr Koya insisted that the Islamic community in New Zealand is very focused on fundraising for humanitarian aid, rather than on the various political factions presently fighting in the Middle East, particularly the IS.
It is understandable that the community doesn't want to divert attention from the message of openness and charity that is at the core of their awareness week but it is telling that this message and the attitudes of the community I spoke with are as opposite to the message of the caliphate as they could possibly be.
Dr Ghani is the President of the Federation of Islamic Associations of New Zealand (or FIANZ). He says that it's a caliphate that is not just self-declared but that it is also out of touch with moderate Muslims globally. The IS bases its caliphate or type of doctrine and administration on pre-Ottoman Empire days. The IS does not represent Muslims worldwide, certainly not here in New Zealand.
Has the IS caused friction between Sunni or Shia communities here in New Zealand? Dr Ghani insists there is no friction between the communities here; it is an event happening somewhere else. Sunni and Shia live harmoniously in this country.
What about fears of Islamic youth being swayed by social media?
"As such we don't have any fear of that but you can't totally discard it either, as the news comes and social media can be exploited. We as a community have no fear of this happening with our youth but we cannot rule this out in the future. If the groups which are running these things use social media, we'll have no way of knowing, and then it will be younger people."
New Zealand youth have been affected; earlier this year Daryl Jones from Christchurch was killed by a drone strike in Yemin. He and his brother were new and radicalised converts to Islam. Dr Ghani explains how the Christchurch Muslim community counselled this family, encouraging Daryl's brother in peace, to interpret Islam in the right context.
Does the militant IS practice Islam as it is ordained by the Qur'an?
"One man's freedom fighter is another man's terrorist" – say's Dr Anwar ul Ghani, turning this well-known saying on its head, "so the interpretation gets quite blurred. The same type of logic is used in political settings where people have their own interpretations; this is how they would like to run things. In the case of the two people from Christchurch only one was influenced and he went to Yemin and now unfortunately he's dead."
He points out that the modern problem is that people can become radicalised online despite the local communities more moderate stance. "For those that come new to Islam, they should learn more so that they understand Islam in the right context. My message would be to those that come to the fold of Islam; first learn as much as you can before you put this into practice."