Part 3 - We Get the Big Tick
Pāmu Heihei Tihohehohe
We set up a backyard chicken coop and leisure area by converting an old playhouse into a coop, whacked a few warratahs around, attached some chicken wire and bought six highlay birds from a battery chicken farm. It's our way of fighting back against rising food costs.
The funky chicken-house and recreation area gets the big inspection. Audio
Meet Darcy Philp – chicken man and lead consultant on the Funky Chicken Farm project.
He did an inspection and I'm pleased to say we got the tick for the chicken coop and enclosure. 
Still a bit of work to do before the chooks arrive.  Chicken wire needs attaching to the warratahs and I have to build a perch for them to sleep on. It needs to be 7-8cms wide so the birds can put their weight on it while they sleep.
Darcy also suggested cutting some ventilation holes into one of the windows to keep the air flowing through the coop.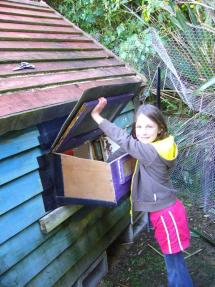 Here's a shot of the egg-laying box I built with Phil's guidance - I've had the kids test it out. It worked perfectly, just need a hook to attach the egg basket to so the eggs can be carefully carried up to the house (before frying them!).
Note the rubber waterpfoof roofing - particularly chuffed with the final version!
We plan to get the chooks next week, Darcy has a place up the coast where we plan to score six birds - watch this space for news, vital statistics, and profiles of each bird.