Sunday, 8 February 2015

He Honore He Kororia, Maungarongo ki te whenua, Whakaaro pai ki nga tāngata katoa.

Honour and Glory on high, Peace on earth, Goodwill to all people.

This week's whakatāuki is explained by  Kurt Komene nō Taranaki Whānui.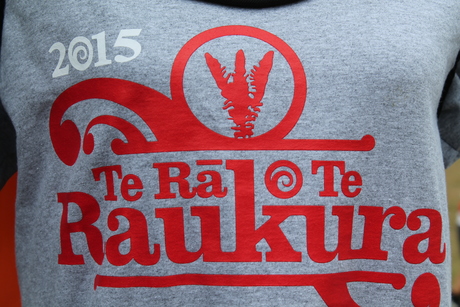 Te Ra o te Raukura family festival is an annual event hosted by iwi radio station, AtiAwa Toa FM. It was first staged twenty-one years ago at Waiwhetu Marae, Lower Hutt. As it grew it shifted to the nearby Te Whiti Park.  Organiser Star Olsen arrived in Lower Hutt during the early 1960's he says as part of the urban drift.  The two-day event was first thought of as a way to bring newly arrived whanau together.  Today, thousands  head to the festival where music echos across Te Whiti Park, food stalls are plentiful and carnival rides cater for the young children. Justine Murray is there and talks to a few of the stallholders.  She also asks a few of the spectators, what Waitangi Day means to them.
Kurt Komene is the tutor of the Kapahaka group Te Roopu Taikura o Te Kāhui Herekawe from the Waitara, Ngāmotu and Parihaka regions. Taranaki whānui ki Te Upoko o Te Ika is the group of descendants from Taranaki iwi that reside in Wellington. For Kurt, visiting Te Ra o Te Raukura is about reconnecting to their wider whanau; he talks about his experience and explains the Raukura feather and its significance to Taranaki Iwi.


Kurt Komene, and members of Te Kāhui Herekawe Rongo, Francis and Rosina.

Frank Topia, Raranga tutor at Te Wānanga o Aotearoa Ki Porirua and Hiri Crawford.
Healing the Past, Building the future was the discussion topic at this year's Treaty Debate. The panel is Peter Douglas Chairman at Te Ohu Kaimoana; Jamie Tuuta Chief Executive of Te Tumu Paeroa (The new Māori Trustee); Rahui Papa Chairman of Te Arataura and Matiu Rei Executive Director of Ngāti Toa Rangatira. Te Ahi Kaa presents highlights of the panel discussion. 

(Left to Right) Peter Douglas, Jamie Tuuta, Matiu Rei and Rahui Papa. Photo credit: Rawinia Parata
In an archival recording from 1940, Sir Apirana Turupa Ngata (1874 – 1950) speaks at the opening of the meeting house, Whare Rūnanga at Te Tii Marae, Waitangi on the centenary of the 1840 signing of Te tiriti. In his speech, Ngata refers to the house Whare Rūnanga as symbolic of the involvement māori had in the signing of the treaty.
Archival material in this episode of Te Ahi Kaa was supplied by Ngā Tāonga Sound and Vision.

Waiata featured:  'Beautiful People' performed by Trinity Roots from the album True (2002).