Sunday, 5 October 2014

"Kōrero Māori i nga wa katoa, I nga waahi katoa.  Ma kōna ka ora te reo".

"Speak Māori everywhere, anytime, from this the language will thrive"

- Nā Keri Kaa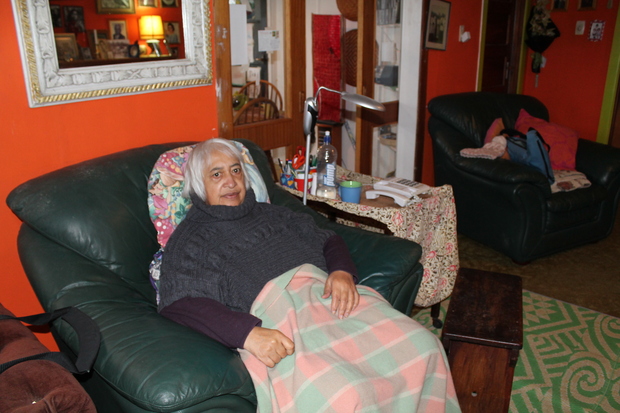 Keri Kaa at her home in Rangitukia.
The childrens Te Reo Māori book Taka Ki Ro Wai was written by Hohi Ngapera Te Moana Keri Kaa in about three days. The inspiration of the story occurred on one morning of her birthday when she came upon a newly born foal still in its birth sac. What unfolded was an unlikely story of a pig, a distressed foal and a horse. Keri Kaa is a writer and poet and has long been an advocate of Māori literature, film and education.  Last year her contribution to her community and Māori Arts was honoured when she was awarded a Companion of the New Zealand Order of Merit, CNZM.  Justine Murray visits Keri at her home in Rangitukia.
We became public figures often speaking for family rights and land rights, and someone said to us, why do you always get up? we said we've got no choice, it was prophesied before we were born. And you hear stories like that throughout the motu but people only keep them within their family, because people think it is conceited,  it's whakahihi, to go around telling everybody how clever you are, how good looking you are,  or how madly intelligent you are,  all that sort of rubbish. When in fact it's your birthright that you were loaded up with, so you have to get out and do something with it.

-Keri Kaa.
Creative Director Martin D Page provided the illustrations for the book; his favourite page is the map of Rangitukia. The book is a finalist in the Nga Aho section of The National Design Awards, and will also feature at The Frankfurt Book Fair in Germany. His next task is working on an english edition of Taka Ki Ro Wai as he explains with Justine.
Te Roopu Wāhine Māori Toko i Te Ora – The Māori Womens Welfare league was established in 1951.  Te Puea Herangi (1883 – 1952) was the leagues first Patroness and Dame Whina Cooper (1895 - 1994) it's President. For the past five decades Kataraina O'Brien nō Ngāti Pikiao, Ngāti Awa has been involved with the league. In 2011 she became it's national President,  her three year term ended a week ago at the 62nd National Conference in Tauranga. Kaa recalls a few highlights in the role and the on-going task of appealing to a younger membership, with Justine Murray.  
I can recall when I first moved to Tauranga,  I didn't know too many people here so that was one way to know others. Many of our members who were in this particular branch didn't belong to Tauranga, they actually married into Tauranga. That was one way to meet other women,  to support other women, to have fun with other women, those are all the things I love about the league.

- Kaa O'Brien
Corinna Hunziker and Marcia Taylor are from Ngā Puhi and both share a passion for Roller Derby.  Corinna has hung up her skates for the meantime and is directing a documentary called The All Skates, which follows female skaters vying for a place on the national squad. The story also features Marcia Taylor aka Meat Train who is suffering from gradual hearing loss that has affected her physical ability to continue skating, but despite the emotional toll it has taken,  she remains optimistic. Marcia talks about her story with Justine.
Waiata featured:    'Wahine Whakāiro' performed by Whirimako Black from the album Hohou Te Rongo (2002). 'Totara Tree', 'Hineiwhakaataia', 'Fiji Time'  and 'Blue Smoke' performed by Pacific Curls from the album Motherline (2005). 'I love Rock n Roll' performed by Joan Jett from the album Joan Jett and The Blackhearts Greatest Hits (2010).