Sunday, 28 September 2014

E kore e hekeheke, he kakano rangatira
I will never be lost for I am the seed of chiefs
Puna Wai Kōrero the first published anthology of Māori Poetry in English draws together the work of seventy nine established and emerging Māori poets. Editors Reina Whaitiri nō Kai Tahu and Robert Sullivan nō Ngāpuhi,  Kai Tahu talk through the process that; involved trawling through anthologies and accessing personal networks to compile the collection.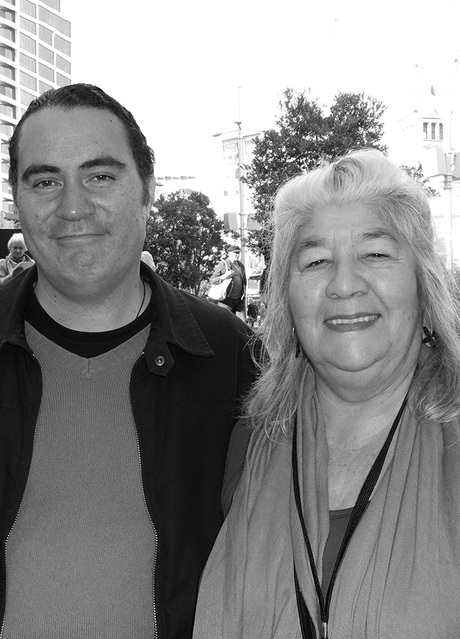 Robert Sullivan and Reina Whaitiri.
Te Hui ā Tau o Te Ohu Rata o Aotearoa Māori Medical Practitioners (Te Ora) took place at Whangaehu Pā, Whangaehu earlier this month. Combining a conference with an awards ceremony; and a reunion of sorts for Māori medical students (Te Oranga) and Māori Doctors always makes for an energised couple of days. That, it leads to political discussions is inevitable for a profession focussed on eliminating negative health statistics for Māori according to its Chief Executive Officer Terina Moke.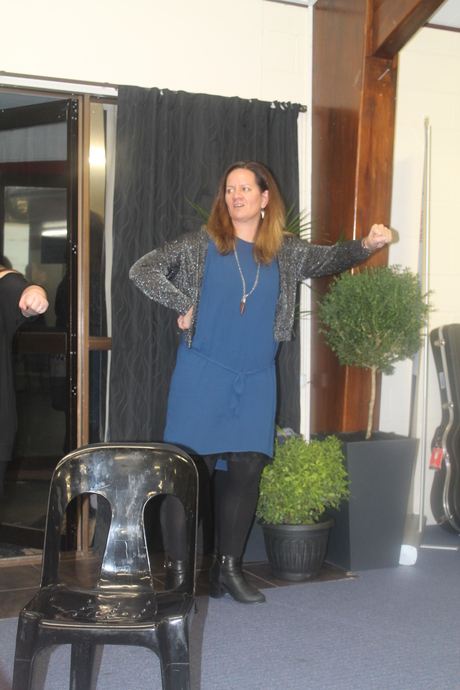 CEO of Te Ora Terina Moke (2014).
Turuki Health based General Practitioner Dr Lily Fraser nō Kai Tahu reflects upon the legacy of Dr Paratene Ngata (1947-2009) as the recipient of an award named in his honour and Turakina Māori Girls College students Mishana Whaanga-Gibb nō Ngāti Kahungunu, Ngā Rauru Kitahi and Jazz Moeahu nō Ngāti Awa, Te Ati Awa find they have an increased interest in medicine after attending the hui.
Dr Lily Fraser, 2014 recipient of Dr Paratene Ngata Award with Dr Rawiri Jansen
Dr Lily Fraser pictured with her daughter, Tui Peke (2014)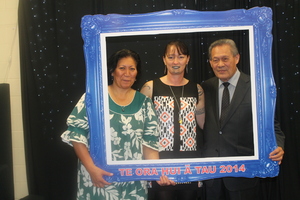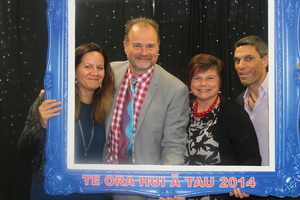 Left: Ms Metua Bates (Cook Island Health Network Association), Dr Diana Rangihuna, Dr Joe Williams (Pasifika Medical Association and President of Cook Island Heath Network Association).
Right:Terina Moke, Dr Rawiri Jansen, Tania Shramm (Board member from Australian Indigenous Doctors Association), Dr Rhys Jones (2014)
Turakina Maori Girls College students, Jazz Moeahu and Mishana Whaanga-Gibb (2014).
As the venue for the 2014 Te Ora Hui, Whangaehu Pā holds special relevance for retiring politician and former Associate Minister of Health, Tariana Turia. It's where she was raised under the guidance and care of her people and where she raised her own whānau for a period of time. Fitting then, that it's also where she was recognised for her mahi as the first non-medical recipient of the Dr Maarire Goodall Award. An award that, acknowledges and honours long service and unrecognised commitment to Māori health by a Māori health worker. Turia is with Maraea Rakuraku reflecting on her childhood at the pā and the realities government machinations has upon Māori wellbeing.
Mark Kopua  and Minister Tariana Turia (2014)
___________________________________________________________________________________________
The death last week of New Amsterdam (Amster) Reedy (1943-2014) aged 70, sent ripples throughout Ngāti Pōrou, Te Ao Māori and Te Ao Pākehā. One of 17 children, he was raised near "the centre of the world' – Ruatoria before he left the "bright lights" to become a teacher.
Throughout both his professional career and personal life Amster was engaged  in educating whether it was a haka to elite athletes or tioriori (lullabies) sung to our babies. This often placed him in the role as an intermediary between Pākehā and Māori worlds and at times in conflict with either or all parties. However, applying his understanding of all things Māori combined with his humility and humour meant those situations were often resolved.  
An archival recording from 1977 features Amster in his element, talking about why teaching waiata Māori to students at Wellington Teachers College contributes to their learning and the children they will eventually encounter. E te whānau a Amster, ka nui te aroha ki a koutou. Kia koe Amster, whakamahia ehoa, whakamahia.
Whakatāuki explained by Robert Sullivan nō Ngāpuhi nui tonu, Kai Tahu, Irish and Reina Whaitiri nō Kai Tahu,