Sunday, 29 September 2013

He iti te hau marangai, E tū te Pāhokahoka
There may be a little storm, but in the end there is a rainbow
This week's whakatāuki explained by Hinewehi Mohi nō Tuhoe, Ngāti Kahungunu
In the forty years Dr Patu Hohepa has worked to revitalise and develop the Māori language, he says the job is getting harder.  On-going development in technology and the way language is used means that Te reo Māori must be able to keep up.  Dr Patu discussed the complex nature of normalising Te reo Māori from implementing it into the latest gadgets to satellite television, with Justine Murray.
Renee decided to forego the use of her surname in the 1980s, in fact when people called her Mrs Taylor at this year's Te Waka Toi awards it took her a little while to figure out they were addressing her. Renee nō Ngati Kahungunu took to writing in the early 1980s producing an extensive range of literature. Renee has taken to online publishing through her blog Wednesday Busk, she has a chat with Justine.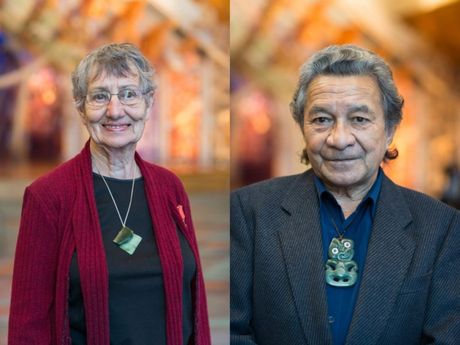 Writer Renee and Māori Language exponent Dr Patu Hohepa recipients at this years Nga
Tāonga Toi a Te Waka Toi. Photos Courtesy of Creative New Zealand.
Hinewehi Mohi talks about her latest album release Raukatauri – Te Puhi o te tangi.
It's a battle of the schools at the Nga Manu Korero National Secondary School speech competition, held this year in Hamilton. Te Manu Korihi reporter Leigh Mclachlan presents coverage of the event.
Waiata featured:  'Ngoi Ngoi' performed by The Patea Māori club from the album Poi E: The 25th Anniversary edition (2009); 'Runnin' performed by David Dallas from the album Kiwi Hit Disc 163 (2013).