Sunday, 8 September 2013

Waiho ma te tangata e mihi
Let others sing your praises.
Te Waka Toi is the Māori Arts Board of Creative New Zealand and every year they recognise and award the outstanding achievements of māori who have excelled in their work. The art forms range from oratory, literature, object and visual arts to music and performance. This year, contemporary artist Darcy Nicholas (Te Atiawa, Tauranga Moana) was awarded Te Tohu Aroha mo Te Arikinui Dame Te Ataairangi Kaahu or the supreme award for his services to the arts both on a national and international scale. We have coverage of his acceptance speech from the evening on August 31st, 2013.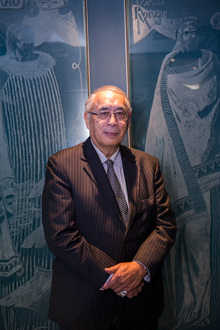 Master weaver Erenora Puketapu Hetet (1941 – 2006) taught her daughter Veranoa Hetet (Te Atiawa, Ngāti Tuwharetoa, Ngāti Maniapoto) weaving at a very young age. Today, Veranoa is an artist and teacher of weaving and works out of the Hetet studio at Waiwhetu, Lower Hutt. Justine Murray had a chat with Veranoa about her kākahu (cloaks) whilst attending the exhibition Call of Taranaki: Reo Karanga o Taranaki at Puke Ariki Museum, New Plymouth.
Justine Murray chats with Tama Waipara (Ngāti Pōrou, Ngāti Ruapani) about his latest album Fill up the Silence released on September 6, 2013.
Pictured Right: Contemporary artist Darcy Nicholas stands in front of his artwork exhibited at Te Papa Museum, Wellington. Photo courtesy of Creative New Zealand.
Waiata featured:  'E kui Kumara' performed by Whirimako Black from the album Shrouded in the Mist/Hinepūkohurangi  (2001); 'Tangihia' and 'Sunshine on the water' performed by Tama Waipara from the album Fill up the Silence (2013); 'Medicine Man'  from the album Kiwi Hit Disc 155