Sunday, 4 August 2013

6:33 PM.Representatives from 12 Marae took part in a training session lead by Civil Defence Senior Advisor for the Wellington and Wairarapa region, Angie Rodger to set up systems to handle evacuees in the… Read more Audio

6:10 PM.Justine Murray presents coverage of the official unveiling ceremony of 18 pou whakairo at Hastings Civic Square. Audio

6:06 PM.Te hura o Nga Pou o Heretaunga. He Takunetanga motuhake mō te rohe. The unveiling of Nga Pou o Heretaunga. An historic event of our district. Audio
Te hura o Ngā Pou o Heretaunga. He takunetanga motuhake mō te rohe.
The unveiling of Ngā Pou o Heretaunga.  An historic event for the district.
Mana whenua presence in the middle of Hastings was marked by the unveiling of 18 Pou Whakairo (Carved posts) on July 26th 2013. Each pou stands about two metres high and faces the Marae whose Tipuna it represents. Tuhoe iwi gifted the totara used to carve the pou. The carvers worked in the nearby Tuaka building over the past few months to complete their work.
Justine Murray joined just over two hundred people to witness the unveiling ceremony and features coverage in this week's Te Ahi Kaa.


The official blessing and unveiling ceremony at 5.00am on July 26th 2013.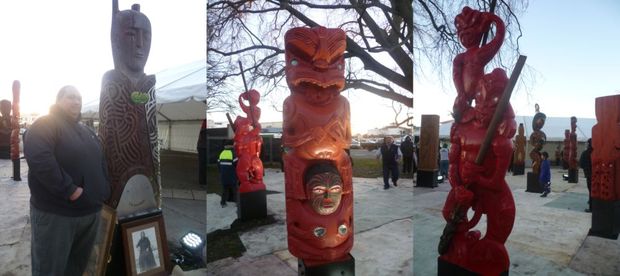 Tuhoe Huata (left) pictured with the pou whakairo Ko Mihiroa me Pukepuke Tangiora he carved with Tiopira
Te Huia and Colin Tihi. Pou whakairo (middle and right)
Transforming a marae into a welfare centre to host evacuees is what a group of marae representatives trained for at Wainuiomata Marae in march 2012. In the wake of the earthquakes felt in Seddon and Wellington recently, Te Ahi Kaa rebroadcasts the coverage of the session with Civil Defence trainer Angie Rodger and whanau from 12 Marae in the Wellington and Hutt Valley region.
Waiata featured: 'Morning Sun' performed by Tama Waipara from the EP Leaving Paradise (2007) 'Something special' performed by Whenua Patuwai (2013) and 'Te Arohanui' performed by Whirimako Black from the album Hohou te Rongo / Cultivate Peace (2002).