Sunday, 24 February 2013

6:00 PM.In Te Ahi Kaa this week, Henare Te Ua (1934 - 2007) interviews Ngapo Bub Wehi about his foray into kapa haka that was helped along as a young fella courting his wife, Pimia Nen Wehi ( 1929 - 2011)… Read more Audio
Kia mau ki te ha o Hineputehue
Hold steadfast to the essence of Hineputehue
This week's whakatāuki is explained by Ramari Sherman nō Nga Puhi, Te Whakatōhea
The 25 minutes spent on the stage at Te Matatini, the biennial Kapahaka National Competition is when performers literally leave their guts on the floor.  It's when all the travelling to practices, noho marae and fundraisers collides with pride - Te ihi me te wehi!   This year 41 teams battled head-to-head in a four day competition with premiere kapahaka teams from New Zealand and Australia converging at Te Arawa.

Broadcasting rights granted to Māori Television became a hot topic of conversation amongst mainstream broadcasting outlets when it became apparent media guidelines ensuring exclusivity would be applied stringently, this time round.  Justine Murray and Maraea Rakuraku discuss the issue with the Chairperson of Te Whakaruruhau o Nga Reo (The confederation of Māori radio), Willie Jackson, and Digital Geek and tangatawhenua.com founder Potaua Biasiny-Tule.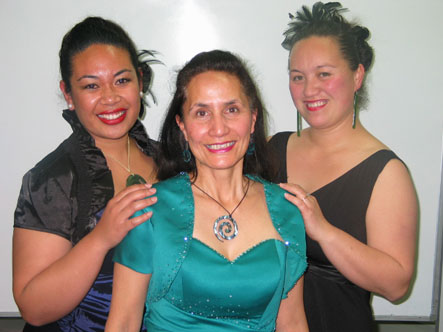 Elisha Fai'-Hulton, Maria Kapa and Ramari Sherman. The trio ensemble, Pure Voice.
Forget boybands, how about an all wāhine Polynesian line-up with strong opera and kapa haka roots.  Justine Murray spends time with Maria Kapa, Ramari Sherman and Elicia Fa'i Hulton of the newly formed group Pure Voice at their Rotorua base and is treated to a performance of one of Shermans original compositions, Te Mauri Pūoro.     
Ngapo Wehi and Pimia Wehi (1929 -2011) are tohunga kapa haka trailblazers. From the East Coast to Tamaki Makaurau, the couple have shaped kapa haka composition and performance.  In an archival recording from 1994, Henare te Ua (1934-2007) talks with Ngapo about the early period of their 55 year collaboration.
Waiata featured:    Waiata recorded at the 1994 National Performing Arts Festival, Hawera (Sound archives), Ihenga performed by Ngāti Rangiwewehi from the album Wairua Spirit of Ngati Rangiwewehi (1998) and Te Mauri Pūoro performed by Pure Voice