Sunday, 13 May 2012

5:00 PM.It can be rugged being a comedian. What if you're Maori, not completely sure about your whakapapa and part of your comedy routine kind of takes the mickey out of that. Justin Hansen aka Gish who is… Read more Audio
"Ki te tihi o Ruahine"
To the peak of Ruahine
This weeks whakatāuki was explained by Brian Paewai nō Rangitane, Ngāti Mutu ahi
Natalie Friend walks Maraea Rakuraku through Common Thread (01 March – 13, May 2012), an art exhibition built around woollen blankets that comments on New Zealand's colonial history and relationship with the medium.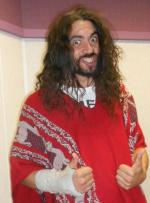 As Justin Hansen (right) is negotiating his way through his whakapapa Māori, his on-stage persona Gish is outing it publicly in a comedy routine Gish-takes, that is largely made up of parodying popular songs. Justine Murray catches up with him on the Wellington leg of the New Zealand International Comedy Festival.
It took 25 years for an idea by Chris Szekely to be realised into Rahui, a Children's Picture book and its garnering attention, including a 2012 New Zealand Post Best Picture Book Award. 
Waiata featured
Takutaku and Te More from the album Te More: A work in Ten parts of Vocals and Tāonga Puoro (2012)