Sunday, 29 April 2012

6:06 PM.Te Ahi Kaa presents its ANZAC special 2012. What are the on-going effects of War? Maraea Rakuraku gets a personal account from her whanaunga Grace Turuwhenua and whanau friend Joe Matene about the… Read more Audio
E kore rātou e koroheketia
Pēnei i a tātou kua mahue nei
E kore hoki ratou e ngoikore
Ahakoa pehea i nga ahuatanga o te wa.
I te hekenga atu o te ra
Tae noa ki te aranga mai i te ata
Ka maumahara tonu tātou ki a ratou.
They shall grow not old, as we that are left grow old
Age shall not weary them, nor the years condemn.
At the going down of the sun and in the morning
we will remember them.
This week we present our ANZAC show.
In an interview recorded in 2008, Maraea Rakuraku recounts the personal trauma felt by Grace Turuwhenua and Joe Matene whose loved ones suffered from health issues relating to the chemical dioxin used during the Vietnam War and commonly referred to as Agent Orange.
The popular song Hoki Mai was adapted from the original Henare Waitoa composition Tomo Mai which was first performed by Ngāti Putaanga in 1946 to the returning soldiers of the 28th Māori Battalion in Ruatoria.  Both songs are similar in tune but differ in pace and meaning. Justine Murray deconstructs both songs with composer and grandson of Henare, Kahu Waitoa.
Maraea Rakuraku has a chat with Paul Moon, author of the book Victoria at Takrouna: The Haane Manahi story which relates to the subject of the winning speech at this year's Cyril Bassett VC Speech Competition
Justine Murray is at this year's ANZAC commemorations at The National War Memorial, Wellington.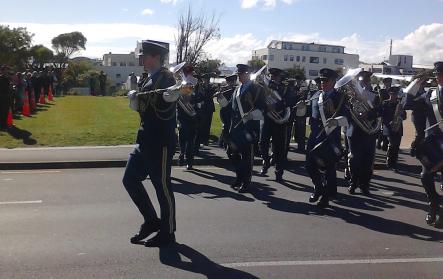 National War Memorial ANZAC commemorations.
Waiata featured:
Last Post performed by the Band of the Royal Regiment of New Zealand Artillery (1997); Hoki Mai performed by the Howard Morrison Quartet from the album The Howard Morrison Quartet-Return of a Legend (1975); What's Going On performed by Marvin Gaye from the album Marvin Gaye 15 Greatest Hits (1983); Moonlight Serenade from the album The Complete Glenn Miller and his Orchestra (1991); Tomo Mai performed by Kahu Waitoa from the album Nga Waiata a Henare Waitoa (2011); Māori Battalion March to victory performed by 28th Māori Battalion from the album Ake Ake Kia Kaha e songs of the 28th Māori Battalion (2006); Ko wai Ka Hua performed by Toni Huata from the album Black Katz Salute of the 28th Māori Battalion (2006); In the Mood performed by The Yandall Sisters from the album The Very Best of the Yandall Sisters (2002).