Sunday, 15 April 2012

6:00 PM.The Tuakana mentoring scheme at The University of Auckland was created by Professor Michael Walker some 20 years ago, Maraea Rakuraku talks to him about the programme and its impact on past and… Read more Audio
He aha te mea nui o te ao? He tangata, he tangata, he tangata
What is the most important thing? It is people, people, people
This week's whakatāuki was explained by Maree Sheehan nō Ngāti Maniapoto, Tainui
A  Māori  concept given an academic makeover or academia given a Māori makeover? Maraea Rakuraku analyses the role the mentoring and support programme TUĀKANA plays in securing Māori and Pacific University student retention and achievement with the architect of the initial concept, University of Auckland Biological Sciences Professor Michael Walker nō Te Whakatōhea.
As part of a Civil Defence training session with local marae in the Wellington region, Civil Defence Senior Supervisor Angie Rodgers took the participants through the exercise of transforming the wharekai (dining hall) into a mock welfare centre.  All while re-enforcing the message of being prepared should a natural disaster occur.  Justine Murray provides a 'fly-on-the-wall' perspective.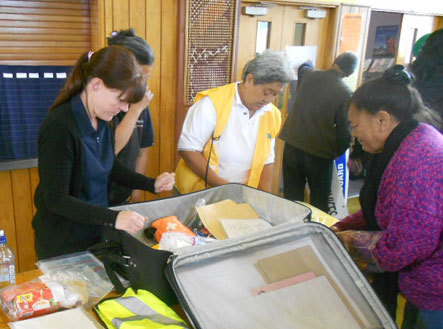 Civil Defence senior advisor, Angie Rodgers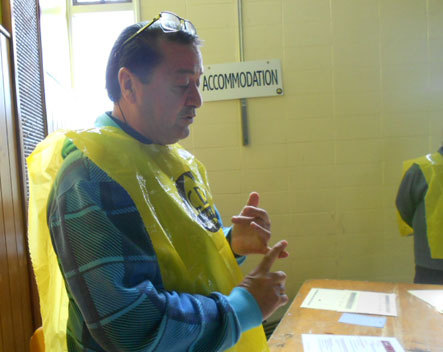 Bill Rawiri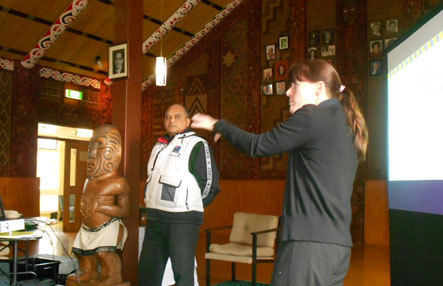 Joe McLeod and Angie Rodgers at Wainuiomata Marae
When you think of Māori music in the 1990's artists like Moana Maniapoto, Emma Paki and Upper Hutt Posse come to mind.  Add to that Maree Sheehan who released her debut album Drawn in Deep in 1995.  Justine Murray catches up with the Hamilton based musician and reminisces about the fashion and some of the more cringe moments of music video production that defined the 1990's.
Waiata featured: You can't hide love, Make you my own performed by Maree Sheehan from the album Drawn in Deep (1995); Past to the present performed by Maree Sheehan from the album Past to the present (1995) Kia Tu Mahea performed by Maree Sheehan from the album To Be Free (1994). Duty Solicitor performed by Three Houses Down from the album The Best of Conscious Roots (2012)