Sunday, 27 November 2011

6:08 PM.Maraea Rakuraku is in Waiohau, eastern bay of plenty at a Healers wananga where they believe the overall wellbeing of people is connected to nature and to ones surroundings, she finds out more with… Read more Audio
Kua ngaro i te ngaro o te moa
We are lost like the moa
Whakatāuki was explained by Peata Melbourne nō Tuhoe
There's a troublesome disconnect between people and the environment according to Mere Butler that is having a negative impact, on everything.  She advised Maraea Rakuraku on the practical means of counteracting that when they met at the 2011 Waiohau Healers Hui.
Te Wiki o te reo Māori is the week in the year when organisations and businesses bust out to celebrate Te reo Māori.  Their efforts are then recognised by Te Taura Whiri i te reo Māori (The Māori language Commission) with annual awards.  While some of the events are week-one one-offs, Damon Jakeman from Tokoroa New World explains how te reo is more than a novelty for his supermarket.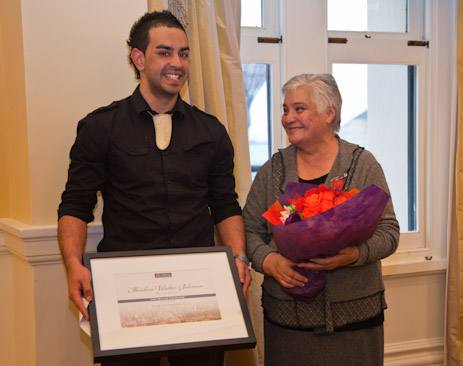 Ibrahim Soloman – John McLeod scholar at this year's Te Apa Māreikura health awards.
His upbringing with his Nanny clinched it for Ibrahim Soloman when it came to choosing a career in medicine.  Justine Murray talks with the Ngai te Rangi, Tuhoe scholar who is one of the recipients of the 2011 John Mcleod Scholarship at this year's Te Apa Māreikura awards.
Waiata featured: If You Really Do; Devil with a Tambourine and Tiny Little Piece of My Heart performed by Bic Runga from the album Belle (2011)