Sunday, 20 November 2011

5:00 PM.How many of us immortalise our parents courtship and life together in a book? Exactly. Yet, that's what the Nathan whanau did when they approached longtime friend and writer Patricia Grace to tell the… Read more Audio
Te manawarōtanga o Ngāti Raukawa ki te pūpuri i te rangimarie ara i te whakapono
The heart of Raukawa is to uphold peace and faith
Whakatāuki explained by Huataki Whareaitu nō Ngati Raukawa ki te tonga, Ngāti Hauiti
Relationships forged over years, generations even came into play when the Nathan whānau chose Patricia Grace to write the narrative of their parents' life story that began in wartime Crete and ended in New Zealand.  Manos Nathan sits with Maraea Rakuraku and details the process that resulted in Ned and Katina (2009).  
Pharmacy isn't a natural career choice for Māori if the numbers entering the Bachelor programme at Auckland University is anything to go by.  Yet, Caroline Blucher is about to graduate and not only that she's been named as one of the 2011 John McLeod health scholars.  She talks about her time in the programme.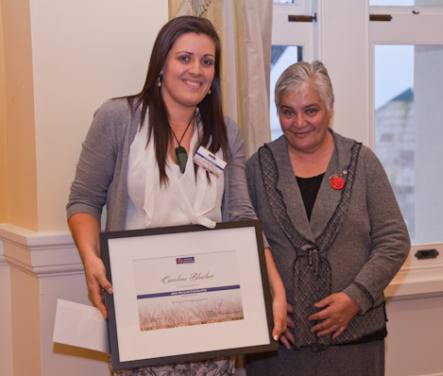 Caroline Blucher, recipient of the John McLeod Scholarship.
What started as Te Kura kaupapa Māori o Manawatu now enjoys a life as a marae complex housing Iwi radio station Kia Ora FM, a whare karakia (church) and Hauora clinic.   Justine Murray tours Te Hotu Manawa o Rangitāne o Manawatu Marae, Palmerston North with Huataki Whareaitu.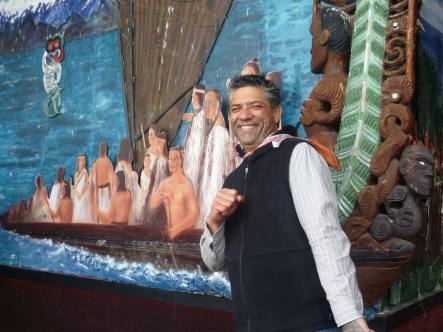 Huataki Whareaitu with the polystyrene art on the mahau.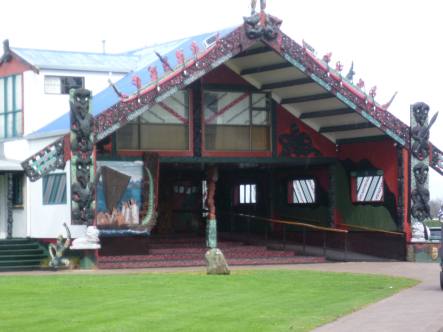 Te Hotu Manawa o Rangitāne o Manawatu Marae.