Sunday, 6 November 2011

6:00 PM.When your supermarket is the ocean and the ocean becomes poisoned, what do you do? Well, you mobilise of course - which is what happened when a grounded ship started to leak oil into the sea off the… Read more Audio
"Kaua e Māharahara ki te tangata, me māharahara ki a papatuānuku me nga tini a Tangaroa"
Don't worry about the people, instead worry about the earth and the ocean
September and October were all about the Rugby World Cup until a big ship made a small reef famous.  In this special edition of Te Ahi Kaa, Justine Murray travels home to Tauranga and joins the locals as they work to stop beaches once synonymous with beauty become bywords for pollution. 
While all the focus has been on the beaches at Mount Maunganui and Papamoa, it was the shorelines of Mōtiti and Matakana Islands that felt the initial impact of the oil spilling from the grounded vessel.  Hauata Palmer and Betty Dickson relay how the islanders and islands are coping.  

Left: Interim Māori Iwi Liaison Officer Joe Harawira. Right: Motiti Island resident Nepia Ranapia.
Facebook is the choice of communication for many different kaupapa these days and has proved useful in mobilising the hundreds of volunteers for Operation Rena.  We meet Jaroz Adams who travelled from Auckland specifically to help with the beach clean-up after using the social network tool. We also ask 8 year old Zaine about how he feels about the spill. 
This weeks Whakatāuki was explained by Joe Harawira nō Ngai te Rangi, Ngāti Awa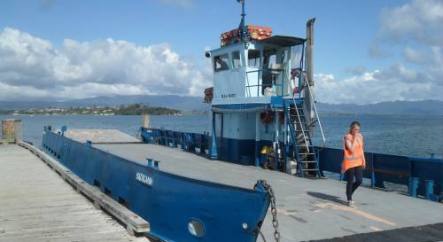 Matakana Island barge and Omokoroa in the background.
Waiata featured:  E te Kai and Te Tini o Toi performed by Whirimako Black from the album Shrouded in the Mist (1999)