Sunday, 23 October 2011

6:00 PM.Designer David Hakaraia created each of the Man of the Match taonga that select players receive following their performance in their Rugby World Cup games. Maraea Rakuraku has a chat to the 34 year… Read more Audio
"Kia mau ki te koura roa"
Hold onto the big crayfish
A mentoring scheme experienced at University is playing out in real-life for David Hakaraia.  The designer collaborated with Rangi Kipa to produce the Rugby World Cup 2011 Man of the Match trophies which are handed to players at the end of each game. Hakaraia is with Maraea Rakuraku talking about the value of Victoria University's Te Roopu Awhina and the thrill of his work winging its way to International Rugby Players' trophy cabinets.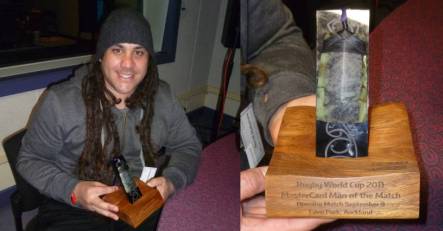 Designer David Hakaraia holding his prototype for Man of the Match Rugby World Cup 2011 trophies, October, 2011.
In his thirty years as patron of the Otaki Māori racing club, Jim Winiata has seen many changes, from the many spectators during the 1980's to its steady decline in patronage in recent years. Justine Murray visits the 85 year old and the club caretaker Jim's daughter Teresa Fulford.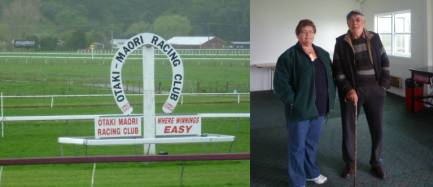 Otaki Maori Racing Club. Right, Caretaker Teresa Fulford and her father, patron of the club, Jim Winiata
Robyn Kahukiwa has been prolific during her 40 year career if the number of works adorning government departments and educational institutions are anything to go by.   In an archival recording from 1984 the artist is grilled by whanaunga, Keri Kaa.