Sunday, 2 October 2011

6:05 PM.Maraea Rakuraku is with Dr Ngapare Hopa, the first Maori woman to graduate with a PHD from Oxford University and a Ta Kingi Ihaka award recipient at this years Nga taonga toi a Te Waka Toi. Justine… Read more Audio
"Ko nga Rangatahi nga rangatira mo apopo"
Our youth today are our leaders tomorrow
Former Queen Victoria Māori Girls School principal Alice Berridge (1913-1991), Te Reo Māori exponent Bruce Biggs (1921-2000), peers Pat Hohepa and Turoa Royal, Lecturer and author Bill Pearson (1922-2002) and parents;  Karanga Ngamora Rangiaatea Hopa and Te Aperahama Tea Hopa are just some of the people who have shaped the life of Dr Ngapare Hopa to date.  On the eve of receiving an award acknowledging her contribution to Te Ao Māori (Ta Kingi Ihaka Award) Dr Hopa sits with Maraea Rakuraku and reminisces about her humble upbringing and her exemplary achievements in academia, from her time at Queen Vic to becoming the first Māori Oxford University Doctoral graduate (1967).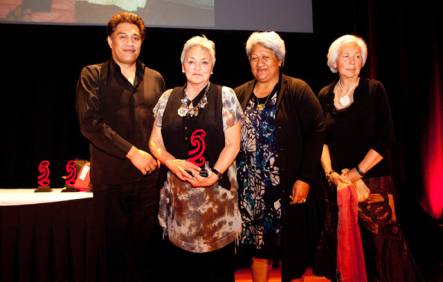 Darrin Haimona Dr Ngapare Hopa and whanau.
Nga Purapura is the name of a Māori wellbeing facility due to open at Te Wananga o Raukawa, Otaki in February 2012.  Meihana Durie talks with Justine Murray about the role it will play in supporting the physical aspect of various academic programmes that include Poutuarongo Kawa Oranga, a three year degree based on sport, nutrition and health.
Te Arawa rangatahi, Rahera Bidois, Sonny Bishop and Tomairangi McRae are already thinking about how they can contribute to the future development of their Iwi. They share their plans with Te Ahi Kaa.
Waiata featured: When did you leave Heaven, Run the Voodoo down performed by Whirimako Black from the album The late night plays (2011), E nga Rangatahi performed by Iwi from the album Iwi (1999)