Sunday, 15 May 2011

6:12 PM.Following in the tradition of Lapita pottery, Maori clay artistry is going strong as Maraea Rakuraku discovers when she attends a Nga Kaihanga Uku wananga. Audio
15 Haratua 2011
"Ka mate te kainga tahi, ka ora te kainga rua."
When one house dies, another one lives.
This week's whakatāuki is explained by Wiparata Ngatoko no Ngati Ranginui
Maraea Rakuraku gets her hands dirty helping to build an adobe kiln designed by Baye Ridell at the Nga Kaihanga Uku, Māori clayworkers wananga at Turangapai, Tangimoana. She meets members of the collective including major artists Colleen Urlich and Paerau Corneal.
See images of the kiln being built.

Nga Kaihanga Uku Wananga: adobe kiln, and work waiting to be fired.
Hingangaroa Smith hid his long pants in the bushes, caught a bus to Gisborne and lied about his age (he was 16 at the time), so he could enlist in the 28 Māori Battalion. He reminisces about that day and reveals an unexpected connection, with his father Robert Smith.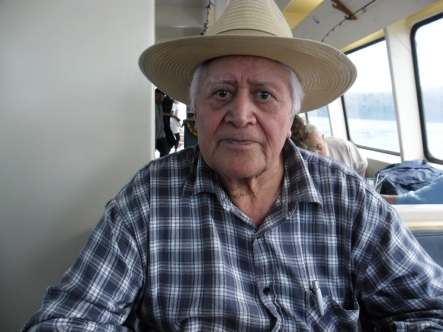 Hingangaroa Smith, December 2010, Taupo.
Turei Reedy reviews Katchafire's, On the Road Again album and we hear a track from them recorded for Te Ahi Kaa when we spoke last December.
Waiata featured:
On the road again; Sweet as; Yr dreaming; Irie; One Stop shop; Is this familiar performed by Katchafire from the album On the road again (2010), Ko wai Ka hua performed by Black Katz from the album Black Katz Ko Wai Ka hua (2006)