Sunday, 8 May 2011

6:00 PM.How does one cope with sudden celebrity after being on a reality show? - Te Ahi Kaa asks Cameron Petley. Audio
08 Haratua 2011
"Kia toa, kia ora ai koutou."
Be brave that you may live.
This week's whakatāuki is explained by Mira Turuwhenua nō Ngai Tūhoe
Before his time on New Zealand MasterChef, boilup was Cameron Petley's favourite kai. After his exposure to new ingredients, an intensive cooking environment and public scrutiny, has that changed? Justine Murray finds out and asks him about the Facebook campaign to have him re-instated on the show following his elimination.
Retired Anglican archdeacon Timoti Flavell spent his career within the treaty-influenced two house system operated by the Anglican Church. He believes this model could be the future of New Zealand constitutional reform as he tells Maraea Rakuraku.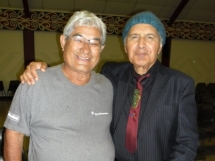 Left: Timoti Flavell with taiaha Te Amorangi. Right: Timoti Flavell and Selwyn Murupaenga. Pipitea Marae, Wellington.
Lynette and Michael Bradley had a dream and now they're living it. Justine Murray visits Sharknett Gallery, Havelock in the Marlborough Sounds which the Bradleys say holds the largest private collection of Taonga Whakaairo
(Māori carvings) relevant to Rangi tane ki Te Tau Ihu o Te Waka a Maui.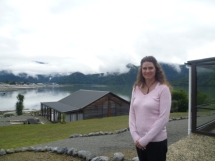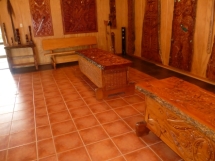 Left: Lynette Bradley Owner and Operator Of Sharknett Gallery, Havelock, Marlborough. Right: carved boxes inside the art gallery.
Waiata featured:
He mamai aroha,Hush performed by Ngatapa Black from the album Blacklight (2011),Pupu Ake Mai performed by The Yoots from the album Singalong with The Yoots